Buckingham Palace said the King's meeting with Ursula von der Leyen at Windsor was on government advice.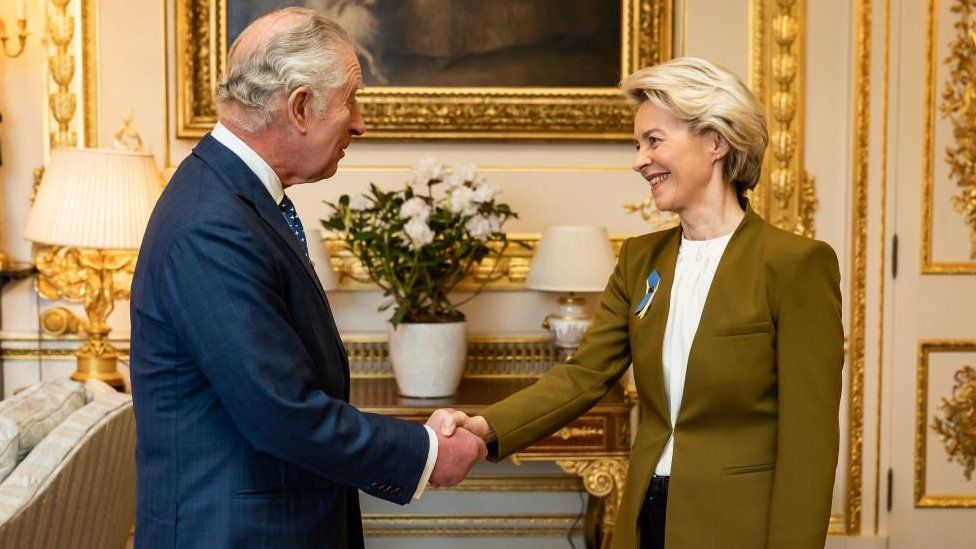 King Charles has met European Commission President Ursula von der Leyen for tea at Windsor Castle following the unveiling of a new Northern Ireland Brexit deal.
Buckingham Palace said the meeting had been arranged on the advice of the government.
The pair were pictured shaking hands shortly after the EU head held a joint press conference with Rishi Sunak.
But there were warnings against drawing the monarch into a political dispute.
Conservative MP Jacob Rees-Mogg, a Brexiteer and former cabinet minister, said it was "constitutionally unwise to involve the King in a matter of immediate political controversy".
Sammy Wilson, chief whip of the Democratic Unionist Party, said the meeting would risk "dragging the King into a hugely controversial political issue".
But the prime minister's official spokesman likened the meeting with Ms von der Leyen to the King's other recent meetings with visiting international dignitaries such as Polish President Andrzej Duda or Ukrainian President Volodymyr Zelensky.
"We don't get into what discussions we have or not had with the palace. But it is standard that the government provides advice to the palace on things like visits and meetings," said the Number 10 spokesman.
However, the No 10 spokesman said the prime minister "firmly believes it's for the King to make those decisions".
A Buckingham Palace source also indicated that the meeting, held in one of the castle's ornate drawing rooms after the deal was announced, followed government advice.
"The King is pleased to meet any world leader if they are visiting Britain and it is the government's advice that he should do so," said a palace spokesman.
Photographs captured the smiles and handshakes of the meeting in the White Drawing Room.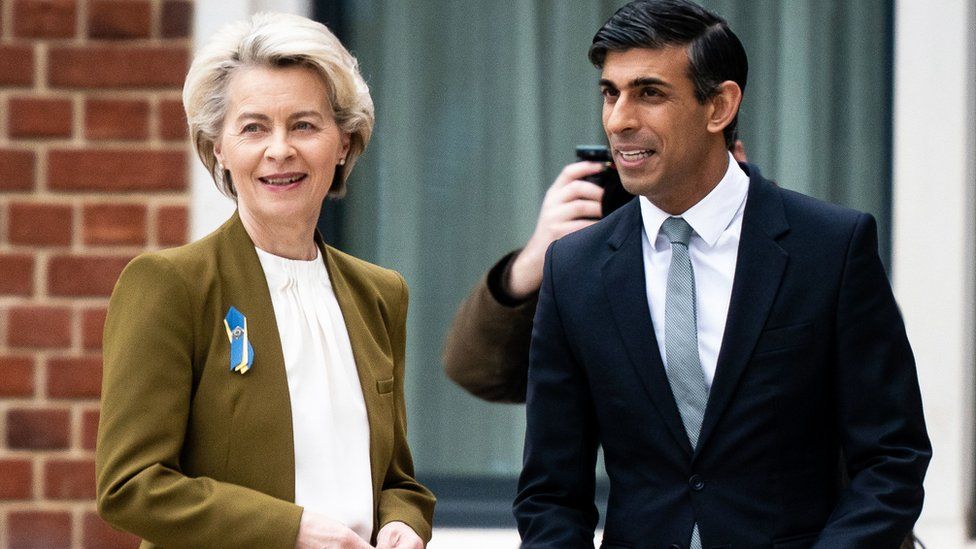 The EU sought to distance the Windsor meeting from political negotiations, saying the meeting between the King and the European Commission president was "separate" and "not part" of the talks over the Northern Ireland protocol.
Buckingham Palace sources emphasised that this was a regular meeting between the King and a visiting international leader and would build on other previous meetings between the King and Ms von der Leyen.
The King, as head of state, hosts a steady stream of visiting international figures and overseas representatives.
The Windsor Castle meeting, with tea, smiles, handshakes and photographs, was described in terms of a wider agenda by both the palace and the EU chief.
Ms von der Leyen said it had been an honour and a pleasure to meet the King.
"We discussed the joint challenges the EU and UK face as historic partners and our joint duties: Unwavering support for Ukraine and fighting global climate change," she said on Twitter.