Concerns are growing for 12-year-old Darius who vanished from his Worcestershire home on Saturday.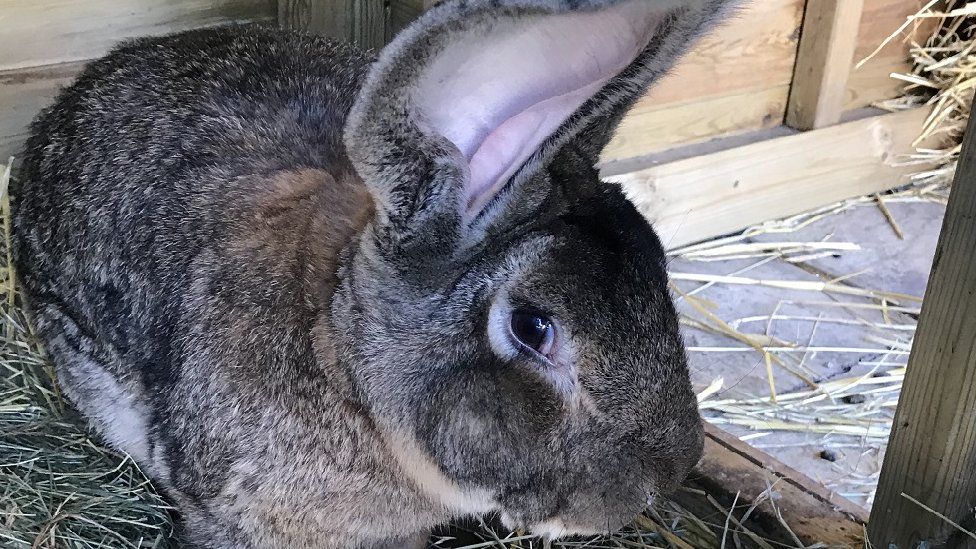 A reward offered in a bid to trace an award-winning four-foot long rabbit stolen from his home is being doubled.
Darius, a 12-year-old continental giant rabbit, vanished from Stoulton, Worcestershire, on Saturday night.
Owner Annette Edwards said she was "very upset" and increased the reward to £2,000 amid concerns Darius would die if he was not returned home soon.
She has enlisted a pet detective to help trace Darius, whose disappearance is also being probed by police.
At 129cm (4ft 2in) long, Darius is a record holder after being named the world's longest living rabbit in 2010.
Ms Edwards runs a business breeding giant rabbits and Darius has sired many for customers who hope for a pet on a similar scale, however due to his age Ms Edwards said he has been retired from breeding for years.
She credits his old age with a special diet and is concerned if he is not properly fed he is unlikely to survive.
"He's such an old boy," she said. "If I don't get him back quickly, he's going to die.
"He doesn't run around, he's very slow," she added. "If he gets dumped a fox would get him."
Continental giant rabbits normally only live for up to six years, leading to speculations on social media about whether it is possible for Darius to live to such an old age.
Experts told the BBC while it was unheard of to them, they could not say it was impossible.
As a result of the speculation, Ms Edwards has faced abuse on social media since his disappearance.
"People think it's a hoax," she said. "It saddens me, but what can I do? At a time like this, how awful."
The former model has denied allegations Darius was insured for six-figure sums, indeed that he was insured at all, and said she has been vilified by certain online communities for years.
As to why, Ms Edwards said she is not sure how to account for it, but being well-known in the rabbit breeding world leads her to put it down to jealousy.
Rabbit breeding is largely unregulated in the UK – unlike with dogs, no licence is currently required.
West Mercia Police said it is believed Darius was stolen from his enclosure, which is in his owners' garden, overnight on Saturday. So far, the force has not disclosed any updates on its investigation.
The RSPCA said it was deeply concerned by reports pet theft was on the rise and said thieves are "attracting large value to pets" as demand soared during lockdown.

The BBC is not responsible for the content of external sites.