It comes amid claims – denied by No 10 – that the government is sending out mixed messages on Covid rules.
Boris Johnson has insisted England is not being put into lockdown by stealth, despite accusations from some of his own MPs.
The prime minister said he was not telling the public to cancel events, but urging them to exercise "caution".
It comes as chief medical officer Chris Whitty suggested people "prioritise" activities in the run-up to Christmas.
Conservative MP Steve Brine accused the government of "putting hospitality into effective lockdown".
Mr Brine said Prof Whitty's comments meant businesses were facing "complete ruin" and more government support was needed.
Business group the CBI has urged ministers to provide more support for pubs, restaurants and other venues, who have seen a rise in booking cancellations amid the spread of the Omicron variant.
The PM's spokesman denied Number 10 was sending out mixed messages about socialising over Christmas, adding that both the prime minister and the chief medical officer "were making the point that given the current infection rate people should be cautious and think carefully before mixing with others".
Meanwhile, Labour said the government needed to provide clarity on how it wants people to behave in the coming weeks.
With thousands of football fans due to attend matches in the coming days, shadow heath secretary Wes Streeting said "clarity from the government would be helpful" on whether they should attend.
He added that the new Covid pass scheme for large events in England should give people confidence to "go about their daily lives and enjoy themselves".
"We have got to get to a point in this country where we can co-exist with coronavirus," he added.
On Wednesday, Dr Nikki Kanani – director of primary care at NHS England – said her advice would be "if you're going to go to a stadium at the weekend, make it one where you can get your vaccine or help out to give a vaccine, rather than going to watch a match."
Some big stadiums, including Stamford Bridge, Wembley and Elland Road are hosting mass vaccination centres.
Separately, Prof Whitty told MPs "if the most important thing to someone in the next 10 days is to go to a football match, do that."


Look one way and there are plenty of the expert advisers.
Look the other way, and there are plenty of Conservative backbenchers.
There are plenty of businesses saying there is a lockdown by stealth: that grim warnings are spooking people, but because very little is actually banned, they're not getting the support they got when they were compelled to close.
As if to illustrate the bind the government finds itself in, No 10 has now had to publicly defend Chris Whitty after one Tory backbencher claimed his remarks yesterday amounted to a "public health socialist state" in action.
As the Omicron variant accelerates, the politics of the second Christmas of the pandemic is irritable and uncertain.

Asked if the government was imposing a lockdown by stealth, Mr Johnson said the situation was "very different" from last year due to the existence of vaccines and testing.
"If you want to go to an event or a party… the sensible thing to do is to get a test and to make sure that you're being cautious.
"But we're not saying that we want to cancel stuff, we're not locking stuff down, and the fastest route back to normality is to get boosted."
Meanwhile, a number of Conservative MPs have questioned Prof Whitty's role in offering advice to the public.
In a tweet she later deleted, Conservative MP for Beaconsfield Joy Morrissey said: "Perhaps the unelected Covid public health spokesperson should defer to what our ELECTED members of Parliament and the prime minister have decided.
"I know it's difficult to remember but that's how democracy works. This is not a public health socialist state."
Labour has called the comments "unacceptable and dangerous" and urged Justice Secretary Dominic Raab to remove her from her role as his parliamentary aide unless she apologises.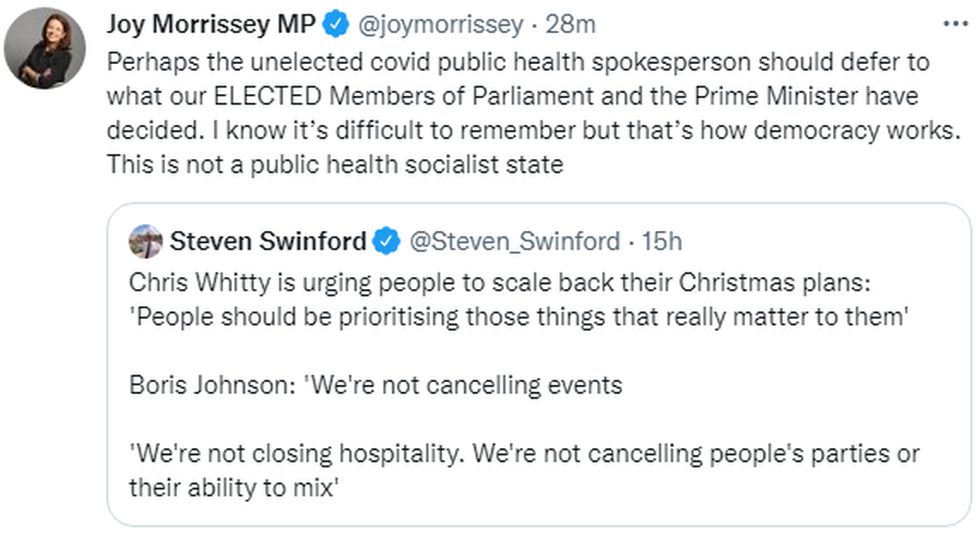 Another Conservative Steve Baker asked a Treasury minister to give him reassurance that "when officials speak at particular podiums at press conferences, that they are staying within the bounds of the policy that ministers have decided".
He warned that officials advice had the power to "herd the public into particular behaviours" and that "while the government has formally allowed hospitality businesses in particular to stay open, the reality in my constituency is that fantastic businesses… have seen massive cancellations."
And Greg Smith said advisers had "pressed the panic button way beyond what this house voted for a couple of days ago".
Defending his role during a health committee appearance, Prof Whitty said he didn't think ministers felt he was "treading on their toes on this one".
He said his job was to give scientific advice, while ministers "take decisions".