Nicola Sturgeon says Omicron becoming the dominant strain of Covid will drive a "rapid" increase in cases.
The Omicron variant will become the dominant strain of Covid-19 in Scotland by Friday, Nicola Sturgeon has said.
The first minister said 45% of the 5,951 Covid cases reported on Thursday were suspected to be the new variant.
She said Omicron would likely overtake Delta as the dominant strain of the virus by Friday, which would "drive an even more rapid increase in cases".
Ms Sturgeon urged people to reduce contact with other households "as much as you possibly can".
New regulations requiring shops and hospitality venues to reduce the spread of the virus will come into force on Friday, with detailed guidance for businesses published on Thursday afternoon.
Firms will need to enforce physical distancing, cut down on crowding in shops and at bars, and enable staff to work from home wherever possible.
Action is being taken to accelerate the booster jab programme, with mass vaccination centres to open at Hampden Park stadium in Glasgow and the Edinburgh International Conference Centre.
But Ms Sturgeon told MSPs that action was needed to slow the spread of the virus, with Omicron "running faster than even the fastest rollout of vaccines".
She said: "Omicron is spreading exponentially fast, much faster than anything experienced so far in the pandemic. I am profoundly concerned by the scale and immediacy of the challenge it poses."
The first minister said that even if Omicron's impact on individual health is milder than other variants, "many will still become severely ill and die, and the sheer number of people infected will present a massive challenge".
She said: "Please reduce your contact with people from households other than your own as much as you possibly can.
"For now, please stay at home much more than you normally would and as much as is feasible – right now the risk of getting Covid from interactions with others is high and it is rising."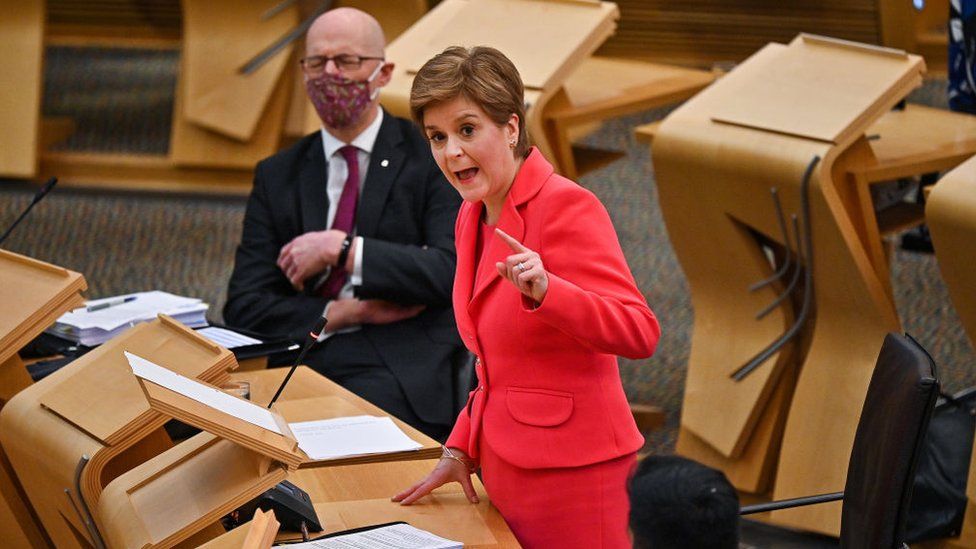 The advice on limiting social gatherings is not enforceable in law, but Ms Sturgeon has said people should "not think of it as optional".
However, there will be new legal requirements for businesses from Friday – a day sooner than the government had initially indicated.
Guidance published on Thursday said firms should look at installing barriers or screens to ensure physical distancing and avoid bottlenecks at entrances and in corridors.
It said the government would "strongly encourage the use of table service where possible", and that retail settings should use "signs, floor markings and queue management systems to help people keep a safe distance from others".
Hospitality firms say they have already taken a £1bn hit because of advice to cancel work Christmas parties, and bars and restaurants say the effect of guidance to limit social interactions could be "devastating".
Ms Sturgeon said she was "acutely aware of and deeply concerned" about the impact of advice on businesses.
She said firms "now need the type and scale of financial support that was available earlier in the pandemic", calling on the UK government to act "urgently" to make funds available.
The UK government has made some funds available to the devolved administrations, although Scottish ministers contend this has been brought forward from next year and had already been allocated within budgets.
A UK government spokeswoman said the Treasury had "given the devolved administrations the certainty they need to spend more money in the coming weeks", and would continue to engage with them.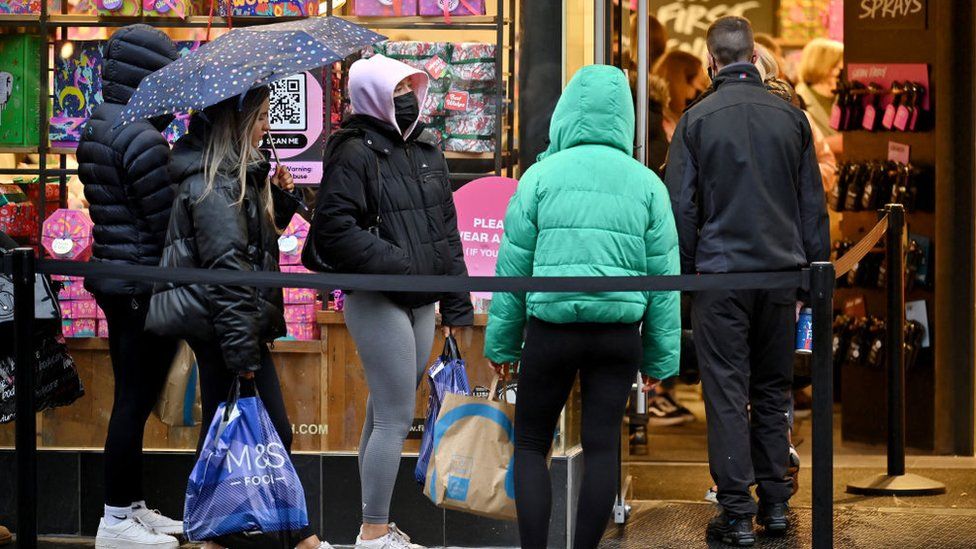 Scottish Conservative leader Douglas Ross said businesses had been given three different dates for when the new rules might come into effect, saying the government was "causing confusion".
And he noted that Deputy First Minister John Swinney had to apologise after telling MSPs that the guidance would not be available until Friday – after it had come into force.
He said: "Livelihoods are at risk, which is why we need clarity from the government to the businesses who are seeking it."
Scottish Labour leader Anas Sarwar also said business owners were "anxious" about the future of their firms and workers.
He said: "What they will not appreciate is politics or bickering. What they will expect is for the Scottish and UK governments to work together in the national interest to protect people's lives and livelihoods."
Ms Sturgeon said she understood why businesses were "terribly anxious", adding: "This is not about politics, this is about all of us within our responsibilities doing everything we can to meet this challenge.
"I will do everything within my responsibility but I need to urge the prime minister and the chancellor to do more within theirs."