A government-backed bill criminalising catcalling or following people now goes to the House of Lords.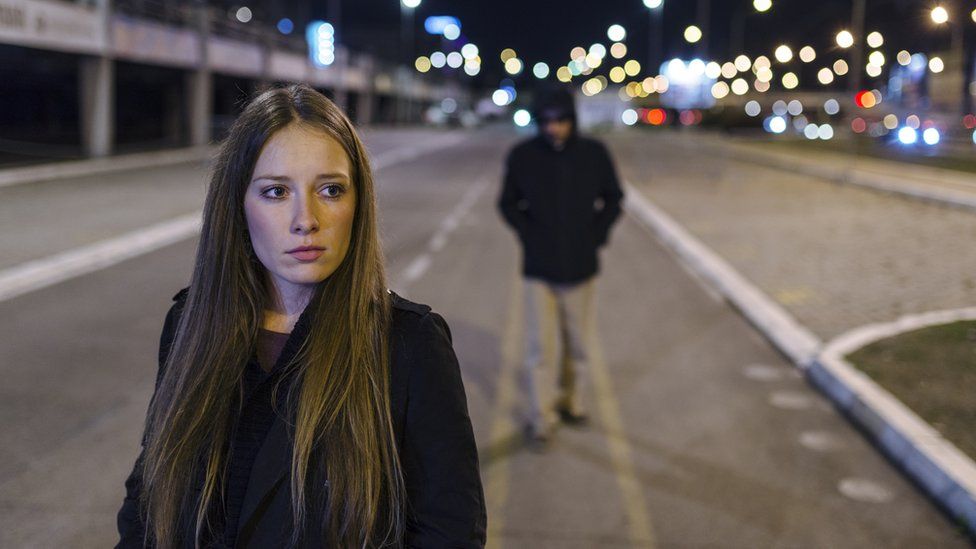 MPs have approved plans to make street sexual harassment a crime carrying jail sentences of up to two years.
Catcalling, following someone or blocking their path will become an offence in England and Wales under a bill backed by the government.
Conservative Greg Clark, who put it forward, said it was "astonishing" that this was not already a crime.
Sexual harassment is already illegal. The bill aims to target street harassment and improve enforcement.
The move was unopposed, and now goes to the House of Lords for scrutiny.
Mr Clark, a former business secretary, told MPs the intention of his bill was "to reinforce a change in the culture".
It "establishes that it is completely unacceptable to abuse women in the streets", he added.
While targeted at changing behaviour towards women and girls, the proposals will apply equally to men and women.
A survey by pollsters YouGov for the BBC, published last year, suggested two-thirds of women did not feel safe walking alone at night, at least some of the time.
Women and girls under 34 are most likely to be the target of sexual offences but the least likely to report them, according to the Crown Prosecution Service (CPS).
The CPS, which decides whether to take cases to court, recently updated its advice to staff about street harassment. The new guidelines also cover offences like exposure, stalking and sexual assault.
The murder of Sarah Everard, who was abducted and killed by serving policeman Wayne Couzens while walking home in south London in 2021, also increased concerns about women's safety and male attitudes towards women.
Six months later, primary school teacher Sabina Nessa, 28, was murdered in south London by a man she had never met.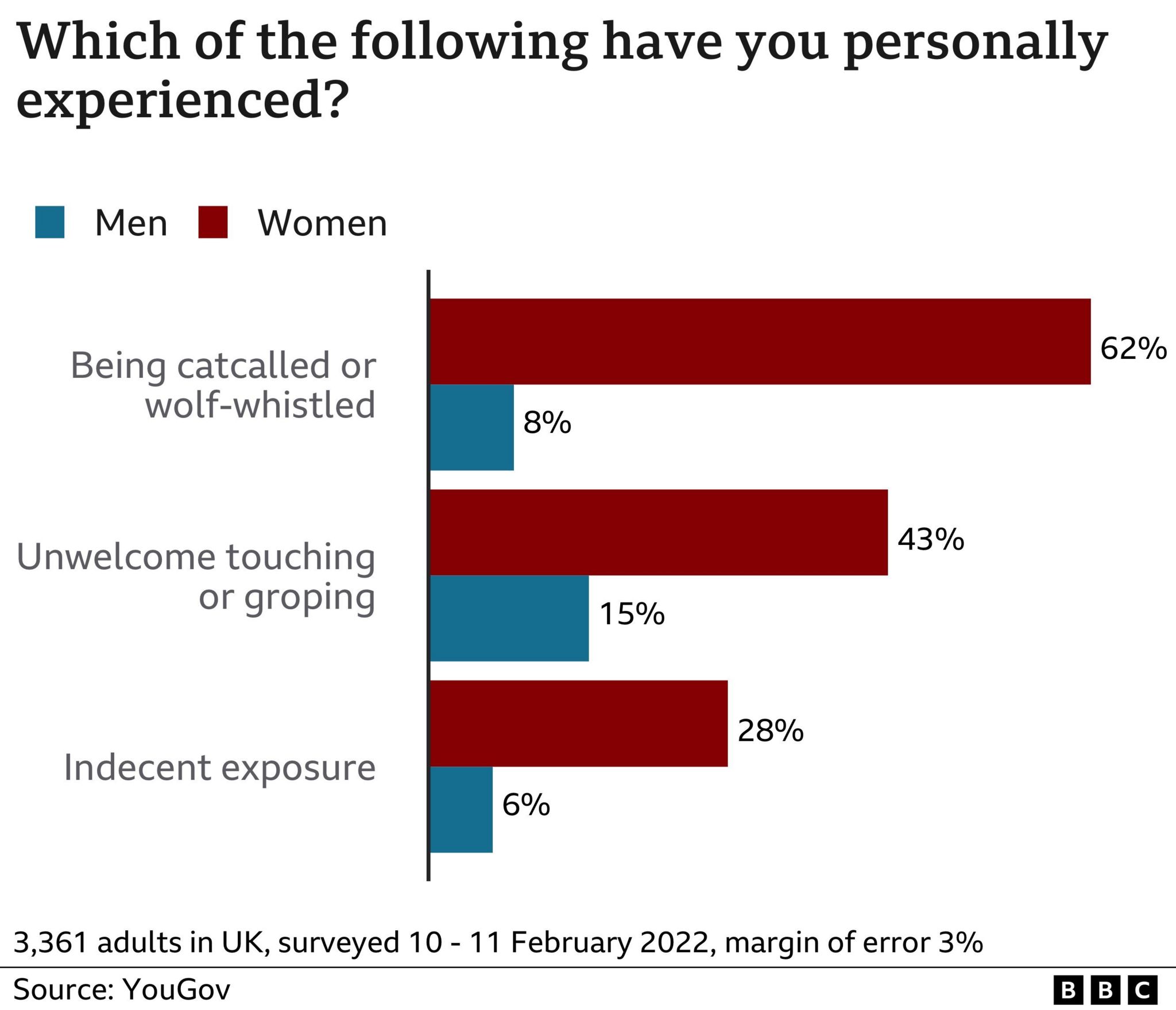 The private member's bill will criminalise:
Deliberately walking closely behind someone as they walk home at night
Making obscene or aggressive comments towards a person in the street
Making obscene or offensive gestures towards a person in the street
Obstructing someone's path
Driving or riding a vehicle slowly near someone making a journey
Harsher sentences will also be introduced, increasing the maximum jail term from six months to two years.
Speaking in the Commons, Tory MP Christopher Chope said the bill could lead to a deterioration in mental health in young men.
"A reasonable worry about assault appears to have morphed into an institutional misandry," he told MPs.
"Sexual assault is bad and treating men as inherent sex pests is also bad."
But Mr Chope did not vote against the bill.
Wolf-whistling
Campaigners have also called for wolf-whistling and staring intently to be criminalised.
Last July, then Home Secretary Priti Patel launched a consultation on making street harassment a specific crime. The Home Office has now concluded this should happen after "the significant majority" of respondents were in favour.
Last year, Independent Government Adviser for Tackling Violence Against Women and Girls Nimco Ali claimed the government had blocked such legislation.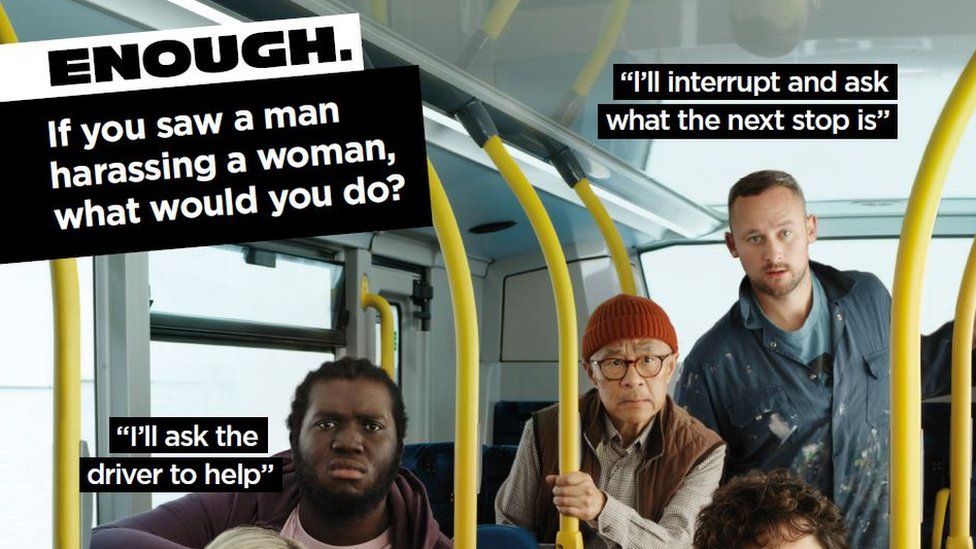 Crime and policing minister Chris Philp said the government was pleased to back the bill.
"This is only part of a wider piece of work to protect women and girls in particular.
"There is of course a lot more work to do. I look forward to working with colleagues in government and across the House."
The Home Office recently launched a campaign encouraging people to call out harassment.
It's called Enough, and you might have seen posters for it popping up on public transport over the past month or so.
The adverts – mainly aimed at men – suggest ways for people to intervene if they see someone being harassed.