Footage shows a gun-mounted pick-up truck chasing people running away, as mass protests continue.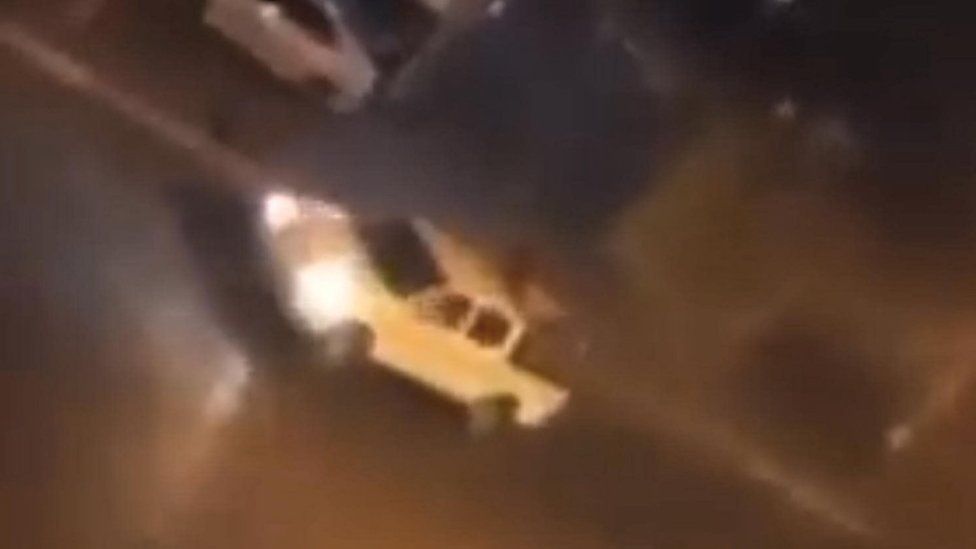 Video footage has emerged showing what appears to be Iranian security forces shooting at fleeing people with a gun mounted on the back of a pick-up truck.
In the clip, which has been verified by the BBC Persian service, bangs can be heard as the vehicle chases people in Baneh, in Kurdistan province.
Kurdistan has seen a fierce crackdown since mass protests which have swept the nation began last month.
One human rights group says more than 200 people have been killed.
The number of fatalities or casualties is hard to verify since the BBC and other independent media are banned from reporting from inside Iran. Authorities have also heavily disrupted the internet.
Horrific video from earlier tonight that shows regime forces are now using heavy machine guns mounted on the back of a pick up van as they chase and shoot protesters. This happened in the city of Baneh, in Kurdistan province. #MahsaAmini #مهسا_امینی pic.twitter.com/cl1GJ9oRv6

— Bahman Kalbasi (@BahmanKalbasi)
The protests are the biggest since the inception of the Islamic Republic in 1979 and are seen as a major challenge to the regime.
Demonstrations, which have been met with a violent response, have been reported in more than 110 cities across Iran.
Anger was triggered by the death in police custody of a 22-year-old Kurdish woman, Mahsa Amini, nearly a month ago. Ms Amini had been arrested by Iran's morality police for allegedly violating the law requiring women to cover their hair with a hijab, or headscarf.
Authorities say she died from an underlying health condition, but her family say she was healthy and died after being beaten on her head and body.
Despite tight controls on the internet and blocks on some social media platforms, hundreds of videos have emerged from inside Iran showing mass protests and a violent backlash by security forces.
Women have taken a leading role in the protests, defiantly appearing without – or burning – hijabs. In unprecedented scenes, schoolgirls have also shown their support by removing their hijabs and chanting against the regime.