A destruction order is carried out on the alpaca that tested positive for bovine TB.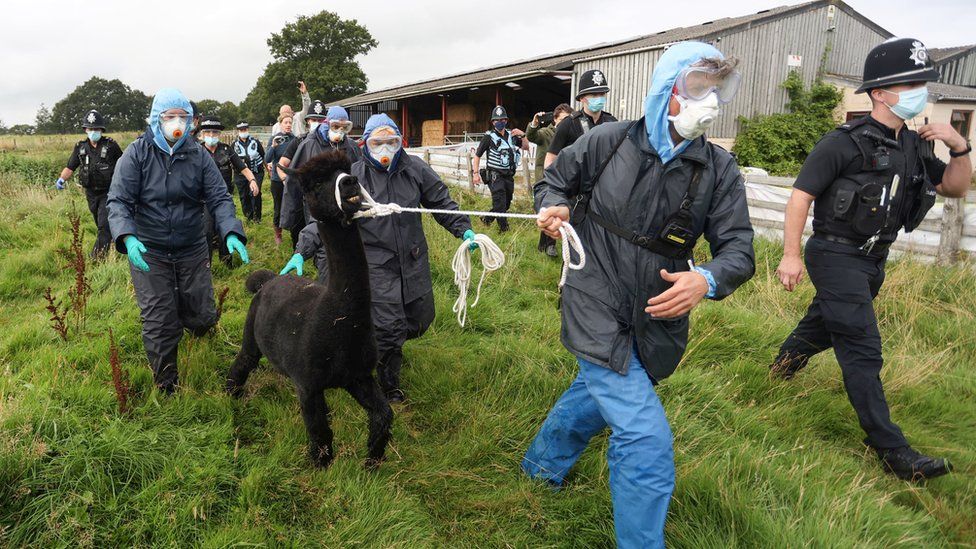 An alpaca at the centre of a legal row with the government has been killed.
Geronimo twice tested positive for bovine tuberculosis, and the Department of Food, Environment and Rural Affairs (Defra) ordered him to be euthanised.
"I am absolutely disgusted by this government. These are barbaric actions. It's a disgrace," said Ms Macdonald, who added she had received no warning.
Defra staff dressed in blue overalls, goggles and masks, accompanied by police, arrived at her farm in Wickwar, near Bristol, at about 11:00 BST and led Geronimo away to be destroyed, with the scene broadcast on an online live feed of the enclosure.
A spokesman confirmed the destruction warrant had been carried out after Geronimo was taken away from his pen and loaded into a trailer. The vehicle then left the scene under a police escort, with a number of protesters watching on.
Ms Macdonald said the government had refused to act in good faith and had ignored her consistent pleas for constructive dialogue.
"We know now they have been stringing us along for the last week, fobbing us off by saying people are on holiday and would get back to us this week.
"In fact, all the time they were simply planning to murder Geronimo. This is yet another appalling demonstration of bad faith and duplicity by the secretary of state and everyone at Defra," she said.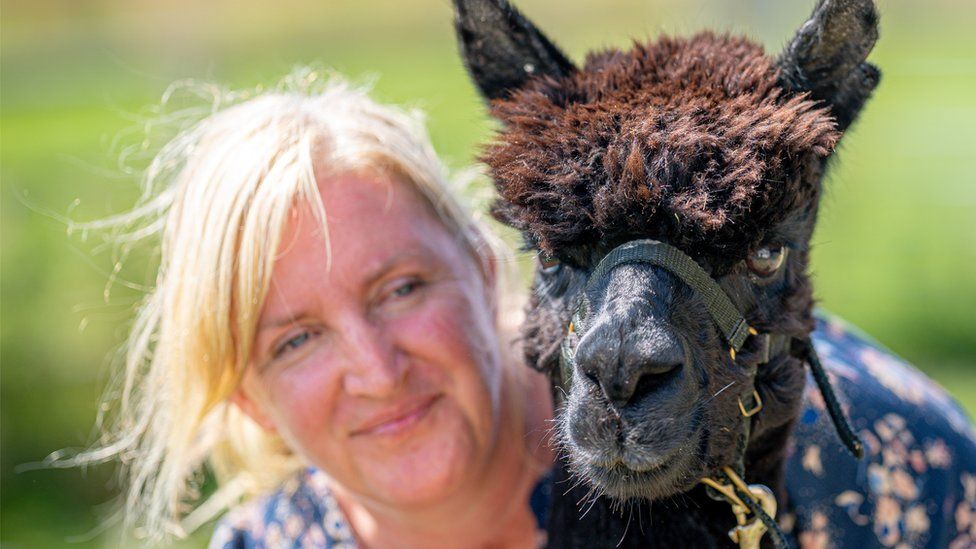 "Geronimo has been manhandled out of my farm. He was rounded-up and dragged into a horsebox," added Ms Macdonald.
Supporters had been camping out at Ms Macdonald's farm to try to prevent officials arriving to destroy Geronimo and some were seen talking to police as the animal was removed.
One woman was briefly arrested after spraying officers with a water pistol, but was quickly de-arrested.
Once Defra staff had entered her farm earlier, Ms Macdonald tweeted to ask for an "urgent meeting" with Environment Secretary George Eustice before adding: "Please don't execute Geronimo."
Ms Macdonald, a veterinary nurse, had called on Defra to allow Geronimo to be tested for a third time or let him live to aid research into the disease.
She argued the test used to test Geronimo was flawed and said he had tested positive previously because he had repeatedly been primed with tuberculin – a purified protein derivative of bovine TB bacteria.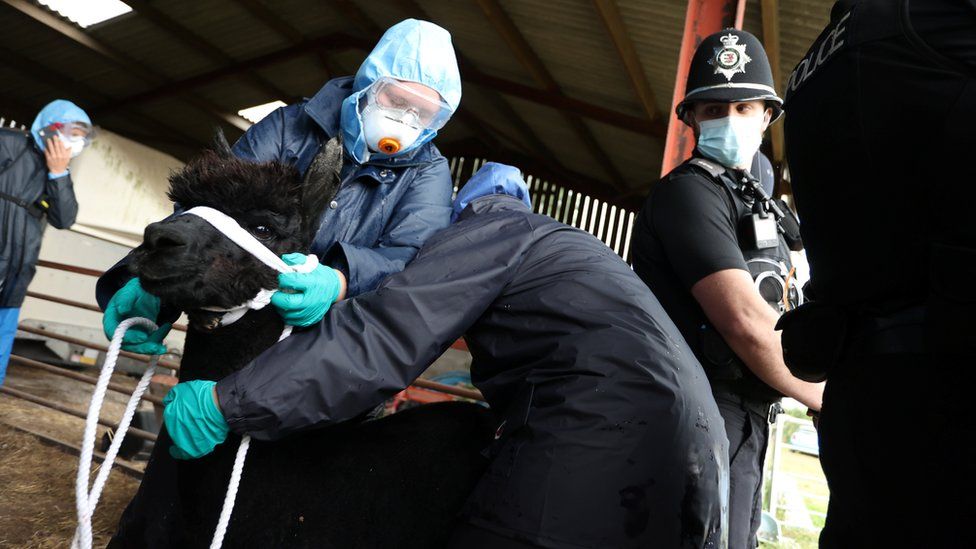 She lost a last-ditch High Court appeal to save Geronimo on 18 August, and the destruction warrant gave Defra until 4 September to put down the alpaca.
Downing Street has expressed sympathy for Ms Macdonald, with the prime minister's official spokesman saying: "It's obviously highly distressing for someone to lose animals to TB and that's a situation that farmers sadly have to face.
"Our sympathies are with Ms Macdonald and any others that are affected by this terrible disease."
Chief veterinary officer Christine Middlemiss said it was a "terribly sad situation" but they had to follow the scientific advice and cull animals that test positive for bTB in order to minimise its spread.
"Not only is this essential to protect the livelihoods of our farming industry and rural communities, but it is also necessary to avoid more TB cases in humans.
"No one wants to have to cull infected animals if it can be avoided," she said.
A Defra spokesman said a post-mortem examination would be carried out by veterinary pathologists from the Animal and Plant Health Agency, followed by a study of tissue samples, which can take up to three months.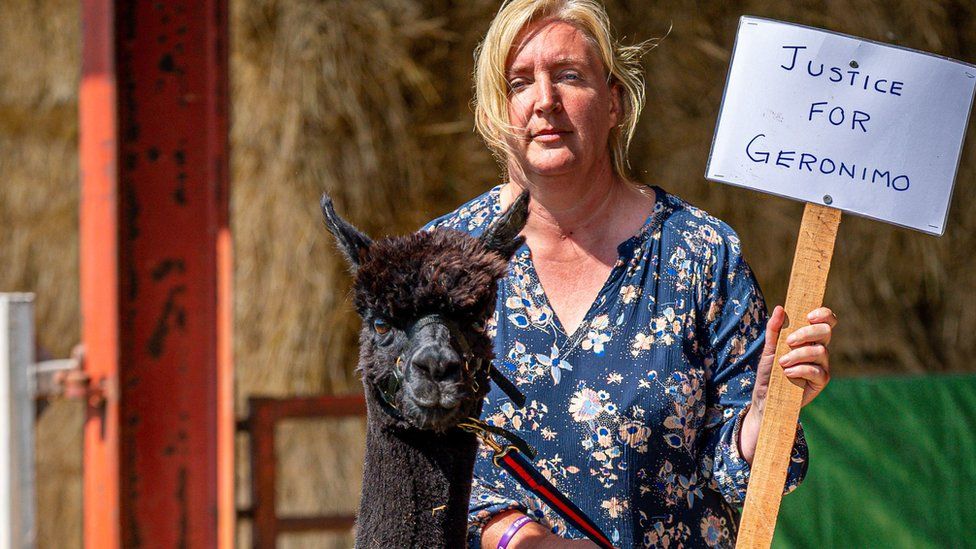 Defra said 28,356 cattle were compulsorily slaughtered in England in the 12 months to March 2021, after testing positive for bovine tuberculosis.
During 2020, a total of 205 camelids – animals such as camels, llamas and alpacas – were culled.
"Bovine TB remains one of the greatest animal health threats to the UK, causing devastation for hard-working farmers and rural communities," Defra said.
"We are pursuing a range of interventions in cattle and in badgers to eradicate the disease by 2038.
"If we do not take action, TB could pose an increased risk to animal and human health and to the international image and reputation of our cattle industry," the spokesman added.


Geronimo is brought to England from New Zealand in August 2017 by his owner Helen Macdonald
The alpaca twice tests positive for bovine tuberculosis in August and November that year
He is put into isolation away from the rest of the herd at the farm in Wickwar
The government applies for a court order in July 2018 to have him destroyed
Geronimo is given a stay of execution, with a deadline of the end of August for his slaughter
Ms Macdonald seeks a judicial review claiming new evidence shows the animal is healthy, marking the start of a series of lengthy legal battles
In November, Ms Macdonald wins the right to a review at the High Court in London
A hearing gets under way in March 2019 and Ms Macdonald claims government experts relied on "flawed science"
The case is dismissed in July 2019
Ms Macdonald starts an appeal and an order is made preventing Geronimo's death pending the application
She takes out an emergency injunction to delay a warrant to cull the animal before an appeal hearing on 29 July 2021
The case is once again dismissed. A judge agrees to delay the start of a second execution warrant until 5 August, which is later extended to 4 September.

The BBC is not responsible for the content of external sites.