Millions of pounds more will be spent on fans, paddling pools and water bottles, research suggests.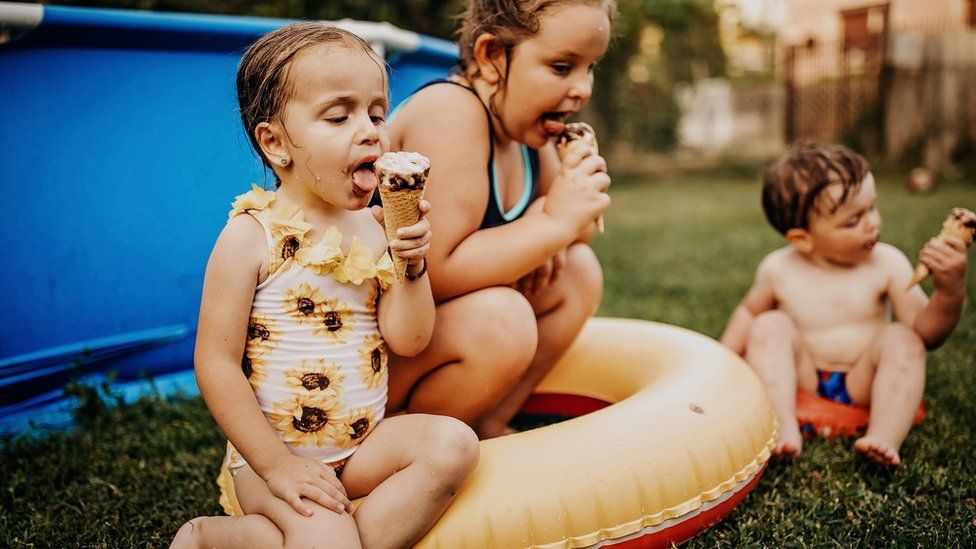 Sunscreen and ice cream sales soared in the UK as families prepared for the record-breaking heatwave.
Sun care sales were up 66% and ice cream 14% in the four weeks to 10 July, research firm Kantar said.
It predicts millions of pounds of extra spending on fans, paddling pools and water bottles as UK temperatures hit record highs.
But grocery price rises are at a near-record 9.9%, and food bills are set to rise by £454 this year, Kantar said.
Households stocked up on summer essentials in those four weeks in June and July as the Met Office predicted extreme heat across much of the UK.
The last time the UK sweltered in a similar heatwave, July 2019, sales of fans, paddling pools and reusable water bottles shot up.
About £10.9m extra was spent during the hottest week on those three items alone.
"We expect to see similar if not even bigger numbers this time around," said Fraser McKevitt, head of retail and consumer insight at Kantar.
But with price rises hitting their second fastest pace on record over those four weeks, people will be "feeling the pinch during our first restriction-free summer since 2019", Mr McKevitt said.
Typical summer barbecue staples of burgers, halloumi and coleslaw cost 13%, 17% and 14% more than they did this time last year.
"Buying enough for a typical family barbecue, shoppers will have to put aside £9.94 rather than the £9.01 they spent last year," he said.
Own brands
As food prices soar, the Kantar analysis suggested that people are increasingly turning away from branded products and towards own-label items. Sainsbury's said in July its customers were switching to own-brand products and cutting back on non-essential spending.
"It's a complex picture and the grocers are busy negotiating with their suppliers to mitigate impact at the tills as far as possible," Mr McKevitt said.
People also increasingly shopped at the German discounters Aldi and Lidl in those four weeks, with Morrisons and Waitrose especially losing market share.
Aldi is continuing to gain ground, and got closer to overtaking Morrisons as the fourth biggest UK supermarket chain.
Supply chain issues
Food prices are rising rapidly as energy and fuel costs continue to jump.
Over the four weeks to 10 July grocery prices rose at 9.9%, the fastest pace since 2008, the analyst firm said.
That means an item that cost £10 in the same period last year would have gone up to £10.99.
Kantar expects that pace to get even faster over the coming weeks, hitting a record high as supply chain issues continue to drive up costs.
Energy prices were already rising as economies started to recover from the coronavirus pandemic, but the war in Ukraine has helped push fuel costs to record highs.
Russia's war in Ukraine has also severely restricted wheat and maize supplies, which are used to make bread and cereals, from two of the world's biggest exporters, helping to push up food costs. Fertilizer costs have also shot up.