Ukraine says it pulled its troops out and Russia claims to control all of Luhansk region.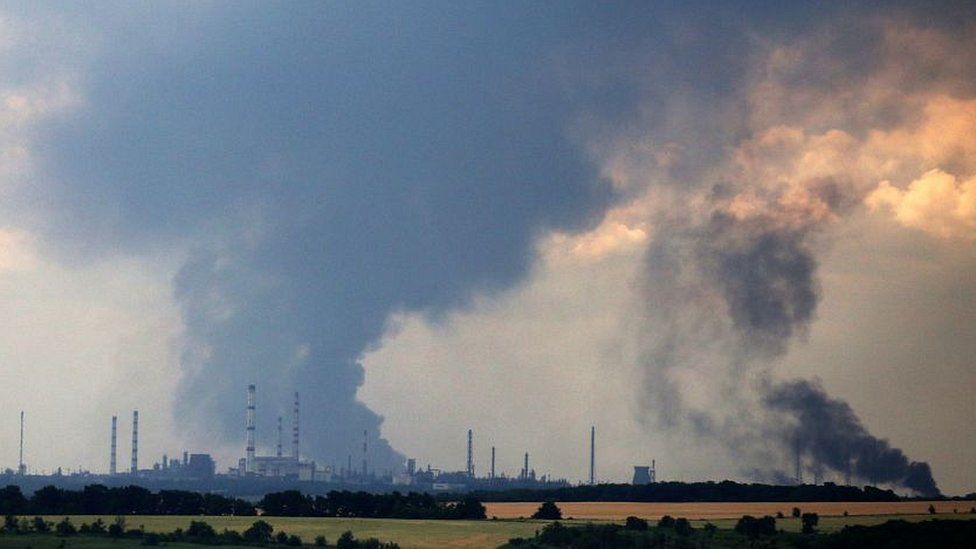 Russia says it is now in full control of the eastern city of Lysychansk – a claim not confirmed by Ukraine.
Russian Defence Minister Sergei Shoigu told President Putin that his forces now completely held the Luhansk region.
Earlier, the head of Russia's Chechen Republic, Ramzan Kadyrov, published video apparently showing Chechen fighters in the centre of Lysychansk.
Further west, the Ukrainian-held city of Slovyansk came under heavy shelling, with at least six people killed.
It is in Donetsk region, which with Luhansk forms the industrial Donbas.
Just before he launched the war, President Putin recognised all of Luhansk and Donetsk as independent of Ukraine. Russian proxy forces began an insurgency there in 2014.
Just over a week ago Russian troops captured Severodonetsk, a city reduced to ruins by weeks of Russian bombardment.


Ukraine's defence ministry insists that Lysychansk – the last major city it controlled in Luhansk region – is "not under the full control" of Russian forces. But there is plenty of video on social media confirming that they have now entered the city. Some also appears to show a handful of locals who stayed behind greeting the Russian forces as "liberators". There's always been a strong element of pro-Russian sentiment there.
Lysychansk overlooks Severodonetsk, across the Seversky Donets river. There was some hope that, built on high ground, it would provide a natural strong defence. But the noose around the city has been tightening, with Russian forces now controlling most access in and out.
Ukraine's commanders will have had to make the difficult decision to fight on – with the potential of large casualties and their remaining forces being surrounded – or to withdraw troops to fight another day. Some units had already pulled back to the next lines of defence over the past week.
Ukrainian officials have been unusually quiet about what's been happening in the city. That might, in part, be explained by "operational security" reasons. They would not want to broadcast any tactical retreat – if that is what's been happening. But losing Lysychansk would also be seen as another setback in the east.
If Lysychansk has fallen it's by no means the end of the fighting in Donbas. Ukraine still controls large urban areas in neighbouring Donetsk. Their forces have been preparing new defensive lines between Bakhmut and Slovyansk – though they too are now under heavy Russian shelling. Both sides have been taking heavy casualties. The question now is whether Ukraine can halt the advance, and whether Russia can maintain the momentum.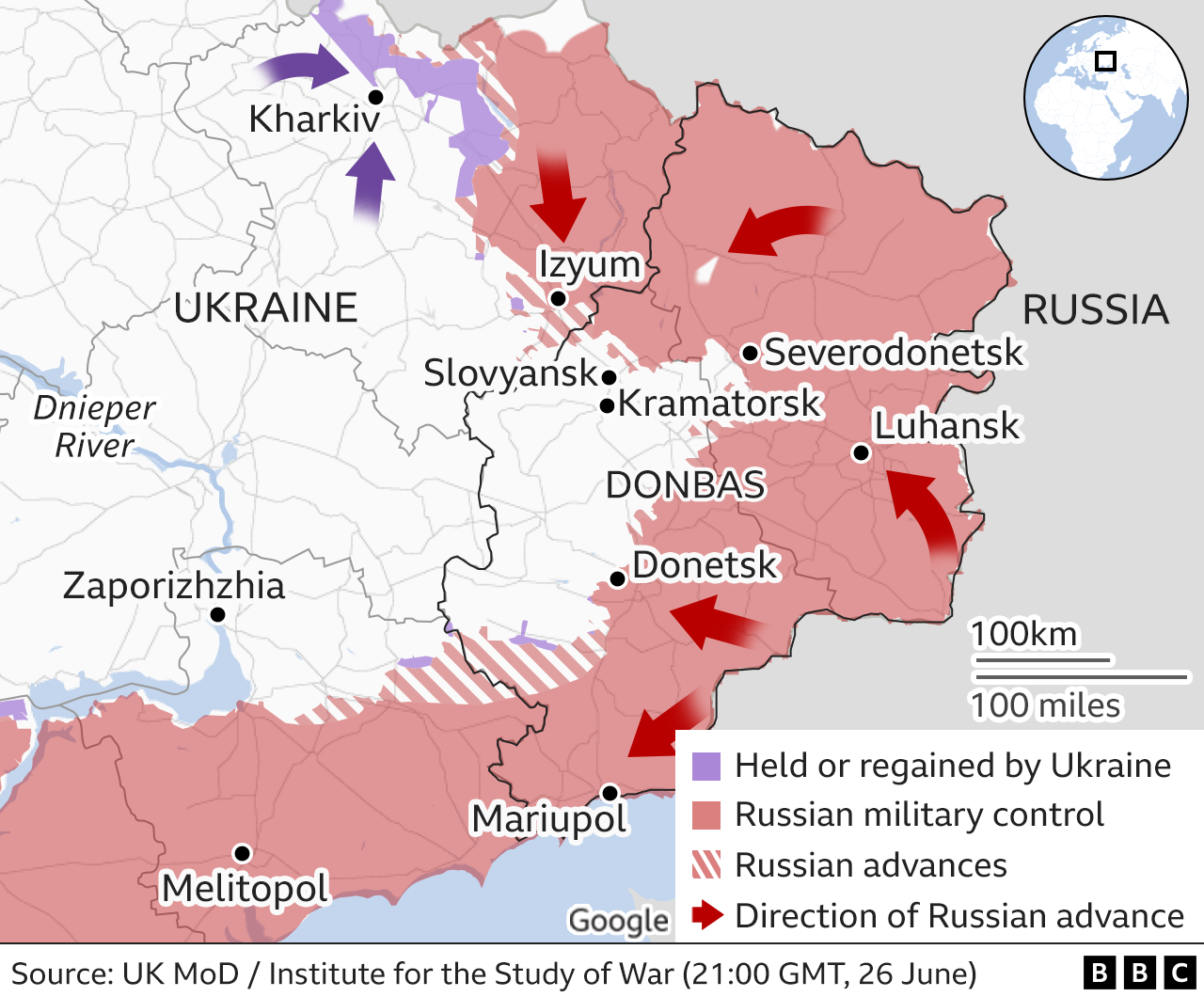 Slovyansk and Kramatorsk are the two biggest cities in the Donetsk region still in Ukrainian hands.
The heavy Russian bombardment of Slovyansk on Sunday caused some 15 fires, Mayor Lyakh said, and video showed huge plumes of smoke rising over the city. He said it was the worst shelling there in recent time.
A video clip on Twitter showed big blasts from a distance – in Slovyansk, according to the caption. It was posted by Iuliia Mendel, ex-spokesperson for President Volodymyr Zelensky. The BBC was unable to verify the latest conditions in Slovyansk.
Russia accused Ukraine of deliberately targeting civilians with a missile strike on Belgorod, a Russian city 40km (25 miles) from Ukraine's northern border. The local governor said four people were killed and Russia's defence ministry said three Ukrainian Tochka-U missiles had been shot down, but debris had fallen on an apartment block. Ukrainian officials dismissed the Russian claim, saying Moscow had staged a "provocation" in the city.
Ukraine's ambassador to Turkey said local customs officials had seized a Russian cargo ship carrying Ukrainian grain. Earlier, Ukraine's prosecutor-general asked Turkey to detain the Zhibek Zholy, anchored off a port east of Istanbul.

War in Ukraine: More coverage