The PM announces training for Ukraine forces after he pulls out of a conference in Doncaster to visit Kyiv.
Boris Johnson has announced a military training programme for Ukrainian forces he said could "change the equation" of the war.
The prime minister met President Volodymyr Zelensky during a surprise visit to the nation's capital Kyiv.
Downing Street said the UK-led scheme would have the potential to train up to 10,000 soldiers every 120 days.
Mr Zelensky welcomed Mr Johnson to Kyiv, describing the PM as his country's "great friend".
This is the prime minister's second visit to Ukraine since the Russian invasion in February.
At a joint press conference, Mr Johnson said his visit was intended to send a clear and simple message that the UK is with the Ukrainian people.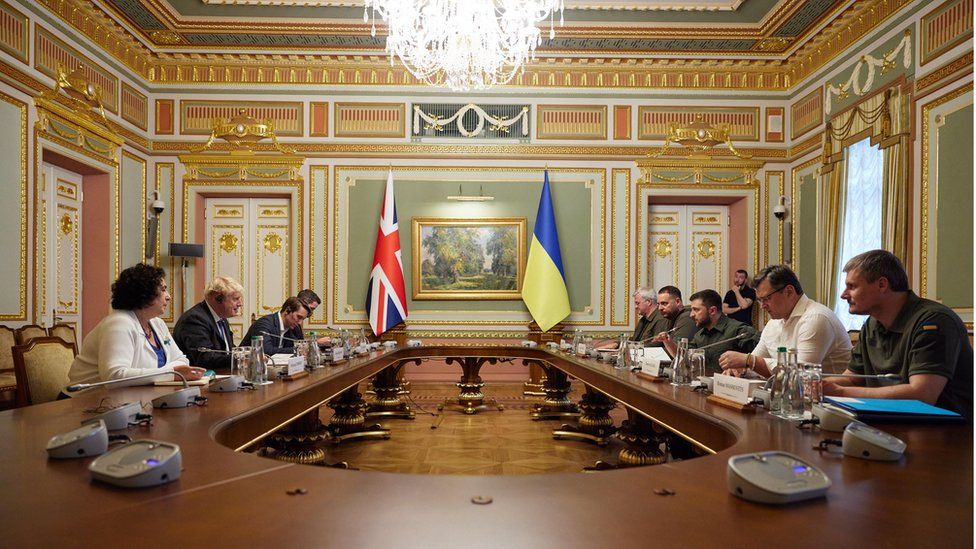 He said: "As Ukrainian soldiers fire UK missiles in defence of your nation's sovereignty, they do so also in defence of the very freedoms we take for granted.
"That is why I have offered President Zelensky a major new military training programme that could change the equation of this war – harnessing that most powerful of forces, the Ukrainian determination to win.
"Two months on from my last visit, the Ukrainian grit, determination and resilience is stronger than ever, and I know that unbreakable resolve will long outlive the vain ambitions of President Putin."
Downing Street said the programme would train Ukraine's military using British expertise, allowing to them to "accelerate their deployment, rebuild their forces and scale-up their resistance".
Soldiers would learn "battle winning skills for the front line, as well as basic medical training, cyber-security and counter explosive tactics".
The government added international partners would also be invited to host the programme.
If the offer is accepted by Mr Zelensky there would be discussions about the size of the training operation, which is expected to take place outside of Ukraine.
The previous Operation Orbital saw the UK train more than 22,000 Ukrainian personnel from 2015 up until the Russian invasion of Ukraine.
No 10 said the leaders also discussed how the UK could "play a pivotal role in ending the blockade of grain".
Mr Johnson announced his visit by tweeting a picture of himself with the Ukrainian president with the message: "Mr President, Volodymyr. It is good to be in Kyiv again."
Mr Zelensky's Telegram account posted a message saying: "Many days of this war have proved that Great Britain's support for Ukraine is firm and resolute.
"Glad to see our country's great friend Boris Johnson in Kyiv again."
The prime minister had been due to appear at a conference held by a group of his Tory MPs in Doncaster but cancelled the visit to travel to the Ukrainian capital instead.
Leader of the group of MPs, Jake Berry, told the BBC that it was "not a snub" that the PM pulled out of the Northern Research Group conference.
He said: "He is prime minister of our United Kingdom. Things happen that mean that plans have to change."


Chair of the Northern Research Group of Tory MPs Jake Berry has insisted that the prime minister pulling out of their conference in Doncaster is "not a snub".
But clearly, it could have made for an uncomfortable meeting.
It's just days until the by-election in Wakefield, which Labour are hoping to nab back from the Tories after their disgraced MP had to resign following his conviction for sexually assaulting a 15-year-old boy.
The group of Tory MPs had also been calling for regions in the north of England to be able to set their own tax rates – as well as cuts to personal taxes.
But No 10 will argue that duty called and the prime minister's visit to Ukraine superseded any domestic commitments, as the country continues to be torn by war.

Mr Johnson's trip comes after visits to Ukraine by European leaders including French President Emmanuel Macron and German Chancellor Olaf Scholz.
Following their trip, the European Commission has backed Ukraine's bid to be given candidacy status to join the EU – bringing it one step closer to joining the bloc.