Its approach was ineffective and possibly counter-productive, a government-commissioned report finds.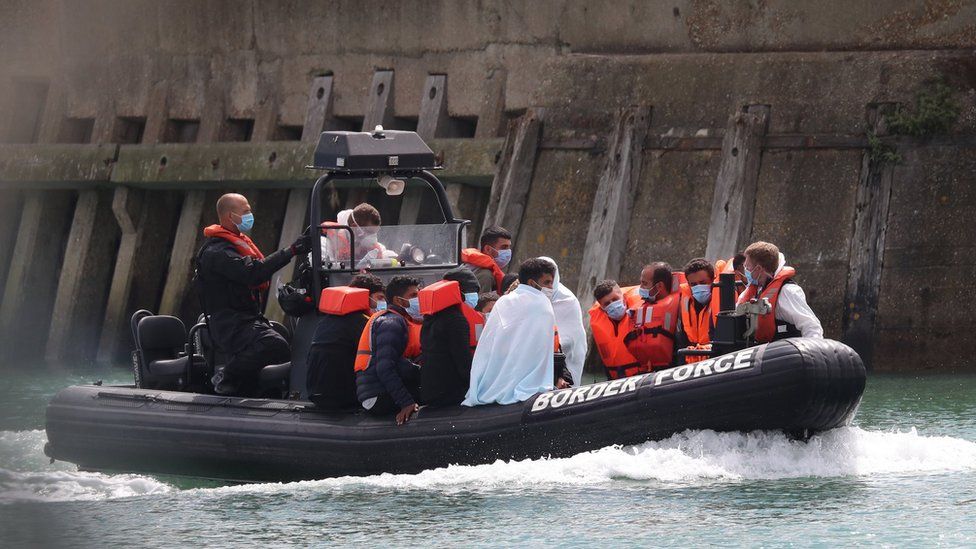 The Border Force, which polices the UK's borders, may have made the small boats crisis in the Channel worse, an independent report has found.
Author Alex Downer, former leader of Australia's Liberal Party, criticised "a cycle of crisis management".
Ms Patel has welcomed the report's "constructive recommendations".
In relation to the small boats crisis, the review found the Border Force Maritime command had been "drawn into a challenge that it is ill-equipped to deal with and yet all consuming".
Its efforts were seen as short-term and broadly focused on the next crisis, meaning it was always running to catch up, Mr Downer said.
The report added that the resources required in the Channel were "not sustainable".
"The problem of illegal entry by small boats is not solvable in the Channel by Border Force," the review concluded, noting that the Royal Navy now controlled operations in the Channel, including commanding Border Force vessels.
The report does not spell out exactly how Border Force was counterproductive but it did say that it was ill-equipped to deal with the problem and its boats were not designed for conducting search and rescue operations.
The report also said Border Force urgently needed clear leadership on priorities and purpose.
It had been lacking consistent leadership for the last year to 18 months and was still not stable, Mr Downer said.
"If they are to get themselves out of the cycle of simply lurching from one crisis to another, they need to demonstrate a change in mindset," he said.
While the review said Border Force was "largely delivering what is required of it on a day-to-day-basis", it concluded the organisation was performing at "a suboptimal level" overall.
It seemed to be "less than the sum of its parts with significant systemic challenges", it said.
Operations at Heathrow Airport also come under scrutiny in the review.
Mr Downer said he witnessed queues of more than three hours that were the "visible manifestation" of poor long-term planning and ineffective recruitment by the Home Office.
The relationship between Border Force and airport authorities was described as "problematic", with Border Force "unwilling to discuss operational challenges that might occur during busy periods".
The political leadership of Border Force activities was also criticised.
"I was surprised that even the biggest ports claimed to have had little regular contact with Home Office ministers," Mr Downer said.
Home Secretary Priti Patel said she has tasked the Home Office with developing "a robust and swift implementation plan for how we will deliver against the review".
She said she wanted to ensure Border Force was well placed to exploit emerging technologies and remain at the "forefront of border control worldwide".
"We are Global Britain and we need a border that fully supports our vision, and we can deliver that with full control of our own borders."
Although Ms Patel welcomed the report, its findings are likely to be an embarrassment to a home secretary who campaigned for Brexit so that the UK could "take back control of its borders".