Volodymyr Zelensky hails Boris Johnson as an "important ally" after the UK PM survives an attempt to oust him.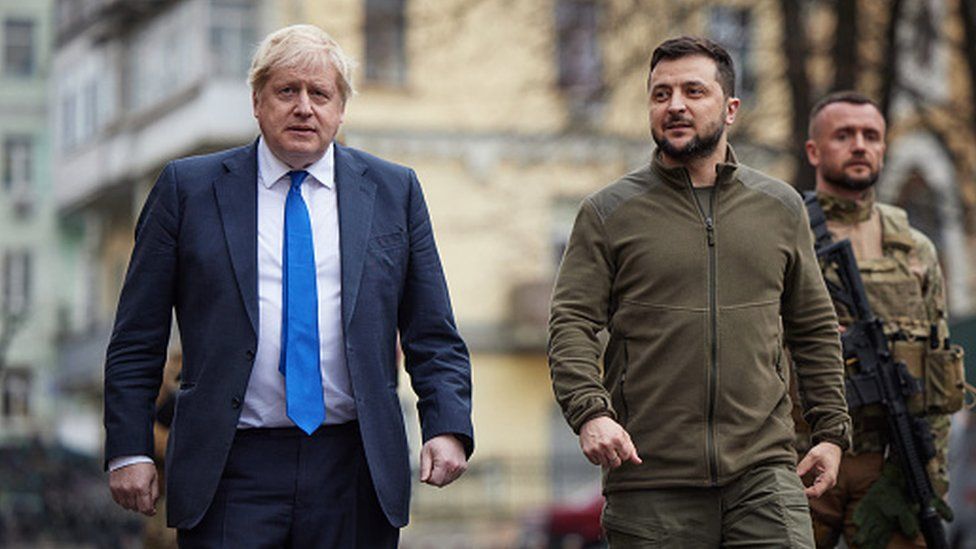 Ukrainian President Volodymyr Zelensky said he was "very happy" Boris Johnson was still UK prime minister after he survived an attempt to oust him.
Mr Johnson won a confidence vote despite a major revolt that saw 148 of his own Tory MPs vote to remove him.
"I'm glad we haven't lost an important ally, this is great news," Mr Zelensky said at an online event.
Mr Johnson has forged a close relationship with President Zelensky since Russia's invasion of Ukraine.
He called Mr Johnson a "true friend of Ukraine" and a "concrete" supporter in an interview at a virtual conference hosted by the Financial Times on Tuesday.
The UK was among the first to provide weapons to support Ukraine's defence and – like its Western allies – has imposed sweeping sanctions on Russian targets prosecuting the war.
In April, Mr Johnson pledged "unwavering support" on a visit to the capital Kyiv, where he did an unannounced walkabout of the city with President Zelensky.
Mr Johnson has faced a backlash from MPs and the public after he was fined by police for breaking his own lockdown laws at a 2020 party in Downing Street, where the prime minister lives and works.
A report by a senior civil servant criticised failures of leadership in Downing Street, where officials and staff were issued with a total of 123 fines for breaking Covid rules on indoor gatherings during the pandemic.
Some Conservative MPs had cited the war in Ukraine as a reason not to oust Mr Johnson from office in the confidence vote in Parliament on Monday.
Rallying his MPs ahead of the vote, Mr Johnson said it was the wrong time for "unforced domestic political drama" when Ukraine was fighting Russian President Vladimir Putin's forces.
Mr Johnson won the backing of 59% of his MPs, describing the result as "extremely good, positive, conclusive" and insisting his leadership was now secure.
However, those who had voted against Mr Johnson said the scale of the rebellion had weakened his authority, with some calling on him to resign.
Reacting to Monday night's result, cabinet minister Nadhim Zahawi said he thought President Zelensky would be "punching the air because he knows his great ally Boris Johnson will be prime minister tomorrow morning".
Those comments were criticised by some MPs, including Labour's Karl Turner, who urged Mr Zahawi to apologise for dragging the Ukrainian president "into this Tory party civil war".
On Monday, ahead of the confidence vote, Mr Johnson called Mr Zelensky to discuss Ukraine's defence of its eastern Donbas region, where Russian forces are advancing.
In a tweet, Mr Johnson wrote: "We're unwavering in our mission of ensuring Ukraine is defended and supported for the long-term."
Last month, the UK government said it would offer further aid and military support to Ukraine worth £1.3bn to boost the country's defence against Russia.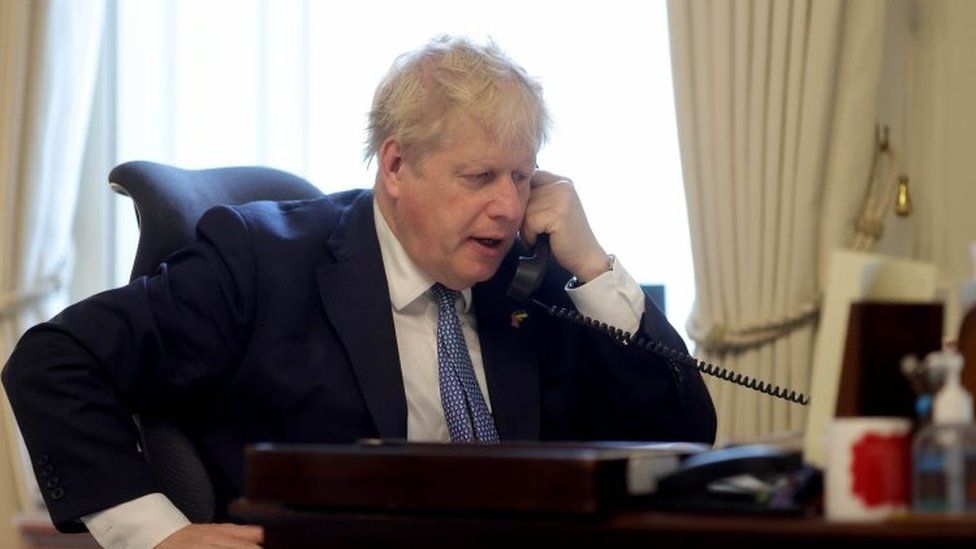 Ukrainian commentators and officials expressed relief that Mr Johnson had won Monday's confidence vote, with some noting that UK had become a key arms supplier for the country.
Mykhaylo Podolyak, one of Mr Zelensky's advisers, tweeted in English moments after the confidence vote.
He wrote: "Leadership is always a heavy burden. Boris Johnson was one of the first who realised the menace of Russia & stood by Volodymyr Zelensky to protect the free world from barbaric invasion.
"The world needs such leaders. The UK is a Great friend of Ukraine. British crown is a shield of democratic world."