Boris Johnson's ex-adviser says drinks was arranged by a "senior No 10 official" in May 2020.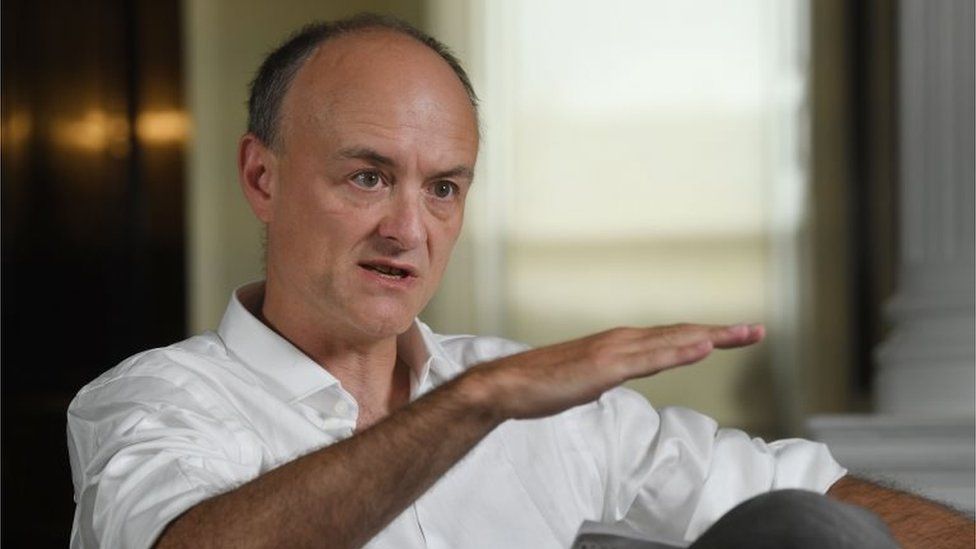 Former Downing Street adviser Dominic Cummings has alleged a social event which took place in No 10 on 20 May 2020 may have broken Covid rules.
In his blog, he said a "senior No 10 official" invited people to "socially distanced drinks" in the garden.
Mr Cummings said he and another adviser had warned that this could be against the rules but were told the event had gone ahead.
Downing Street has been approached for comment.
The first coronavirus lockdown was introduced in England in late March and were slowly relaxed in May 2020, but it was not until 1 June that people were allowed to meet outside in groups of up to six people.
In December, Prime Minister Boris Johnson asked Simon Case, the UK's top civil servant, to investigate after a series of allegations about events taking place in government buildings despite coronavirus restrictions.
Mr Case later stepped down after suggestions one of the parties took place in his own office and the investigation was passed to Sue Gray, another senior civil servant.
Mr Cummings has now urged Ms Gray to "dig up" the email invitations to the event on 20 May – and his email to colleagues warning against it.
He also said the senior civil servant should look in to his claim that a party took place in Mr Johnson's Downing Street flat on 13 November – something No 10 has previously denied.
However, Mr Cummings has argued that one allegation of a rule-breaking event is false.
Last month, the Guardian published a photo from 15 May 2020 of the prime minister with his wife and 17 other staff members – including Mr Cummings – in the Downing Street garden with bottles of wine and a cheeseboard.
Writing on his blog, Mr Cummings, who was forced out of Downing Street at the end of 2020 after an internal power struggle, said "the scene on the terrace was in no sense a 'party' or 'organised drinks'".
"Many meetings had been taking place in the garden all day… those on the terrace nearest me in the photo had been having a meeting.
"No 10 staff were encouraged to have meetings in the garden April-August for the obvious reason that we were in a pandemic with an airborne disease and being outside was safer!"