A committee says legally changing gender remains too difficult and risks entrenching stereotypes.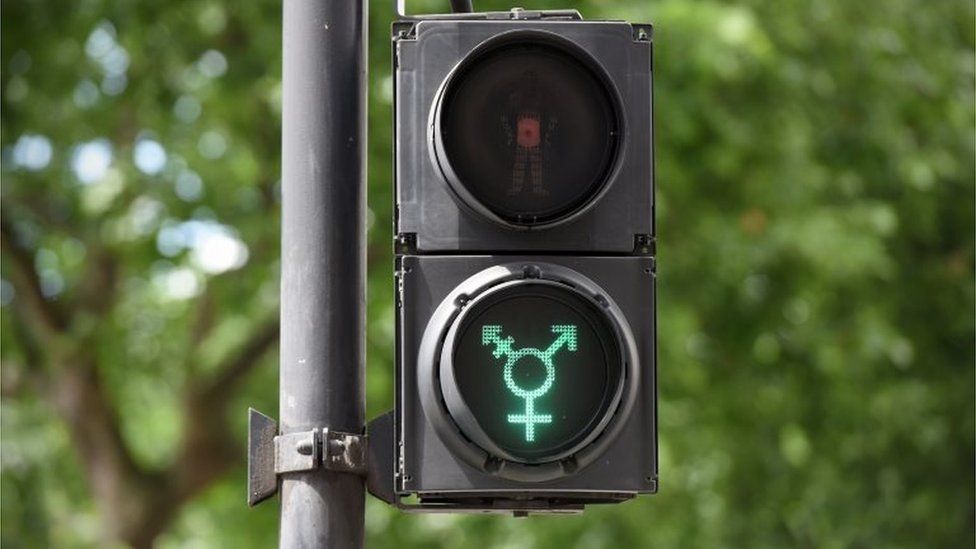 Transgender people should no longer have to live in their acquired gender for two years before getting legal recognition, MPs have said.
The Women and Equalities Committee said the requirement risked "entrenching outdated and unacceptable gender stereotypes".
It also argued that the need for a medical diagnosis before legal recognition should be scrapped.
The government says it is making the current system easier to navigate.
In September last year, ministers rejected making fundamental changes to gender recognition laws in England and Wales, following a two-year consultation.
Under the Gender Recognition Act (GRA) 2004, UK adults can legally change their gender if they meet certain criteria. However, many trans people have said they find the system intrusive, costly and bureaucratic.
Those applying via the standard route have to provide two medical reports showing a diagnosis of gender dysphoria, which the NHS describes as "a sense of unease that a person may have because of a mismatch between their biological sex and their gender identity".
They must also provide evidence they have lived full-time in their acquired gender for at least two years, such as copies of their passport and driving licence.
A "self-ID" process, allowing changes to birth certificates without a medical diagnosis, was one of the ideas put forward in a consultation undertaken by the last Conservative government, led by Theresa May.
Of the 102,818 responses received, 64% said there should not be a requirement for a diagnosis of gender dysphoria in the future, on the grounds that being trans was neither a medical nor a mental health issue.
However, in September 2020 the government said it would not be changing the requirement or the two-year acquired gender rule in England and Wales, arguing "the balance struck in this legislation is correct".
'Essential safeguard'
In a report reviewing reform of the act, the cross-party committee of MPs said the two-year requirement should be immediately removed, arguing there were "significant problems" with the rule and there was "no clear, accepted or agreed definition of what living like a man or a woman is".
"The requirement also risks entrenching outdated and unacceptable gender stereotypes," it added.
The committee also called on the government to scrap the need for a gender dysphoria diagnosis by 2023, to reflect "the support for this in responses to its own consultation".
It added that a requirement for applicants to make a legal declaration that they will live in their acquired gender should remain, calling it an "essential safeguard" to ensure they are doing so with "genuine intent".
However, it added that the current requirement for this declaration to be permanent should be changed, to allow people to reverse their decision.
Responding to the report, a spokesman for the government's Equality Hub – which focuses on LGBT rights – said the current law was "effective" and allows "those who wish to legally change their gender to do so".
He added that the government had been "taking steps to modernise" the process of applying for a gender recognition certificate in response to its consultation.
This included steps to reduce the cost and making it possible for people to apply online, the spokesman said.