The foreign secretary is accused of not phoning his Afghan counterpart for help to evacuate interpreters.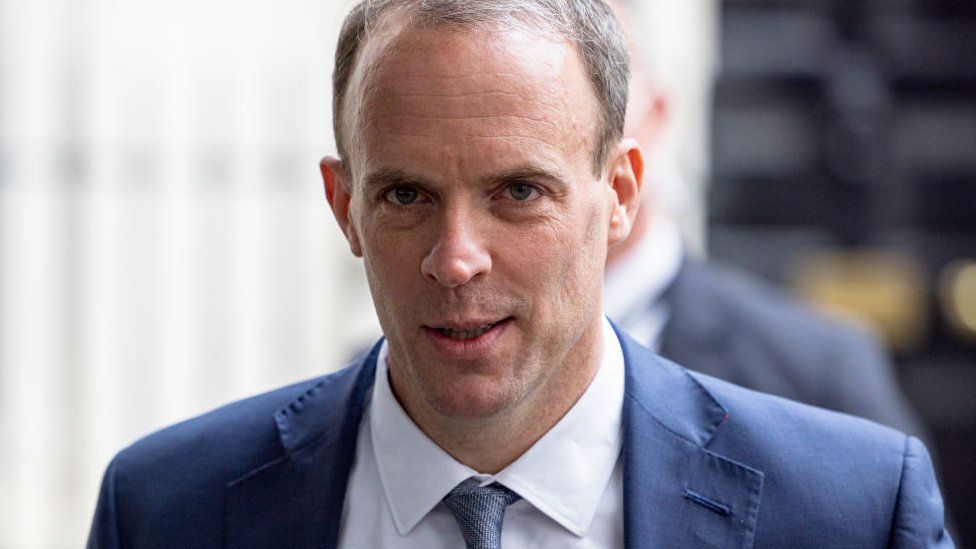 Labour has accused the foreign secretary of putting interpreters' lives at risk after he reportedly declined to make a phone call to get help evacuating them from Afghanistan.
The Daily Mail claims Dominic Raab was advised to personally ask his Afghan counterpart for urgent support.
But the BBC has been told the call was made by a junior minister.
A government spokesperson said Mr Raab was engaged on other calls and this one was delegated to another minister.
Earlier this week, newspaper reports suggested the foreign secretary was seen relaxing on a beach on the Greek island of Crete on Sunday – the day Taliban militants entered Kabul, Afghanistan's capital.
Mr Raab said that while he was away he had been directing his team and engaging with international partners.
The Mail has now reported that Mr Raab was advised by senior Foreign Office officials on Friday he should make contact with Afghan Foreign Minister Hanif Atmar to get urgent assistance in rescuing Afghan interpreters who had worked for the British military.
The paper claims the officials said it was important the call was made by him rather than a junior minister – but they were told Mr Raab was unavailable.
Shadow home secretary Nick Thomas Symonds tweeted: "This is a dereliction of duty. Failing to make a call has put the lives of brave interpreters at risk, after they served so bravely with our military. Utterly shameful."
MPs on all sides criticised the government's response to events in Afghanistan in the House of Commons on Wednesday.
During the debate, Labour leader Sir Keir Starmer accused Mr Raab of staying "on holiday while our mission in Afghanistan was disintegrating".
"You cannot co-ordinate an international response from the beach," Sir Keir said.
On Wednesday night, Mr Raab said he had spoken to the US secretary of state Anthony Blinken to discuss both countries' response to the situation in Afghanistan.
The foreign secretary will host a meeting later of G7 foreign ministers.
About 2,000 Afghan former staff and their families have come to the UK via ARAP this year, according to the Home Office, with a target of 5,000 by the end of 2021.