Some Conservative MPs say a vote on Boris Johnson's leadership could be triggered in the coming week.
Boris Johnson would win a confidence vote on his leadership, Transport Secretary Grant Shapps has said, as the PM continues to face calls to resign.
Some Tory MPs have told the BBC such a ballot could be triggered this week, but Mr Shapps disagreed.
He also shrugged off crowds booing the PM, saying politicians didn't expect to be "popular all the time".
But Labour leader Sir Keir Starmer said it was a sign voters were "fed up" with the government.
He argued the jeers that greeted the prime minister when he attended a Platinum Jubilee celebration were a response to the government's "inaction" over the cost of living crisis.
However, speaking to the BBC's Sunday Morning programme, Mr Shapps said prime ministers had to make difficult decisions and not everyone would approve.
He suggested that at the next general election, voters would judge whether the government had "done a good job as a whole" and that decisions on Brexit, coronavirus and the economy would be what mattered to people.
The transport secretary also insisted Mr Johnson would not lose a confidence vote among his own MPs.
A confidence vote would be triggered if 15% of the Conservative MPs – 54 of them – wrote letters or emails asking for one.
So far 28 Conservative MPs have publicly called on Boris Johnson to step down over revelations of widespread Covid-rule breaking in Downing Street.
However, only MP Sir Graham Brady – chair of the 1922 committee which represents Conservative backbench MPs – knows exactly how many have formally submitted requests for a confidence vote.
Some Conservative MPs have privately told the BBC they believe the threshold for triggering a vote could happen in the coming week.
However, Mr Shapps said he didn't think there would be a vote this week.
Asked if the prime minister could win such a vote he said: "Yes, he will."
Pressure on Mr Johnson to resign has been increasing since allegations emerged of parties taking place inside Downing Street while coronavirus restrictions were still in place.
During an investigation into rule-breaking events in government buildings, the police issued a total of 126 fines to 83 people.
Mr Johnson himself was fined for attending a birthday party held for him in the Cabinet Room.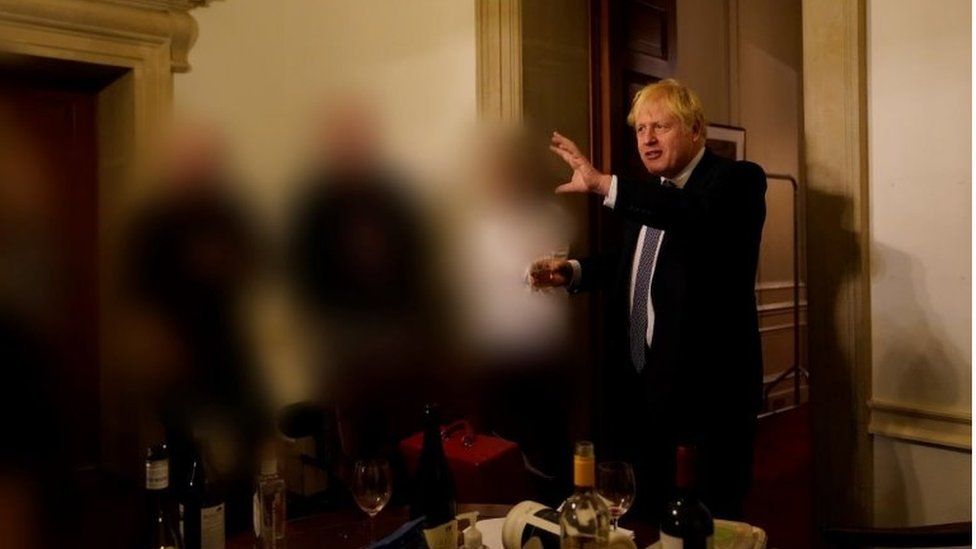 The police's inquiry has been concluded, but London Mayor Sadiq Khan said their rationale for fining people looks "odd" when taking into consideration photos released in the Sue Gray report.
He suggested a legal challenge of police decisions – launched by the Liberal Democrat politician and former senior police officer Brian Paddick – would ensure the public could see the evidence in relation to each individual case and "resolve" questions about why some people were fined and others not.
"What we don't want is the perception to be given that it is one rule for them, the rule-makers, and one rule for the rest of us," he said.