English clubs dominate Europe, but Dover Athletic face ruin at the bottom of the football pyramid.
At the end of a season of turmoil due to the pandemic, the Premier League reigns supreme in European football with two clubs in the Champions League final.
But at the other end of the national football pyramid, Dover Athletic face a bleak future after it defied authorities over their decision to continue fixtures.
Heading into the final weekend of the Vanarama National League – the fifth and final tier of the national league system – the Whites languish in bottom place, on zero points.
The club's lowly position is the result of a punishment from league bosses, after it refused to play since February amid concerns about spiralling costs of fulfilling fixtures without paying spectators.
And the impact on the players has been devastating.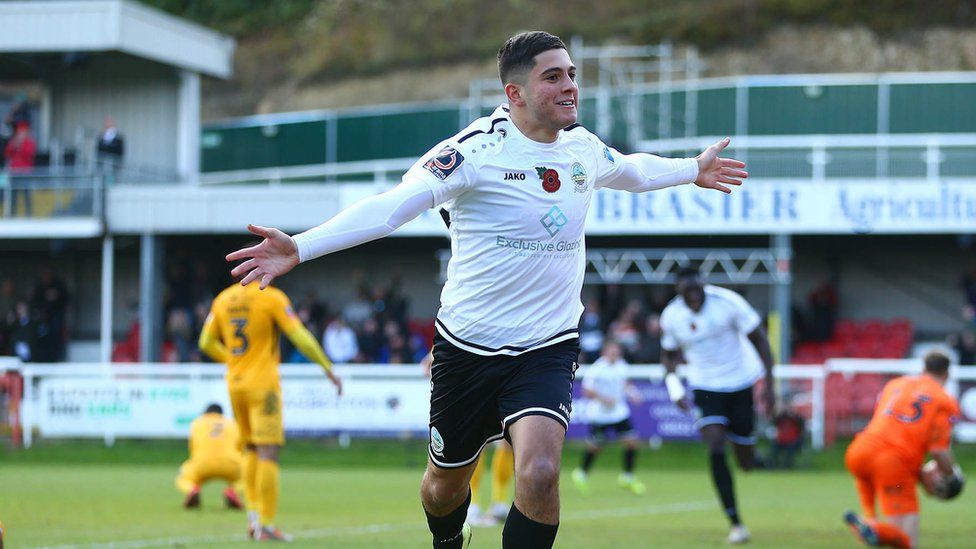 Club captain Sam Wood was one of only four players to be told they would stay on at the club. All four have been forced to switch from full-time to part-time contracts.
Some of the fifteen players who were released – who spent months barred from training due to being furloughed – are now considering life outside football.
"Are managers at potential new clubs going to take a chance on someone who hasn't played for six months?" asked Wood.
"They've got mortgages and now they have to find a job in a pandemic. A lot of them have only known football.
"I would say to young footballers – 'Have a trade. Learn on your days off. Have a back-up."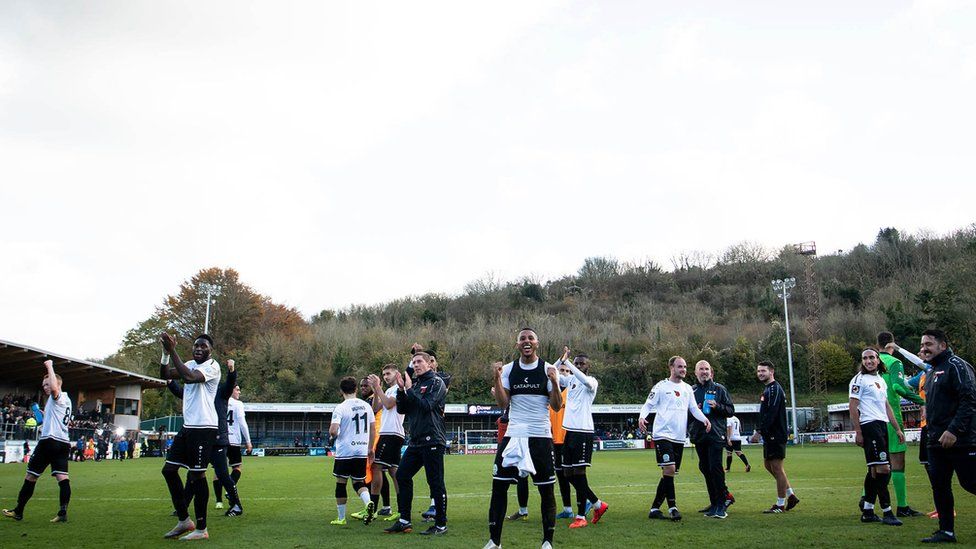 Wood said his teammates have suffered with their mental health when they were furloughed, as they missed the companionship of the game.
"I've literally just been sat at home doing not much," said the 34-year-old defender.
"A lot of the boys don't live local to each other, so they can't meet up. Mentally it is very tough."
Dover's decision to cease playing after 15 games led to league bosses expunging the team's results, and ordering them to start the 2021-22 season with a 12-point deduction.
They are favourites for relegation next season, and a £40,000 fine – the equivalent of a month's running costs for the club – has forced Dover to move from professional to semi-professional.


Club chairman Jim Parmenter said despite the upheaval at the club, he did not regret his decision to furlough players, management and staff.
The decision came after Dover voted with seven other clubs to halt the season in mid-February. At the time, the chairman declared: "We've run out of money".
Mr Parmenter said the club would have had to take on loans, which could have made it insolvent, if it continued to play matches in empty stadiums.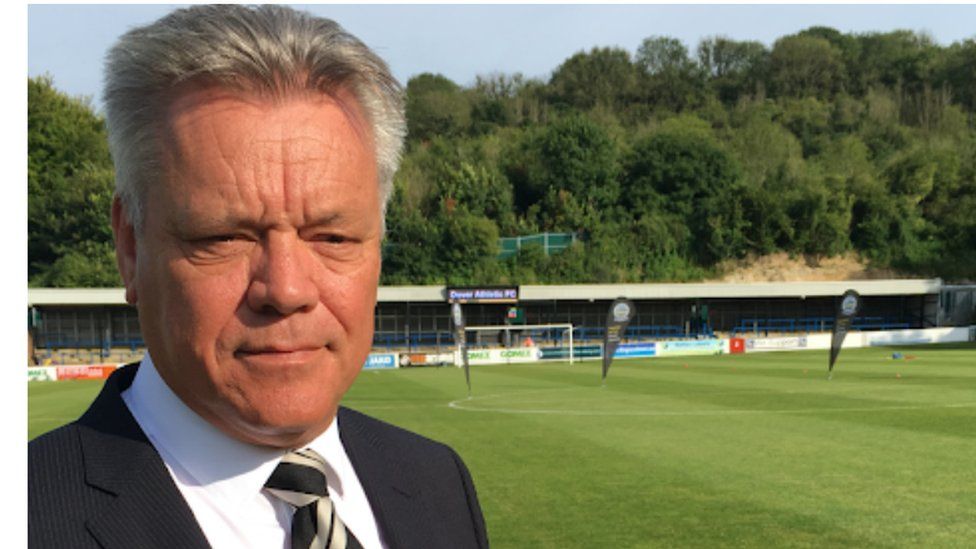 He said Dover had been debt-free during the 15 years that he has been at the helm, and he didn't want to take that gamble.
"It's about the community, the town and the supporters," he said.
But Dover's future still hangs in the balance, the chairman said, and much depends on the outcome of an appeal against the £40,000 fine.
"If I walked away that would be it for Dover," added Mr Parmenter, who runs a fruit-packing firm near Canterbury.
"At the moment that's not the decision that I've made."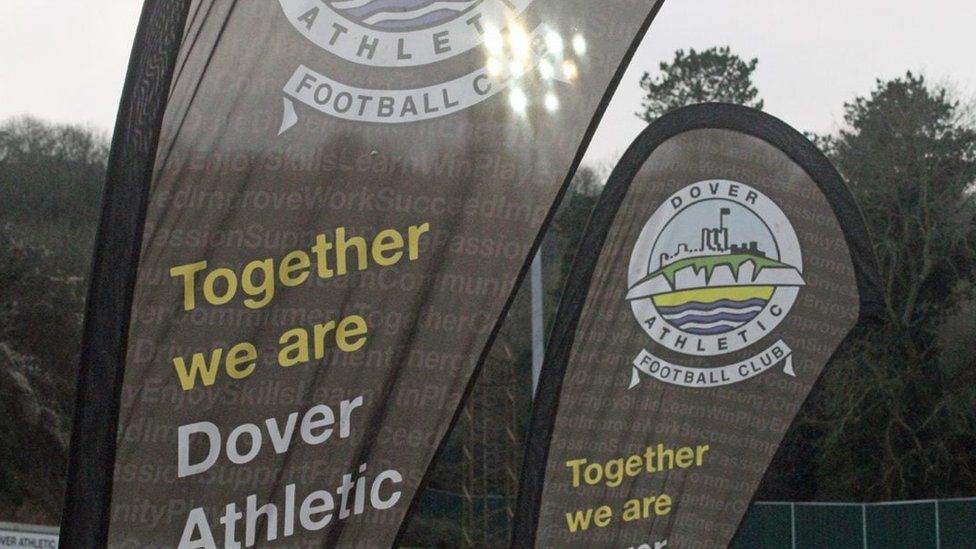 The National League said it could not comment on Dover's punishment, given the appeal.
It had previously said it acted after considering "the integrity of the competition" and the interests of the other 22 clubs in the league "that continue to incur much costs as they fulfil their fixtures".
About half the clubs in the National League have experience in the top four leagues – including Notts County, the world's oldest professional club.
While all of the clubs in the top four divisions of English football are professional, the National League has a mixture of professional and semi-professional clubs.
The desperate plight of lower tier clubs during the pandemic has been a sobering back-story for English football, amid the headlines of the 'Big Six' English clubs of Arsenal, Chelsea, Liverpool, Manchester City, Manchester United and Tottenham being among 12 clubs who had agreed to join a new European Super League (ESL).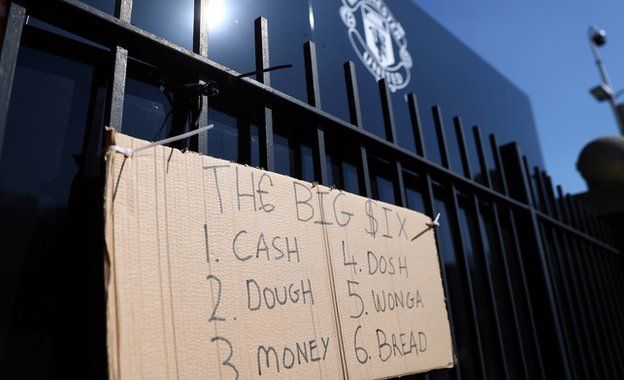 All six Premier League sides eventually withdrew from the plans after widespread criticism and protests, but for many it showed the wide gulf between the rich clubs and grassroots football.
Professor Ellis Cashmore, an expert on football at Aston University, questioned if there was such a concept as "the football community".
"It's dog eat dog," he said.
"We like to think it's harmonious, but those days are long gone. That went with the Premier League.
"It's probably the most valuable and powerful league in the world, but at what cost? The game as a whole has suffered across the country.
"Dover is a living breathing example of a club that's being clobbered."
Prof Cashmore said nobody involved in sport would believe that Dover's treatment was fair.
"They're being punished because they are the only ones who didn't yield," he said.
"It's against the spirit of sport because you're forcing a competition on people even though they'll suffer financial consequences."
Chelsea and Man City, who face each other in Saturday's Champions League final, are backed by sizable financial muscle.
City are owned by Sheikh Mansour's Abu Dhabi United Group, while Russian billionaire Roman Abramovich controls Chelsea.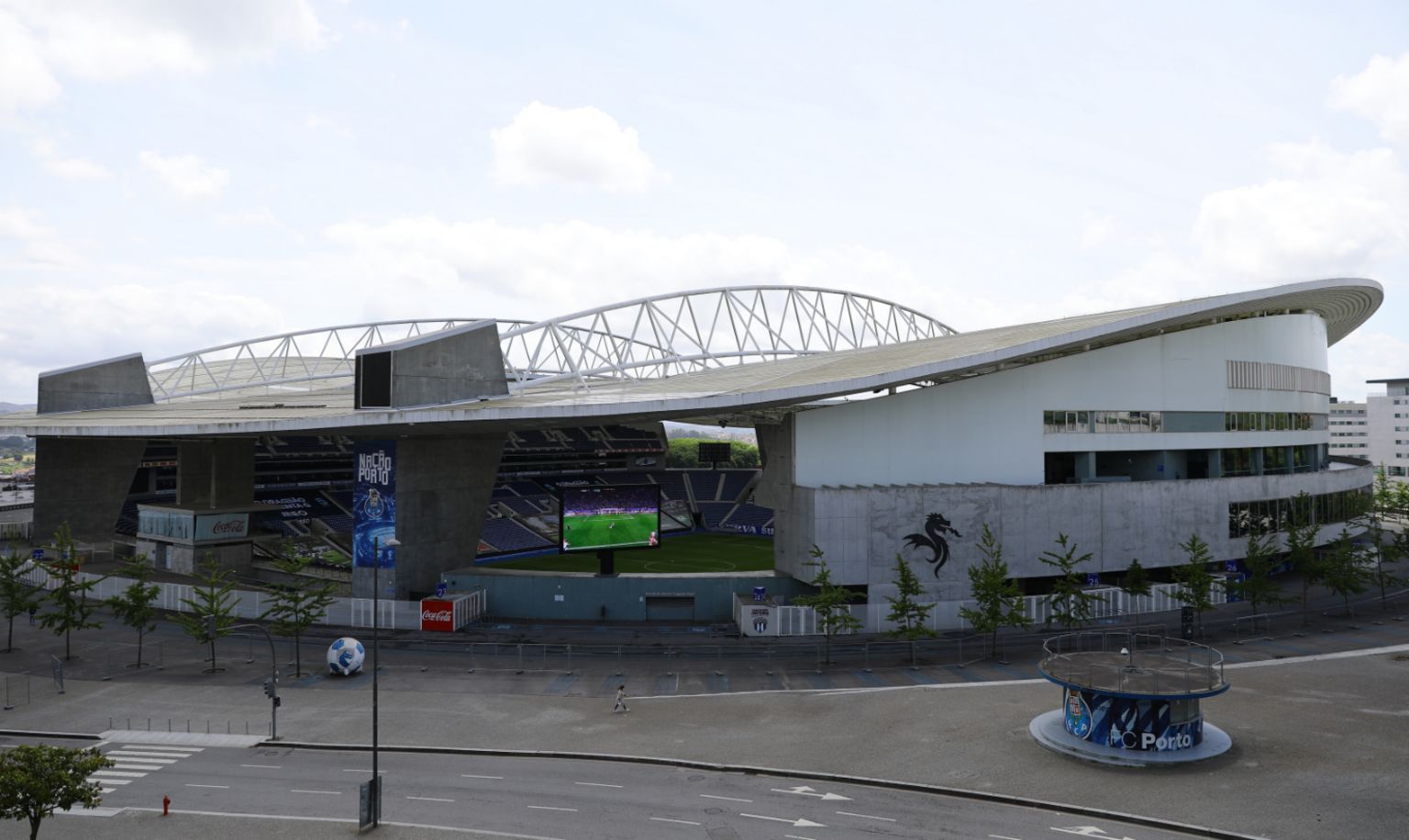 Last year's Champions League winners Bayern Munich received £16.35m (19m euros) prize money, while £13m (15m euros) was awarded to runners-up Paris St-Germain.
This year's final has been moved from Turkey to the 50,000-capacity Estadio do Dragao in Porto, Portugal, due to Coronvarus restrictions.
Portugal is on England's green list so players and fans can attend without having to quarantine on their return home. Turkey is on the red list.
The game kicks off at 8pm – fifteen minutes after Dover were were due to play their final game of the season against visitors Weymouth at the Crabble, the club's 5,800-capacity ground, which is nestled in countryside less than a mile from the city's famous white cliffs.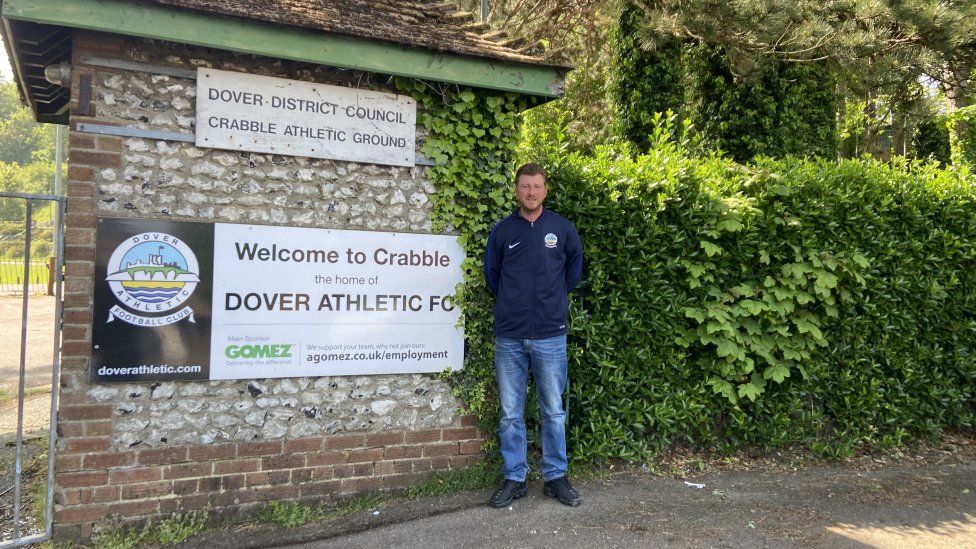 Two people who won't be watching the final are Dover fans Lee Sansum and James Pearce.
Mr Sansum, chairman of the Dover Supporters' Club, is a former Tottenham fan who turned his back on the Premier League side to support his local team when he felt he was "priced out" of the Champions League final against Liverpool in 2019.
He refused to pay £750 for the flight and £1,000 for the hotel in Madrid.
"Dover were promised grants, and then told to take a loan. So we took a stand," he said.
"All the money is in the top two leagues – and it doesn't filter down."
Mr Pearce, a fan since his first Dover game 24 years ago, is running a JustGiving page to help pay the fine and keep the club afloat. He has raised over £6,000.
"Everybody was disgusted because it wasn't Dover's fault that they couldn't fulfil their fixtures. It was unrealistic," the 36-year-old said.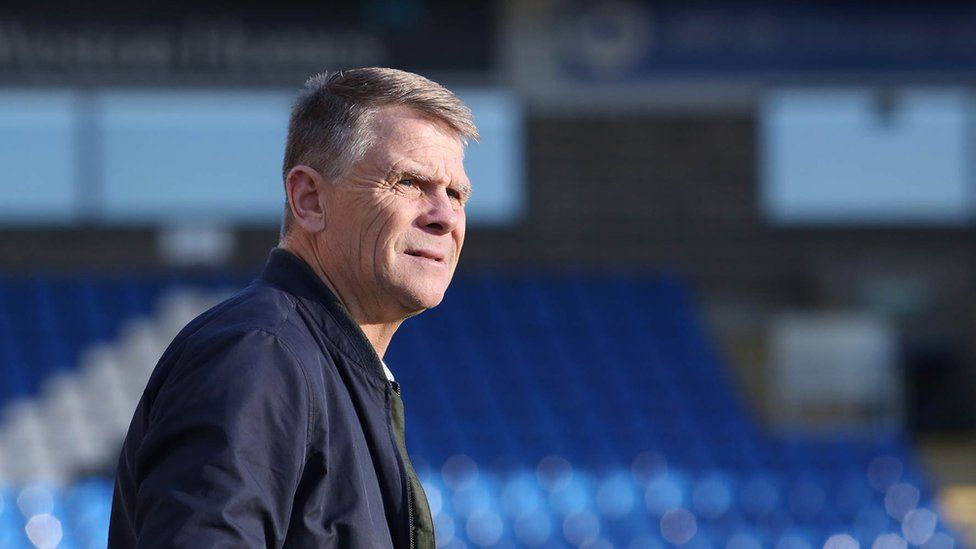 The club's manager, Andy Hessenthaler, was a former builder and non-league player who didn't turn professional until he joined Watford aged 26 in 1991.
While he can't prepare for Dover's final match, the 55-year-old said he has mixed feelings about watching the Champion's League final, given his team's predicament.
"I feel frustrated that there's players in that final that have had friends who have come up through the lower leagues and come through that system," he said.
"That's why it's important that the money should have filtered down."

The BBC is not responsible for the content of external sites.