Police officers arrest demonstrators protesting in the city centre at the new police bill.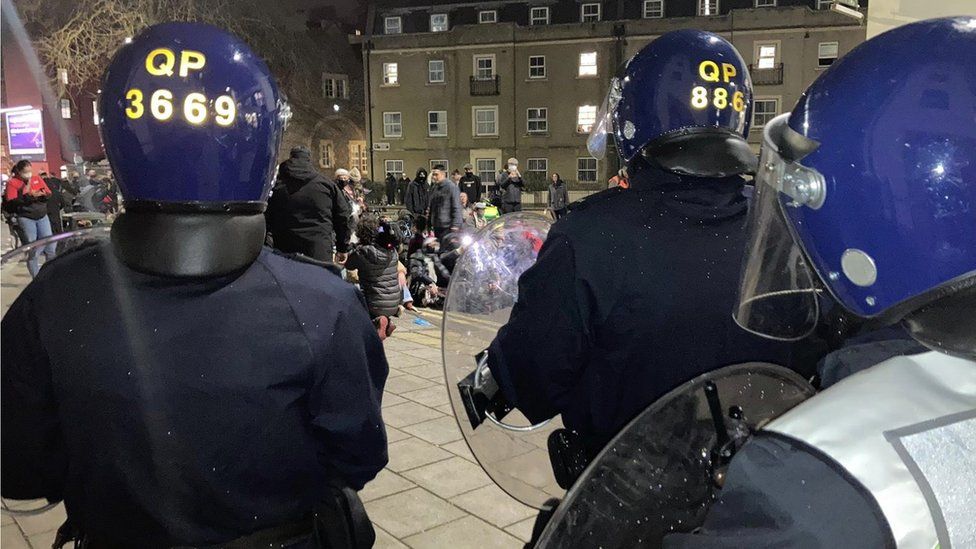 Fourteen people have been arrested at a second night of protests in Bristol, police have said.
On Tuesday night about 130 people demonstrating against the government's new Police and Crime Bill gathered at College Green.
It comes just two days after another protest turned violent, with several officers from Avon and Somerset police injured and police cars torched.
The force said it had to act due to lockdown restrictions.
One of those arrested was in connection with the disorder in Bristol on Sunday, Avon and Somerset Police said.
"It's disappointing we needed to take this action on a day we remember those who've lost their lives," the force added, referring to the anniversary of the first national lockdown.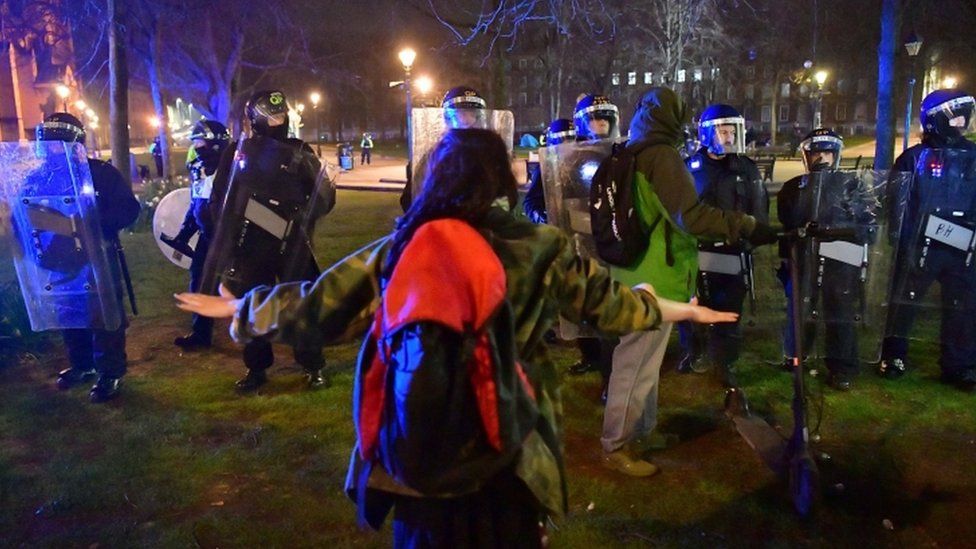 Officers from the neighbouring Gloucestershire, Wiltshire and Gwent forces had been drafted in to help.
In a tweet, police said officers had attempted to engage with demonstrators earlier in the evening and asked them to move on.
It said: "Specially trained public order officers are beginning to disperse a protest from College Green in Bristol.
"Officers had engaged with protestors and asked them to move on but tents and a sound system were set up.
"We remain in lockdown and we cannot allow this gathering to continue."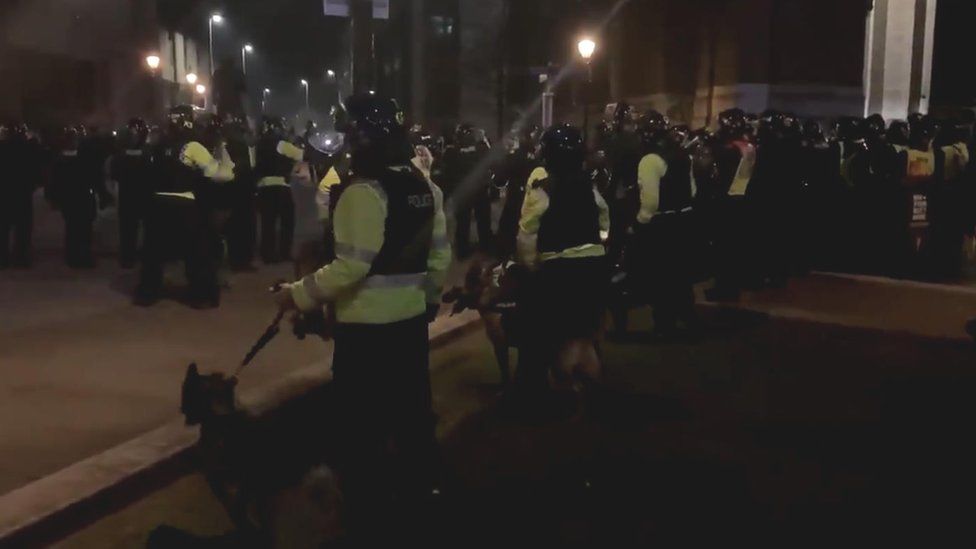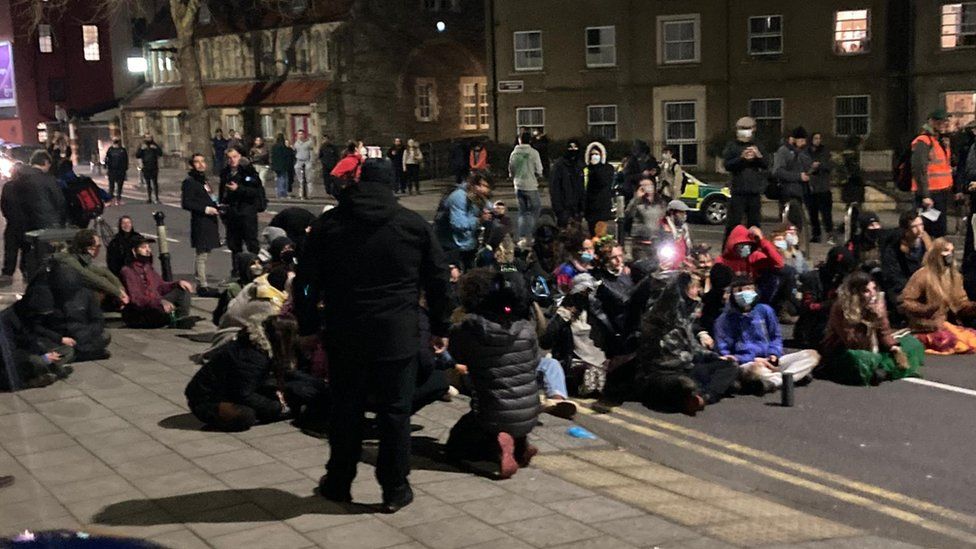 Shortly before 23:00 GMT, police said protesters had been moved off College Green but that a "significant number" remained on Deanery Road "and continue to refuse to leave the area".
The force tweeted: "Officers will take proportionate action to disperse crowds. They are not containing anyone and we continue to urge people to move on."
Ch Supt Claire Armes earlier said that "all necessary and proportionate enforcement action will be taken".
A YouTube livestream appearing to be from the demonstration showed large numbers of police with some officers on horseback and others with dogs lined up.
Shouts of "our streets" and "shame on you" could be heard.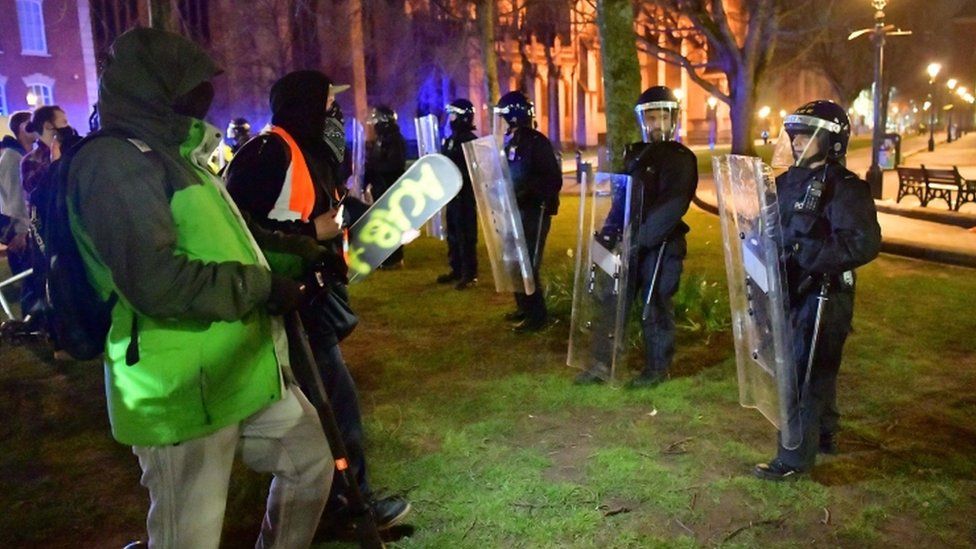 The BBC is not responsible for the content of external sites.