Refugees who arrive legally can stay in the UK, but failed applicants will be removed under the new plans.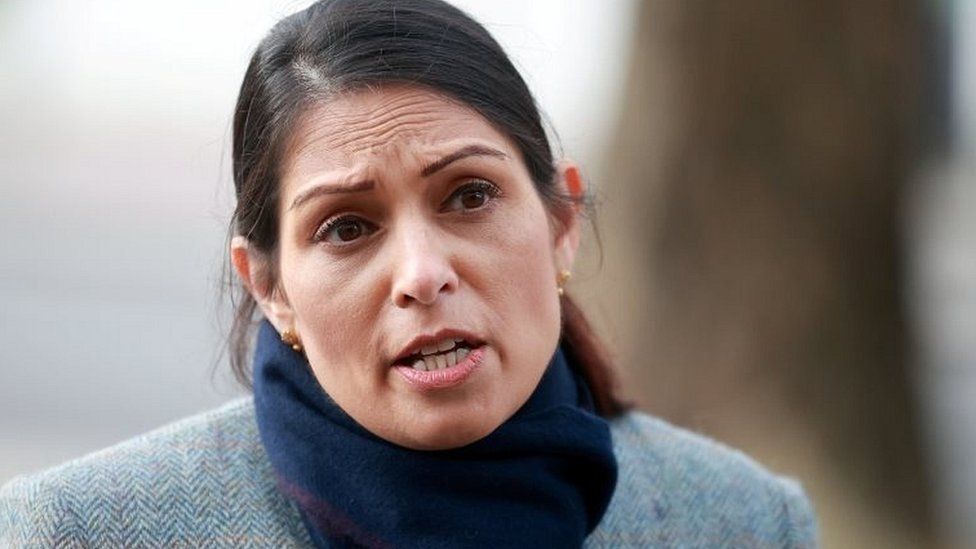 People who enter the UK illegally to claim asylum will no longer have the same entitlements as those who arrive legally, under new immigration plans.
Home Secretary Priti Patel said those who arrive legally will immediately be given the right to remain in the UK indefinitely.
She said the "fair" system would make it "harder" for people to stay if they came via an illegal route.
Labour said the government lacked "competence and compassion" on asylum.
And refugee groups called the proposals "unjust" and "unreal".
Ms Patel will set out more details later on her New Plan for Immigration, described by the government as "the biggest overhaul of the UK's asylum system in decades".
There were 35,099 asylum claims made in the UK during the year ending March 2020, with Iran, Albania and Iraq providing the most applicants.
The Home Office said that "for the first time" the question of whether asylum seekers enter the UK illegally – via another "safe" country, such as France – would "have an impact" on how it dealt with claims.
The government would seek the "rapid removal from the UK" of rejected applicants, with appeals "reformed to speed up" the process, it added.
Ms Patel said: "If people arrive illegally, they will no longer have the same entitlements as those who arrive legally, and it will be harder for them to stay."
But asylum seekers fleeing persecution or violence and coming to the UK via the "legal resettlement" route from countries such as Syria and Iran would straight away get permission to remain in the UK indefinitely, the Home Office said.
"I make no apology for these actions being firm, but as they will also save lives and target people smugglers, they are also undeniably fair," she added.
Currently they have to wait for five years after being granted refugee status to apply for this.
Under the new plans, anyone who pays criminal gangs to bring them to the UK will only ever receive temporary permission to remain and they will be regularly assessed for removal from the UK.
BBC home and legal correspondent Dominic Casciani said it was not clear how this would work in practice as the UK was no longer part of an EU scheme for sending failed asylum seekers back to other states.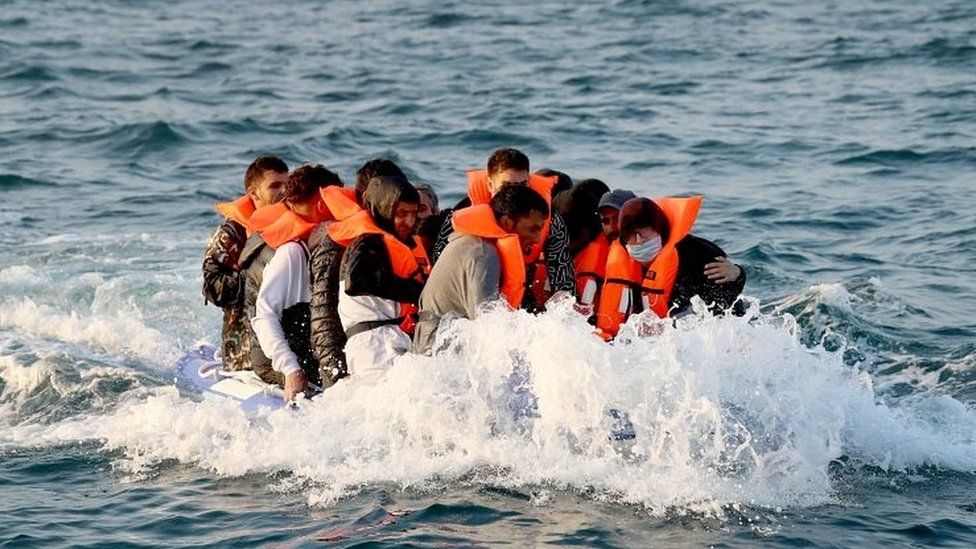 Other proposals include bringing in "rigorous" age checks to stop adults entering the country by pretending to be children.
Ms Patel said asylum applicants with criminal records who returned to the UK after being deported would receive a jail sentence of up to five years. The current maximum is six months.
And people smugglers – responsible for shipping many of the 8,500 people who crossed the English Channel in small boats last year – could get life sentences, she warned.
"Profiteering from illegal migration to Britain will no longer be worth the risk," the home secretary said.
Responding to Ms Patel's pledges, Refugee Council chief executive Enver Solomon accused the government of "seeking to unjustly differentiate between the deserving and undeserving refugee" by giving protection "based on how they travel to the UK".
Kolbassia Haoussou, of the charity Freedom from Torture, warned many would become "criminalised", adding: "These unreal proposals make it clear that this government isn't serious about improving lives and creating a fair asylum system."
For Labour, shadow home secretary Nick Thomas-Symonds said the plans would "do next to nothing to stop people making dangerous crossings, and risk withdrawing support from desperate people, such as victims of human trafficking".
But he promised to "study the detail of whatever the government puts forward" in its full review.