Teachers and other occupations should not be prioritised in the next phase, say UK vaccine experts.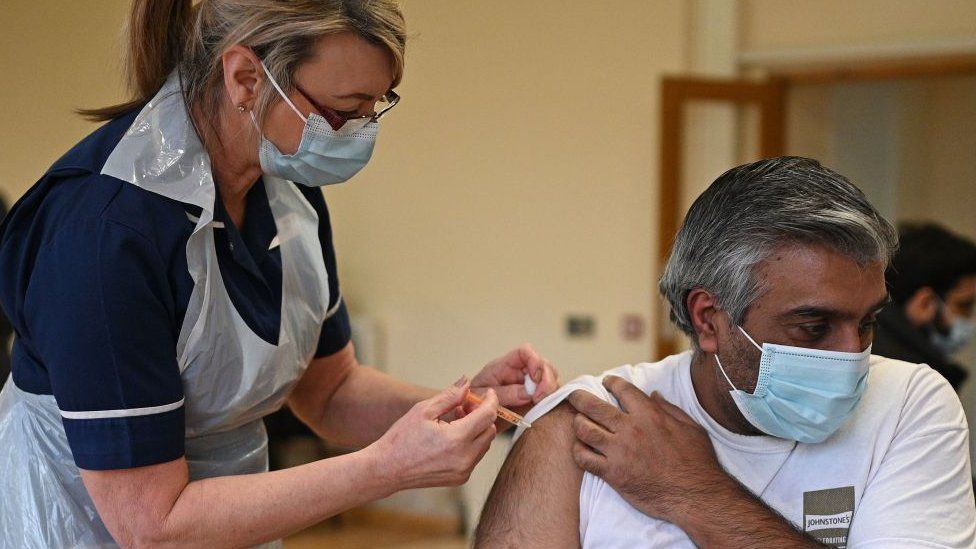 Vaccinating people in order of age is the fastest way to cut Covid-19 deaths in the next phase of the roll-out, say experts advising the UK government.
People in their 40s will be next in line, followed by those aged 30-39.
Priority based on jobs would be "more complex" and could slow down the programme, the Joint Committee on Vaccination and Immunisation said.
All four nations of the UK will follow this approach with a target of vaccinating all adults by end of July.
More than 18 million people in the UK have received a first dose so far.
Teachers and police officers have campaigned to be prioritised in the next phase – but they will now be vaccinated in line with their age group.
The Joint Committee on Vaccination and Immunisation (JCVI), which has looked at the evidence on best how to reduce serious illness and death from Covid-19 in phase two of the UK's vaccination programme, says prioritising certain jobs could leave some vulnerable people waiting longer for a first dose.
It says the following groups should be prioritised, once all at-risk groups in phase one have been offered at least one dose of the vaccine:
all those aged 40-49 years
all those aged 30-39 years
all those aged 18-29 years
And it strongly advises some particular groups to take up a vaccine as soon as it is offered. They are:
men
people from black, Asian and minority ethnic communities
people with a BMI over 30
people living in poorer neighbourhoods
In phase one, nine priority groups were set out based on age and underlying health conditions – the biggest factors in raising someone's risk.
Vaccinating these groups should protect around 99% of those most at risk of dying.
All of those in the top four priority groups – around 15 million – were offered a jab by mid-February. More than 95% of the over-70s have now been vaccinated.
But Metropolitan Police Federation chairman Ken Marsh criticised the plans to prioritise by age group, saying "it's absolutely disgusting – they don't give a damn about us".