Gordon Lyons says he is responding to "practical difficulties" caused by the NI Protocol.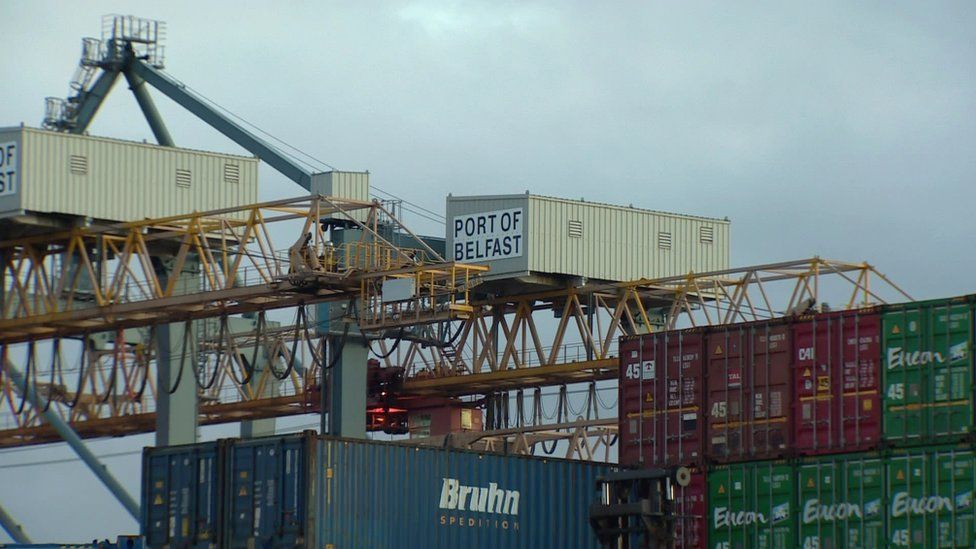 Northern Ireland's Democratic Unionist Party (DUP) agriculture minister has ordered officials to stop work on new permanent border control posts (BCPs).
These are used to check food products from GB. Existing temporary BCPs are continuing to operate.
The minister, Gordon Lyons, said he had also asked officials to stop recruiting BCP staff.
However, it is understood officials are seeking legal advice on whether they can follow the orders.
The BCPs are a requirement of the Brexit deal between the UK and EU.
Mr Lyons said he was responding to "practical difficulties" caused by the Northern Ireland Protocol.
He said there was too much uncertainty around the end of the protocol grace periods.
"It's a real nightmare for us and it's going to be causing us an awful lot of problems."
The Northern Ireland Protocol is the part of the Brexit deal that prevents a hardening of the land border between Northern Ireland and the Republic of Ireland.
It does that by keeping Northern Ireland in the EU single market for goods.
That has created a new trade border with Northern Ireland and the rest of the UK.
Currently, there are grace periods in place that mean checks and controls on goods going from GB to NI are not yet fully implemented.
The first of the grace periods, which covers food and parcels, is due to end in April.
Mr Lyons' predecessor as agriculture minister, Edwin Poots, had sought legal advice on whether he could instruct his officials not to operate the BCPs but was told that would be unlawful.
Infrastructure Minister Nicola Mallon, of the Social Democratic and Labour Party (SDLP), said she has written to ministerial colleagues calling for an urgent meeting of the Northern Ireland Executive on Friday evening.
She said it was "essential" that the executive meets to deal with "this DUP minister's solo run".

Sinn Féin deputy leader Michelle O'Neill said the DUP "must own the consequences of Brexit" and the Northern Ireland Protocol is a "direct consequence of Brexit".
She added that the "solo run by DUP Minister for Agriculture Gordon Lyons instructing his officials to halt work on further infrastructure, and charging at the ports is clearly a stunt".
Ms O'Neill said that there was no alternative to the Northern Ireland Protocol.
Responding to the decision, the Labour Party's Shadow Northern Ireland Secretary Louise Haigh MP said the unilateral action would "only cause further uncertainty" and it was "uncertainty businesses and communities cannot afford".
She said: "We need to see joint, workable solutions that reduce checks and red tape for businesses across the Irish Sea. That must be the focus, not further instability.
"The UK has responsibilities under the protocol that cannot be ignored."