Schools in England could face further strikes, as the NEU is unhappy with the government's offer.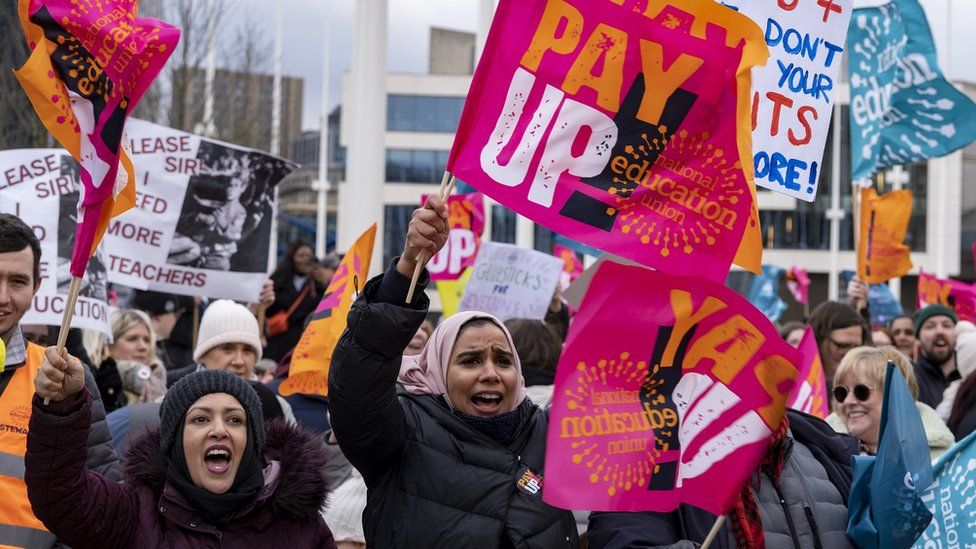 Schools in England could face further strike action as the National Education Union has asked teachers to reject a new pay offer, after intensive talks.
The government has offered teachers a £1,000 extra cash payment this year and a 4.3% rise for most staff next year.
Many teachers in England received a pay rise of 5% in September 2022 but unions say this was a cut due to inflation.
Four unions have been involved in six days of intensive talks with the education secretary since 17 March about teachers' pay, conditions and workload.
The NAHT, NEU, ASCL and NASUWT unions have been calling for above-inflation pay rises, funded by extra money from the government rather than coming from schools' existing budgets.
The government says it is giving schools £2.3 billion over the next two years and starting salaries for new teachers will reach £30,000 next year.
In an interview with the BBC, Kevin Courtney, the NEU's general secretary, said his union was unhappy with the offer and believed it was "not fully funded in schools, and that the majority of schools would have to make cuts in order to afford it".
Members will be able to vote on the offer through an electronic ballot, which opens on Monday evening and will run until Sunday. The result of that will be announced at the NEU conference on 3 April.
More walkouts could be called if members reject the offer.
"That's impacting on children's education every day," he said.
The NEU said it would ensure GCSE and A-level classes were not disrupted by further strike days.
Paul Whiteman, the general secretary of the NAHT, said his union would consider the offer on Monday evening before deciding next steps.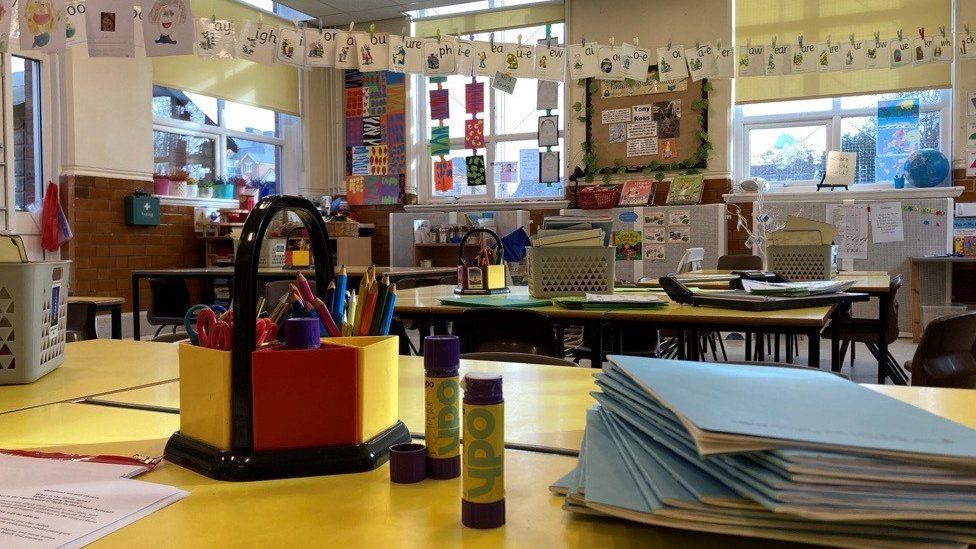 The government had offered most teachers a 3% rise for the next school year, 2023-24.
The NEU says the new pay offer will give teachers an average increase of 4.5%, but experienced teachers will get 4.3%. The union says this is a real-terms pay cut which will leave many teachers still struggling to make ends meet.
The BBC has been told that if the union rejects the offer, the decision on how much teachers will be offered will be passed to the pay review body, an independent body which gathers evidence on what some public sector workers are paid. But if this happens, the £1,000 cash payment for this year would not happen.
Outside a primary school in Manchester, Fahad, who has two children, says he is still supportive of the teachers' demands even if more strikes go ahead.
"These professions should be looked after and given more support and more increase in pay," he says.
Farnaz, who also has two primary school-aged children said teachers are well within their rights to strike if they want to, but that "it's hard when they're off because then I have to take time off work",
"I hope they come to some sort of agreement and that (teachers) do get what they want," she adds.
A Department for Education spokesperson said the government had put forward a "fair and reasonable offer, backed with funding for schools".
"The offer provides an average 4.5% pay rise for next year, puts £1,000 into the pockets of teachers as a one-off payment for this year, and commits to reducing workload by five hours each week.
"This is a good deal for teachers that acknowledges their hard work and dedication."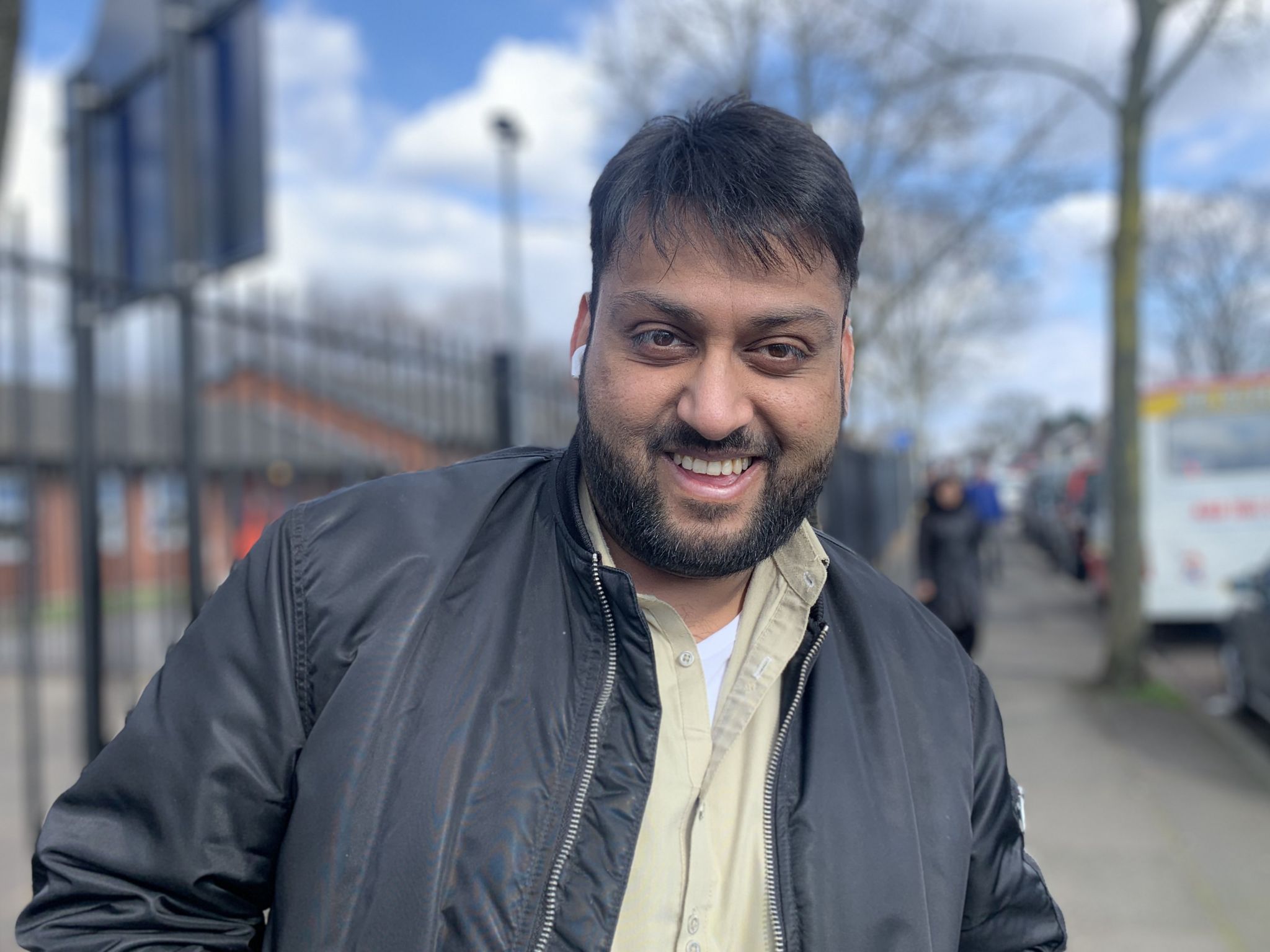 The dispute over teachers' pay has been resolved in Scotland.
Teachers in Scotland have accepted a 7% rise for 2022/23, which will be backdated to April. They have also accepted a 5% rise in April 2023, and a 2% rise in January 2024.
But Wales' school leaders' union, NAHT Cymru, has rejected the offer and says funding arrangements remain a major concern for school leaders. Members are continuing to take action short of strikes – which includes refusing to attend evening meetings and only responding to calls and emails between 09:00 and 15:00 BST.
In Northern Ireland, five unions are also continuing to take action short of a strike.
Additional reporting by Kate McGough