It comes after DP World is chosen to run a new freeport, despite having sacked 800 workers without notice last year.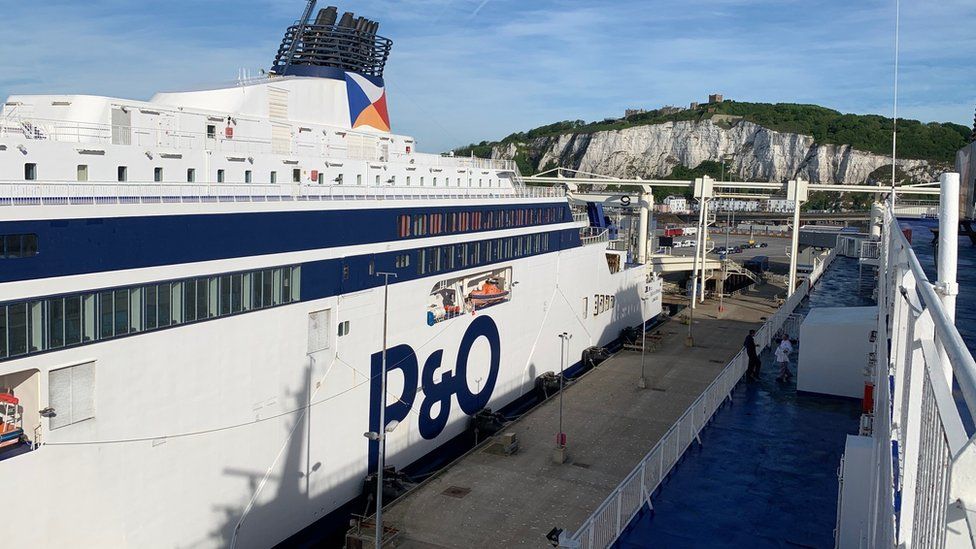 A decision to award the owner of P&O Ferries a major public contract has sparked outrage, after the firm sacked 800 workers without notice last year.
DP World has been approved to co-run the Thames Freeport in Essex, as part of Rishi Sunak's freeports plan.
The Trades Union Congress said it was an "appalling decision", enabling other employers "to act with impunity".
The government said the new freeport would "help to grow the economy".
P&O Ferries sacked hundreds of seafarers in March 2022 and replaced them with foreign agency workers paid less than the minimum wage.
The move sparked outrage and led to calls for P&O's boss Peter Hebblethwaite to resign.
A week afterwards, Mr Hebblethwaite admitted to MPs that the decision had broken employment law.
At the time, the government called the workers' treatment "wholly unacceptable".
Grant Shapps, who was then transport secretary, said the law would be changed to stop companies firing staff on-the-spot.
The government also cancelled a contract with P&O Ferries in May, a decision it said was in response to the sackings.
But on Monday, the government confirmed plans for the Thames Freeport had recently been approved, and it would be run by a partnership between DP World, carmaker Ford and Forth Ports.
The port will receive £25m in government funding, as it works to attract £4.6bn more in public and private investment.
Paul Nowak, general secretary of the TUC, said ministers should have "stripped the company of all its public contracts and severed commercial ties" after the P&O sackings.
"But the government has chosen instead to reward DP World with another bumper deal. This is giving a green light to other rogue employers to act with impunity."
A spokesperson for Thames Freeport said that DP World and its partners had invested heavily in port and logistics infrastructure over the past decade.
They added that the new port would benefit the "levelling up of the region", with more than 21,000 direct and indirect jobs created.
The government said the project would lead to "much needed" investment in the area.
Local authorities will administer the government funding "to benefit the entire region", it added, while the freeport will receive "potentially hundreds of millions in locally-retained business rates".
Freeports aim to create economic activity – like trade, investment and jobs – near shipping ports or airports. Goods imported into freeports are exempt from taxes, called tariffs, that are normally paid to the government.
Eight freeports have already been set up in England, with more in the pipeline.
The Thames Freeport will be made up of three sites – the London Gateway in Thurrock, the Port of Tilbury near Southend-on-Sea, and Ford's Dagenham car plant.