Emergency talks are underway in Zurich as regulators seek a deal for Credit Suisse before Monday.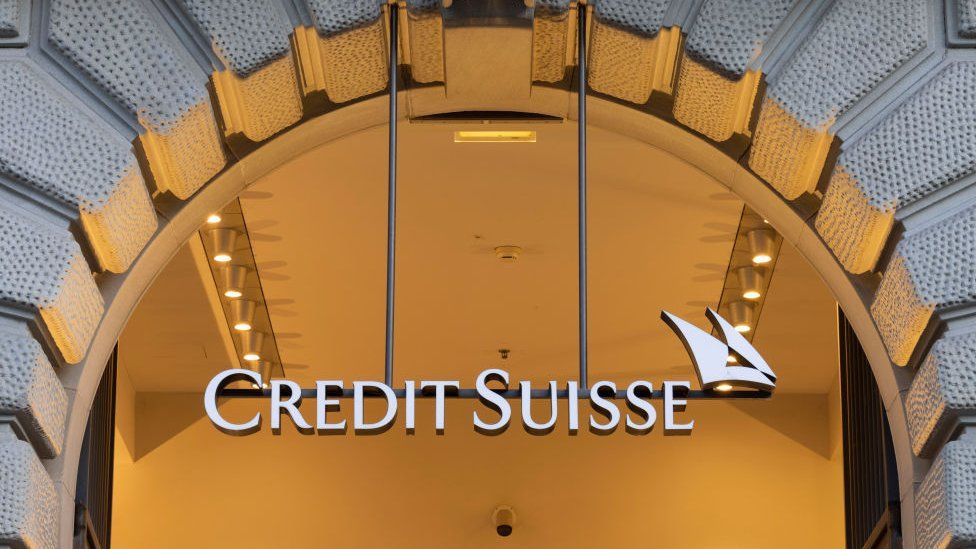 Switzerland's biggest bank, UBS, is in advanced talks to buy all or part of its troubled rival Credit Suisse.
Credit Suisse is facing a crisis of confidence and its shares have fallen sharply in recent days, after it said it had found "material weakness" in its financial reporting.
An emergency $54bn (£44.5bn) lifeline from the Swiss National Bank has not resolved the issue.
Regulators are trying to facilitate a deal before markets reopen on Monday.
The trouble at Credit Suisse, combined with the failure of two smaller US banks during the last two weeks, have thrown the health of the global financial system into doubt.
Credit Suisse is one of around 30 banks worldwide deemed too big to fail because they are of such importance to the international banking system.
Bank of England officials have confirmed they are in close contact with their counterparts at the Swiss National Bank while regulators and management discuss Credit Suisse's future.
Without a solution by the time markets begin trading again on Monday, there are concerns that Credit Suisse shares could continue to plummet. They fell 24% on Wednesday last week, prompting a general sell-off on European markets.
The Swiss government held an emergency meeting on Saturday night, but so far there has been no official statement on the progress of the negotiations.
UBS is said to have asked the Swiss government to cover about $6bn (£4.9bn) in costs if it were to buy Credit Suisse, according to sources quoted by Reuters.
Any deal may also result in significant job losses.
Credit Suisse, which was founded in 1856, has faced a string of scandals in recent years, including money laundering charges.
It reported a loss of 7.3bn Swiss francs ($7.9bn; £6.5bn) in 2022 – its worst year since the financial crisis of 2008 – and has warned it does not expect to be profitable until 2024.
UBS, however, made a profit of $7.6bn in 2022.
As well as being a domestic bank with 95 branches, Credit Suisse has a global investment banking operation and manages the assets of rich clients.
At the end of last year Credit Suisse had a global staff of 50,480, including 16,700 in Switzerland, though 9,000 jobs were to be axed, the Swiss broadcaster SRF reports.