The ban comes as a Texas judge considers revoking nationwide approval of a common abortion pill.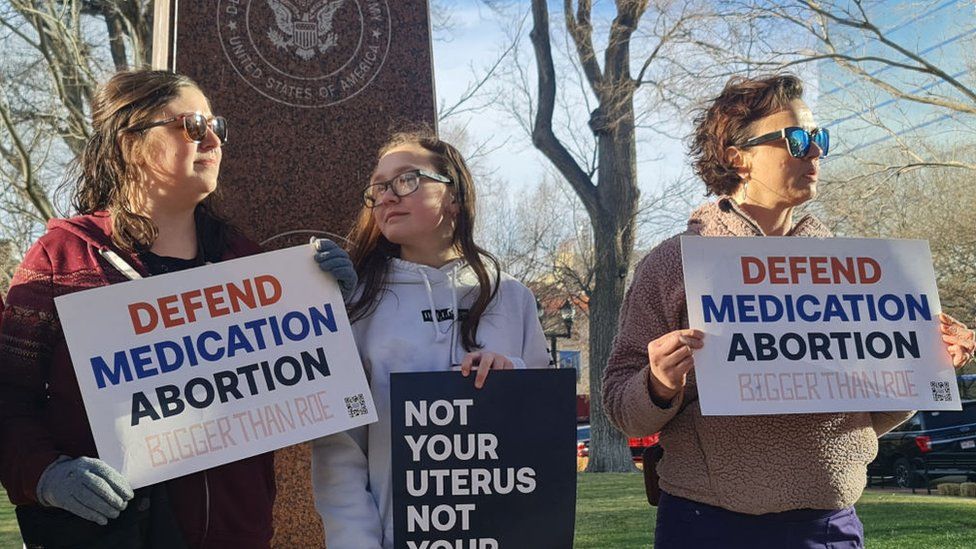 Wyoming has become the first US state to ban abortion pills after its governor signed a bill that made prescribing or selling them illegal.
Violating it is punishable by up to six months in jail and a $9,000 fine.
Women "upon whom a chemical abortion is performed or attempted" will not be prosecuted.
As Mark Gordon signed the bill on Friday, a Texas judge was considering a lawsuit that could effectively ban a common abortion pill nationwide.
Abortion pills are the most common method of pregnancy termination in the US.
The Wyoming bill, which was passed by the state's Republican-controlled legislature earlier this month, makes it illegal to "prescribe, dispense, distribute, sell or use any drug for the purpose of procuring or performing an abortion".
The law is scheduled to take effect on 1 July.
It does not cover morning-after pills or treatment to protect a woman whose health or life is in danger.
It also exempts treatment of a "natural miscarriage according to currently accepted medical guidelines".
Wyoming American Civil Liberties Union (ACLU) advocacy director Antonio Serrano criticised the bill, saying "a person's health, not politics, should guide important medical decisions – including the decision to have an abortion".
Wyoming only has one clinic that provides abortions – the Women's Health & Family Care Clinic in Jackson.
The state is one of many in which legal fights over abortion bans are ongoing after the Supreme Court reversed the landmark 1973 Roe v Wade judgement legalising abortion.
More than a dozen states have enacted near-total bans on abortions, several of which have been put on hold by the courts.
Mr Gordon, who is a Republican, also said he would allow a separate, wider bill that bans abortion except in limited circumstances to become law on Sunday without his signature. Both this ban and the ban on abortion pills could face challenges in the courts. It is not clear when a wider ban would come into force.
Even more states have placed restrictions on abortion medication, such as requiring an in-person visit to a doctor before obtaining a pill.
Meanwhile in Texas, Judge Matthew Kacsmaryk, an appointee of former President Donald Trump, is expected to rule imminently on whether a commonly used abortion pill, mifepristone, should be sold in the US, in a ruling that could curtail access to the drug nationwide.
Mifepristone can be taken at home and is used in more than half of US pregnancy terminations.
The judge is set to rule on a lawsuit filed by an anti-abortion group in Texas arguing that the drug's safety was never properly studied by the US Food and Drug Administration (FDA), which approves medicines.
President Joe Biden's administration has argued that mifepristone's approval was well supported by science.