An agreement on health workers' pay could be announced as early as Thursday afternoon.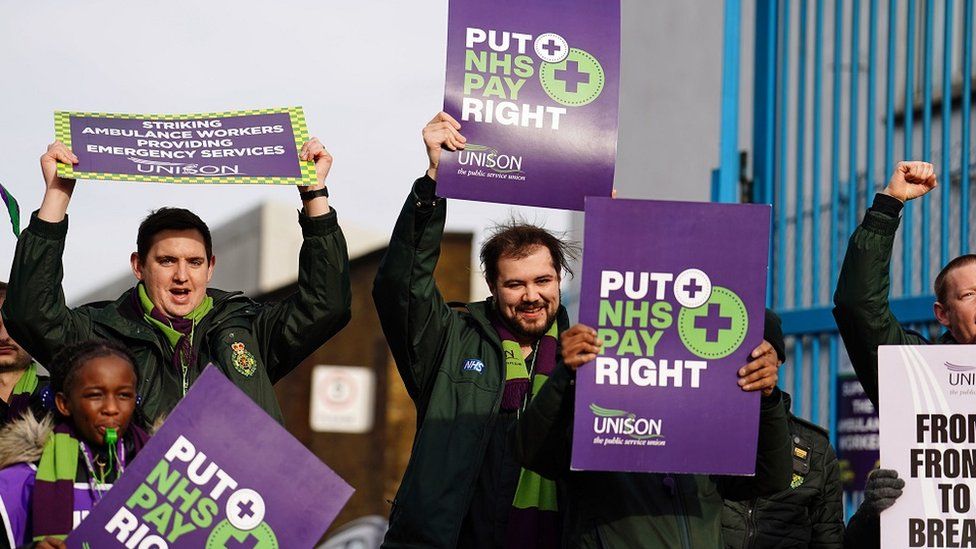 Unions representing hundreds of thousands of health staff are thought to be close to agreeing a pay deal that would avert more NHS strikes.
The offer would cover ambulance workers, nurses, midwives and physiotherapists, although not doctors.
It is believed an agreement could be announced as soon as Thursday afternoon.
Recent months have seen numerous days of strike action by health workers over pay and working conditions.
The unions involved in the current talks put further action on hold after the government agreed to enter discussions last month.
The two sides have been negotiating for over a week, with the focus on the size of a one-off payment to health workers for this financial year.
The BBC understands the payment is likely to be "substantial" to make up for the fact it will not carry into next year.
For the next financial year, which begins in April, the government is also now expected to go above its previous offer of a 3.5% pay rise.
Inflation over the 12 months to January stood at 10.1%.
Any agreement would have to be voted on by the unions' membership.
A spokesperson for the Department of Health and Social Care said the government, NHS employers and unions had been holding constructive and meaningful discussions covering pay and non-pay matters and that the talks were ongoing.
A 72-hour strike by junior doctors, who say inflation means the real value of their pay has fallen 26% since 2008, went ahead on 13-15 March.
They are asking for a 35% pay rise, but the government has said the request is "completely unaffordable".
The British Medical Association has called the strikes the "first round of action".