The home secretary's plans to stop small boat crossings could be challenged by the Strasbourg court.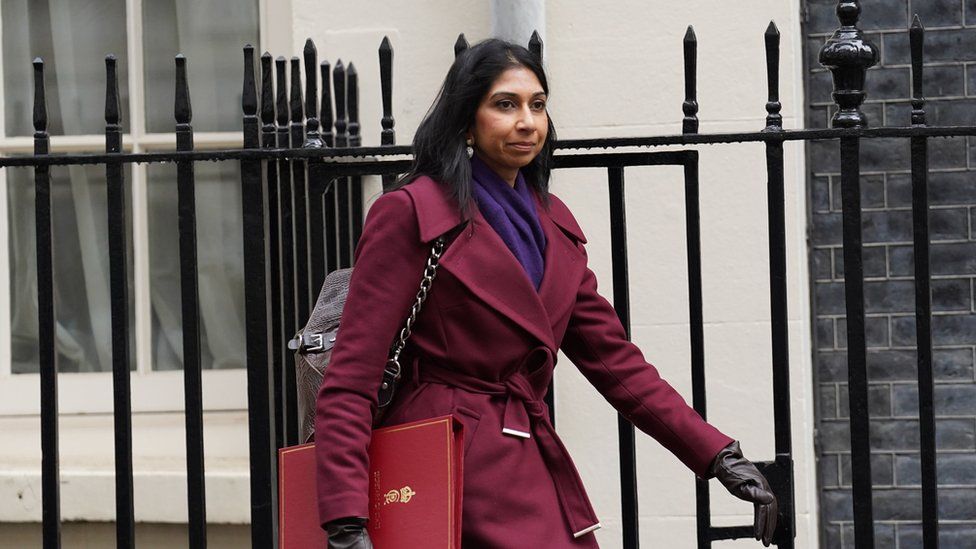 The European Court of Human Rights in Strasbourg is politicised and sometimes at odds with British values, Suella Braverman has said.
The home secretary was speaking to the BBC one day after acknowledging her plan to stop small boat crossings could be challenged in the Strasbourg court.
Asked if she could ignore the court, she said a balance should be "struck".
Ms Braverman's Illegal Migration Bill – which aims to stop small boat Channel crossings – was published on Wednesday.
The proposed law would put a duty on the government to detain and remove people arriving in the UK illegally, either to Rwanda or another "safe" third country.
Migrants would not be granted bail or able to seek judicial review for the first 28 days of detention.
Prime Minister Rishi Sunak has made passing the law one of his key five priorities, however it is likely to face obstacles – both political and legal.
For example individuals could challenge their detention and removal from the UK by taking their case to the European Court of Human Rights.
"There are important questions to be asked about whether the balance has been properly struck," she replied.
"I would say it's a court which is politicised, it is interventionist and it doesn't always follow a process that we would recognise as being due process.
"In a whole range of policy areas, I think sometimes the jurisprudence from the Strasbourg court is at odds with the will of Parliament or British values more generally."
She emphasised that the new Illegal Migrants Bill would not be taking the UK out of the European Convention on Human Rights – the set of rules interpreted by the court.
Writing to Conservative MPs after the bill was published, she said there was "more than a 50% chance" the legislation was not compatible with the European Court of Human Rights.
She said ministers wanted to test the boundaries of legal obligations – but believed their plans were within those limits.
Labour's Yvette Cooper has said the government's plans would make "the problems even worse, and make it more chaotic", putting more lives "at risk".
The United Nations refugee agency has described the moves as "very concerning".
Mr Sunak has said the measures are "tough, but necessary and fair" and added that he is "up for the fight" over the legislation.