Thomas Cashman is accused of shooting dead nine-year-old Olivia Pratt-Korbel in her Liverpool home.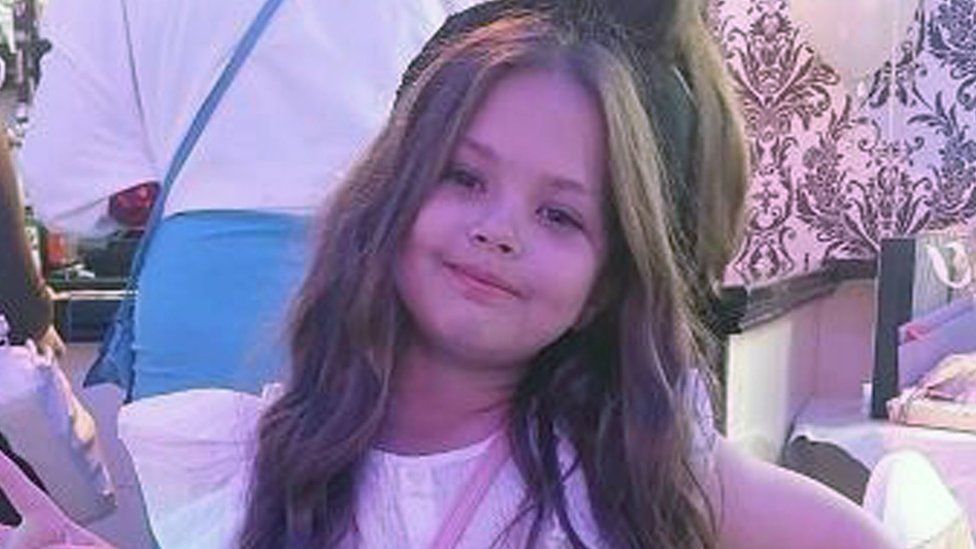 The man accused of murdering Olivia Pratt-Korbel was in "ruthless pursuit" of his intended target when he shot the nine-year-old in her own home, a trial has heard.
Thomas Cashman "lay in wait" for convicted burglar Joseph Nee with a pistol and revolver, the jury was told.
Olivia was shot when a gunman chasing Nee burst into her home in Dovecot, Liverpool, on 22 August.
Mr Cashman, 34, claims he was not the gunman.
Opening the trial at Manchester Crown Court, David McLachlan KC said the man chasing Nee "meant business, and it wasn't good business".
"This is what this case is all about," he said. "The ruthless pursuit of Thomas Cashman to shoot Joseph Nee without any consideration for the community."
On the night of the shooting, Mr Cashman, of West Derby, had two loaded firearms in his possession and was waiting for Nee, who was "without doubt the intended target", Mr McLachlan said.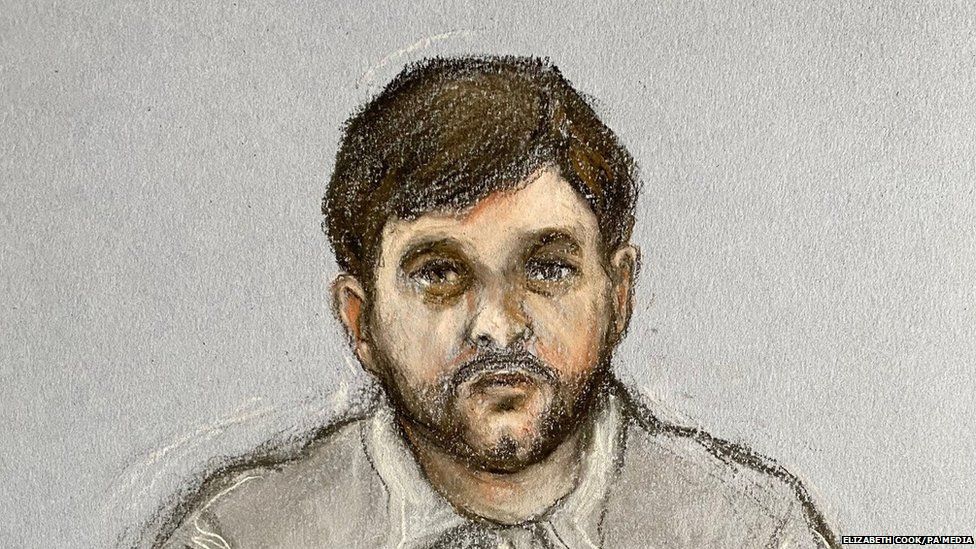 The prosecutor said Olivia's mother, Cheryl Korbel, who was at home with her three children, opened her door after hearing noise outside and, as she did, Nee "made a dash" towards her house, with Mr Cashman in pursuit.
Mr McLachlan said: "[She] then realised, pretty quickly, the gravity of the situation that she now faced and she turned in a panic, and ran back towards her house."
Mr Cashman began firing at Nee from the revolver, and hit the front door of the family home, the court heard.
Mr McLachlan said one shot likely "passed through the door, then passed through Cheryl Korbel's right hand as she was no doubt trying to shut the door".
"The bullet then went into the chest of Cheryl Korbel's daughter Olivia Pratt-Korbel."
The court heard Nee had been banging on the door and shouting "help me" and Ms Korbel said she was screaming at him to "go away".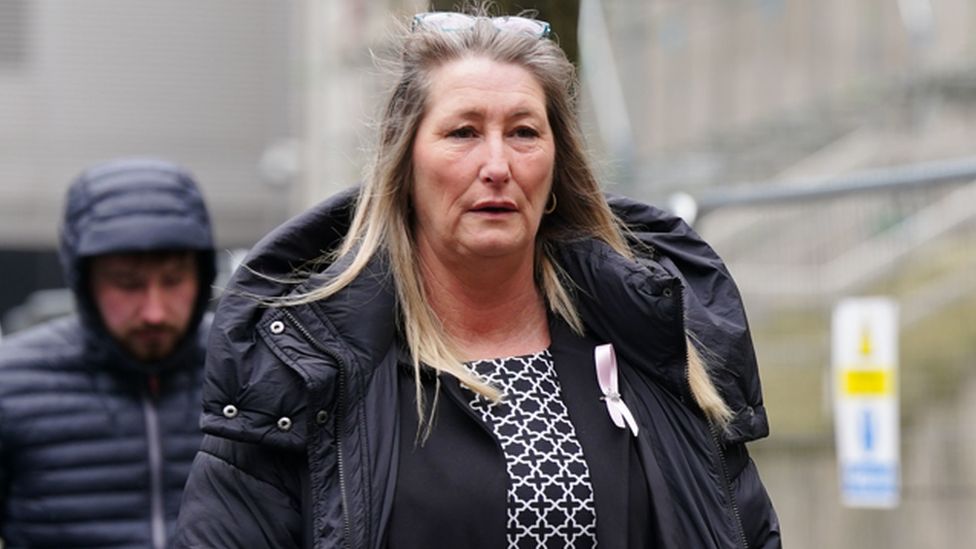 She said: "I heard the the gunshot and realised. I felt it, it hit my hand."
Mr McLachlan said she then turned round and saw Olivia.
She said: "I remember when I turned round and realised the baby was right behind me because she'd come obviously down the stairs cause she'd heard."
A neighbour described hearing bangs before "the worst screaming I've ever heard in my life".
Olivia was pronounced dead at Alder Hey Children's Hospital later that night.
Mr McLachlan said Mr Cashman ran away from the scene of the shooting through back gardens.
The court heard he went to the house of a woman, who cannot be named for legal reasons, who said she heard Mr Cashman say the name "Joey Nee".
She also said she heard him say something along the lines of: "I've done Joey."
The jury was told Mr Cashman was later driven back to where he had parked his Citroen Berlingo van earlier in the day.
Neighbours said they saw Nee stumble out of the house and collapse in the road, where he made a phone call before a black car with five males in it arrived and took him away, the court heard.
The jury of 10 men and two women were told the main issue in the case would be whether they were sure Mr Cashman was the gunman.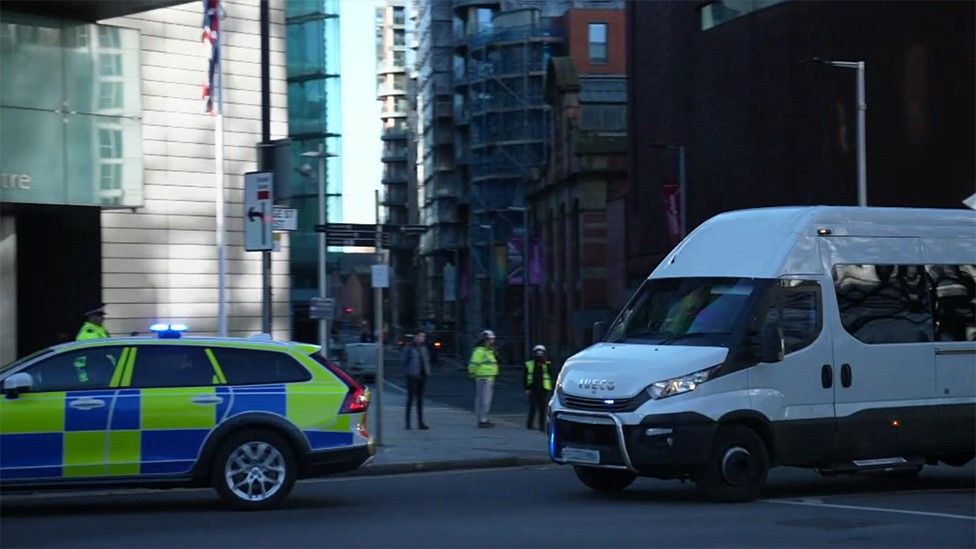 The court earlier heard Nee had been watching a football match at the home of another man, Timothy Naylor, shortly before the chase began.
Mr McLachlan said when Nee left the house, with his friend Paul Abraham, Mr Cashman ran behind him and fired three shots from a self-loading pistol, one of which struck Nee in the midriff.
The jury heard witnesses heard Nee shouting "please don't", "don't lad" and "what are you doing lad?"
Mr McLachlan said Nee stumbled and Mr Cashman stood over him and tried to fire again but, possibly because the pistol malfunctioned, he was unable to complete his "task" and kill Nee.
The jury heard that was when Nee ran away from Mr Cashman and made for Ms Korbel's house.
Mr Cashman had intended to shoot Nee earlier in the day after seeing his van outside Mr Naylor's house, but had been "thwarted" when he returned and Nee had left, the court was told.
Mr Cashman, of Grenadier Drive, is also charged with the attempted murder of Nee and the wounding with intent of Olivia's mother, as well as two counts of possessing a firearm with intent to endanger life.
The trial is expected to last about four weeks.

Related Internet Links
The BBC is not responsible for the content of external sites.