The then-health secretary discussed blocking a disability unit in a MP's town ahead of a vote on Covid tiers.
Matt Hancock supported threatening to block a disability centre in a Tory MP's constituency in a bid to get him to vote for the Covid tier system in England, leaked massages suggest.
WhatsApp messages show Mr Hancock agreed to put pressure on James Daly, Conservative MP for Bury North, if he failed to vote with the government.
Matt Hancock's spokesperson said: "What has been accused here never happened."
Former Tory Party chair Sir Jake Berry called the plan "an absolute disgrace".
Mr Nixon proposed warning Mr Daly that funding for a new centre for disabled children and adults in his constituency would be "off the table" if he voted against new plans for a stricter tiered lockdown on 1 December 2020.
Mr Hancock replied: "Yes 100%."
Mr Daly told the Telegraph the threat was never carried out and added he was unaware the Department for Health and Social Care had plans to give Bury North a disability hub, which would provide specialists with a dedicated centre for co-ordinating local activity.
Under the December 2020 tier scheme, every area of England was put into one of three tiers – medium (one), high (two) and very high (three) – with the vast majority of the population in the higher two tiers.
According to the paper, leaked messages show Mr Daly was more concerned with support for pubs in areas placed in the higher tiers because they were unable to serve food.
Under the system, bars in tier two were only allowed to stay open if they served "substantial meals", while those in tier three could only provide takeaways or deliveries.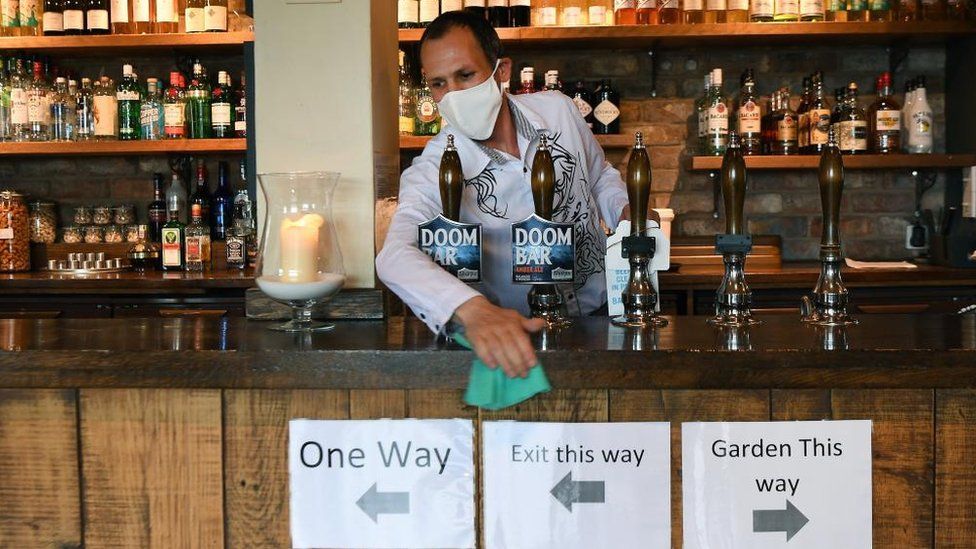 But Mr Daly said he was "appalled" and "disgusted" that the hub was discussed as a way of coercing him into voting with ministers.
MPs eventually backed the government's plans for the tier system by 291 votes to 78 despite a large rebellion by Tory MPs – including Mr Daly.
Fifty-five Conservatives voted against the plan – the largest rebellion of then-Prime Minister Boris Johnson's time in No 10.
Responding to the Telegraph's article, former Conservative Party chairman Sir Jake Berry tweeted that Mr Hancock "should be dragged to the bar of the House of Commons first thing tomorrow morning to be questioned on this".
Sir Jake's name appeared on a government list of 95 Tory MPs who had concerns about the introduction of lockdown tiers, according the Telegraph, and was considered a likely rebel – although he ended up voting with ministers.
A spokesperson for Mr Hancock said the message exchange was an "entirely partial account".
"The missing context here is vitally important because this vote was critical for saving lives," the spokesperson added.
"What's being accused here never happened, demonstrating the story is wrong, and showing why such a biased, partial approach to the evidence is a bad mistake, driven by those with a vested interest and an axe to grind.
"The right place to consider everything about the pandemic objectively is in the public inquiry."
The BBC has not been able to independently verify the messages.
The texts are the latest release from more than 100,000 WhatsApp messages leaked to the Telegraph by journalist Isabel Oakeshott.

The WhatsApp leaks
A collection of more than 100,000 messages sent between former Health Secretary Matt Hancock and other ministers and officials at the height of the Covid-19 pandemic have been obtained by the Telegraph. Here are some of our stories on the leaks: