A deal could be announced in the coming days after more than a year of talks, sources tell the BBC.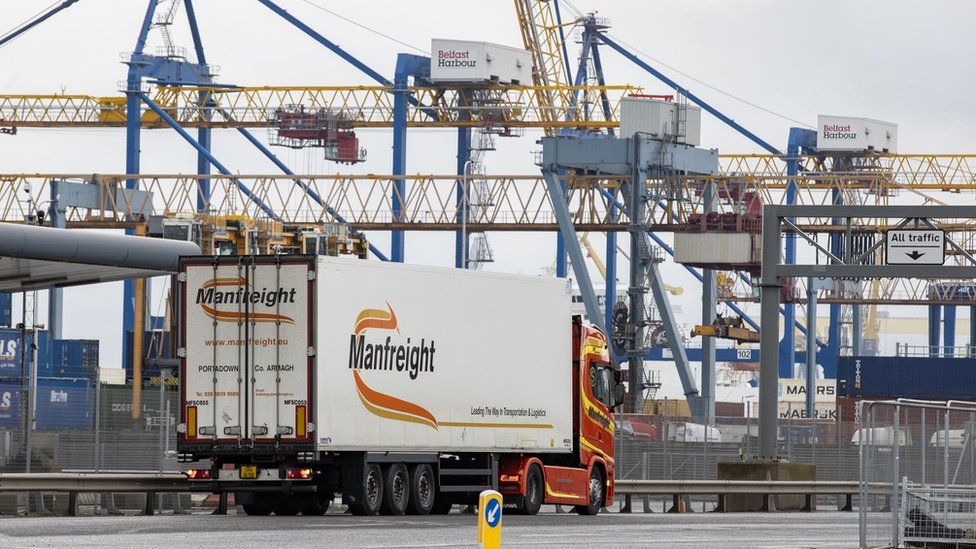 A deal on post-Brexit rules for Northern Ireland could be announced in the coming days, UK and EU sources have indicated to the BBC.
It comes after plans to sign off an agreement between the two sides earlier this week were delayed.
Developments are said to be moving "hour-by-hour" – and a deal could still fail to materialise.
Downing Street told reporters earlier that "intensive discussions" with the EU were ongoing.
Prime Minister Rishi Sunak has been trying to win support for changes to post-Brexit rules for Northern Ireland, known as the protocol.
Mr Sunak spoke to EU Commission President Ursula von der Leyen earlier, whilst it is also understood he is meeting with a number of big food retailers.
One major supermarket has told the BBC that it was their understanding that a deal has been reached, but the prime minister wants the backing of retailers.
Monday is being mooted as a possible moment for the prime minister to finally reveal his plans. However, similar expectations were building at exactly this time last week.
It had been hoped that Ms von der Leyen could head to London last Monday to seal an agreement, after more than a year of negotiations.
But it never happened, and there were nerves in EU circles about whether Mr Sunak could close a deal.
Mr Sunak has been facing pressure from his backbenchers over the future role of European Court of Justice (ECJ), the EU's top court, in policing the application of EU laws in Northern Ireland.
The protocol, which was agreed under former Prime Minister Boris Johnson and came into force in 2021, saw Northern Ireland continue to follow some EU laws to get round the need for checks at the UK's border with the Republic of Ireland.
DUP concerns
Northern Ireland's Democratic Unionist Party, which has set its own tests for its support, has also expressed reservations about the continuing role of the ECJ and EU law.
Mr Sunak has been trying to win them over to a deal, as the party is currently blocking the formation of devolved government in Northern Ireland.
Both the UK and EU have continued to insist that negotiations are ongoing, despite multiple sources suggesting that a broad deal has been on the table for weeks.
Earlier, Foreign Secretary James Cleverly said the government would not sign off a deal until the DUP's concerns had been "addressed".
"The things they're concerned about, the things we're concerned about, are absolutely in alignment," he told Times Radio.
"So when, hopefully, we get those issues resolved then I would hope that the DUP would recognise that we've addressed their concerns."
Conservative MPs are under orders to be in the Commons on Monday – although Tory MPs have indicated the instructions, known as a three-line whip, are not unusual for the start of the week.
Border checks
The protocol has proved highly unpopular among unionists in Northern Ireland, and soured relations between the UK and EU.
Talks to secure changes demanded by British business groups and politicians have been happening, on and off, since the autumn of 2021.
Negotiators are said to have settled on a "red and green lane" system to ease border checks on goods from Great Britain destined to remain in Northern Ireland.
This would allow reduced checks for firms signing up to a "trusted trader" scheme, with the UK in exchange giving the EU more access to its real-time trading data.
EU sources have insisted the ECJ will continue to have overnight of EU rules in Northern Ireland, a red line among the 27-country organisation.
But it's thought the court's role will be softened, while officials have also been in talks about how to reshape rules on VAT and government subsidies for businesses.