The 31-year-old was found dead under the rubble of his home in Turkey two weeks after the earthquake.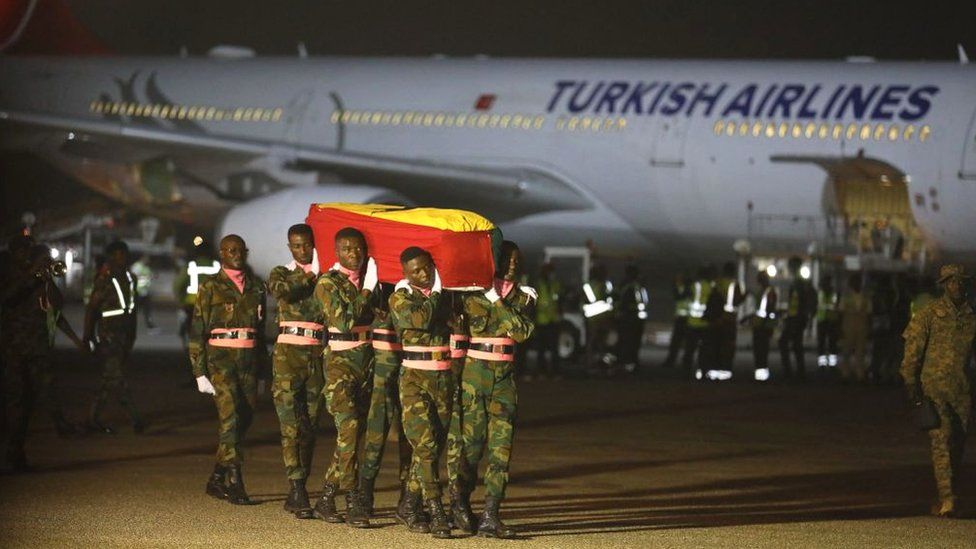 The body of footballer Christian Atsu, who died when an earthquake hit Turkey two weeks ago, has been returned to his native Ghana.
The flight landed in Accra late on Sunday, and his coffin was carried away by members of Ghana's armed forces.
Atsu was found dead on Saturday under his home in southern Turkey. He had been playing for the Hatayspor club.
The winger won 65 caps for Ghana's national team and helped his side reach the 2015 Africa Cup of Nations final.
The 31-year-old also played for Premier League sides Everton and Newcastle.
Speaking at Kotoka airport in the capital Accra, Ghana's Vice-President Mahamudu Bawmia said: "We hoped against hope, every day that passed, we prayed and prayed. But alas, when he was found, he was no more."
Mr Bawmia added the late footballer was much loved and would be sorely missed. "It is a painful loss, a very painful one."
He promised Atsu would be given a "befitting" burial.
Atsu had been missing since the devastating 7.8 magnitude earthquake on 6 February caused the collapse of his apartment in Antakya, in hard-hit Hatay province.
The Hatayspor club initially reported the player had been rescued with injuries, but this position was later changed – and his agent confirmed the news of his death on Twitter on Saturday.
The footballer's remains were accompanied from Turkey by his family and Ghana's ambassador to Turkey, Francisca Ashietey-Odunton, Ghana's foreign ministry said.
The plane landed at 19:25 GMT in Accra where it was met by relatives, government officials and representatives of the Ghana Football Association.
The coffin was later due to be transported to a military hospital morgue.
On Saturday, his wife Marie-Claire Rupio and their three children joined fans marking a minute's silence in Newcastle, before the side's Premier League match against Liverpool. Atsu played for Newcastle from 2016 to 2021.
Atsu's face was shown on the big screen and away fans chanted "you'll never walk alone", before breaking into applause.
On Sunday, Ghana captain Mohammed Kudus paid tribute to his former teammate after scoring for Dutch side Ajax, removing his jersey to reveal a white shirt with "RIP Atsu" written on it.
Meanwhile, the charity Arms Around The Child haled Atsu – who has been an ambassador for the organisation since 2016 – and said he had been the "main benefactor" of a school in Ghana that supports abandoned children, orphans, the chronically ill and those rescued from trafficking.
Atsu, they said, was "a young boy from poverty in Ghana who followed his dreams and used his talent and platform to help others".