Chris O'Shea's comments come after the energy company's owner Centrica saw its profits triple.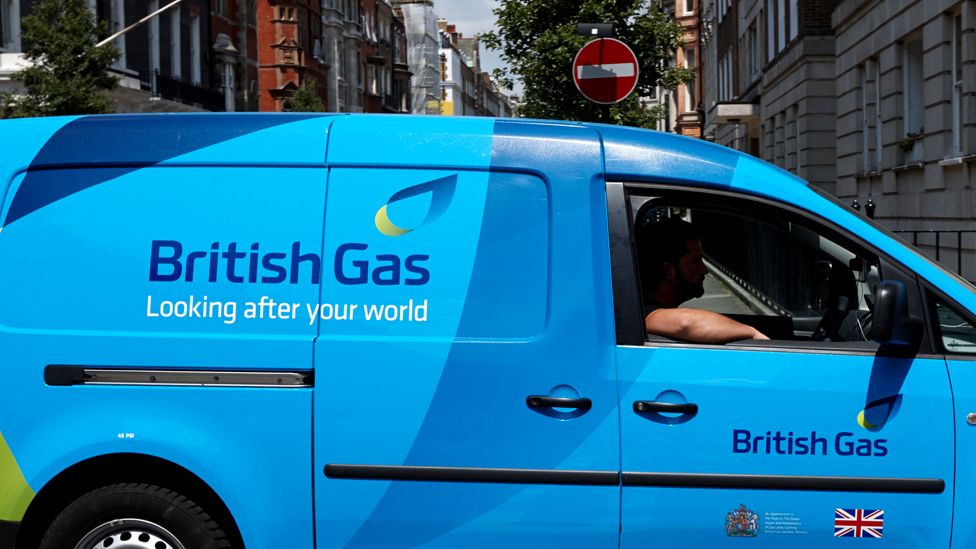 The boss of British Gas owner Centrica has refused to be drawn on whether he will take a bonus worth up to £1.6m after the company posted huge profits.
Chris O'Shea said it was "too early to have a conversation" over any payout after profits hit £3.3bn for 2022.
Energy firms have seen record profits since oil and gas prices jumped following Russia's invasion of Ukraine.
It has sparked calls for firms to pay more tax as many households being hit by high gas and electricity bills.
Centrica's bumper figures also come after British Gas was criticised over its use of debt agents to force-fit prepayment meters in the homes of vulnerable customers.
The firm's full-year profits were more than triple the £948m generated in 2021. Shell and BP have also reported record profits this year.
Mr O'Shea is due to receive an annual salary of £794,375 and Centrica's annual incentive plan means he could also be eligible for a bonus of almost £1.6m if targets are met.
"It's a bit early for us to say – the annual report will be published in March and it will have everything that you need," he said.
Mr O'Shea has previously turned down a £1.1m bonus in 2021 due to "hardships" faced by customers. Centrica's annual report for that year also said he did not take a bonus in 2020 and 2019 because of the pandemic.
However, the report added: "It is important to recognise that this is not sustainable and the committee is clear that if performance justifies a bonus in the coming year it is our intention to pay that bonus."
Windfall tax
The End Fuel Poverty Coalition campaign group said in response to Centrica's profits that the energy market was "failing consumers and is in desperate need of reform".
But Mr O'Shea said the company last year invested £75m in supporting customers of British Gas, the UK's largest electricity and gas supplier, providing "much needed stability and support".
He said the profits had a "purpose" in the transition to cleaner forms of energy as well as "helping customers having lower bills going forward."
Most of Centrica's bumper profits came from its nuclear and oil and gas business, rather than from the British Gas energy supply business, which contributed just £72m of the £3.3bn profit. The sale of its Spirit Energy oil and gas business in May also boosted the figures.
Due to competition rules, Centrica cannot sell its own gas at a discount to British Gas customers.
In fact, it said British Gas's profits had decreased by 39% compared with 2021's levels, largely because of "voluntary donations" to support customers and the repayment of furlough funds from the pandemic.
In addition, Centrica said:
It paid £1bn in tax relating to its 2022 profits, the vast majority of which was paid in the UK.
Of that, about £54m was paid as result of the windfall tax – called the Energy Profits Levy – which was introduced by the government last year to recoup some of the "extraordinary" earnings made by firms, and to help fund lower gas and electricity bills for households.
Centrica also said it would increase the money it returned to its shareholders as it launched a £300m share buyback scheme.


Centrica is really two separate businesses, one of which is making record breaking profits and one which is not.
But taken as a whole people will see a company swimming in cash while hiring debt collection agencies to break into struggling households to fit prepayment meters – prompting understandable anger.
Competition rules prevent Centrica from selling the energy it produces more cheaply to its own retail customers than others, so what does it do with its embarrassment of riches?
It has already suspended the agency involved in the forced prepayment meter fitting. The company also estimates it will pay £2.5bn in windfall tax by 2028, but many will still see that as insufficient.
The problem of how to fix that is a matter for government rather than the likes of Centrica, Shell and BP.

'Coining it in'
The company's huge profits have sparked criticism.
Unite general secretary Sharon Graham said Centrica had been "coining it in from our massive energy bills while sending bailiffs to prey on vulnerable consumers the length and breadth of the country".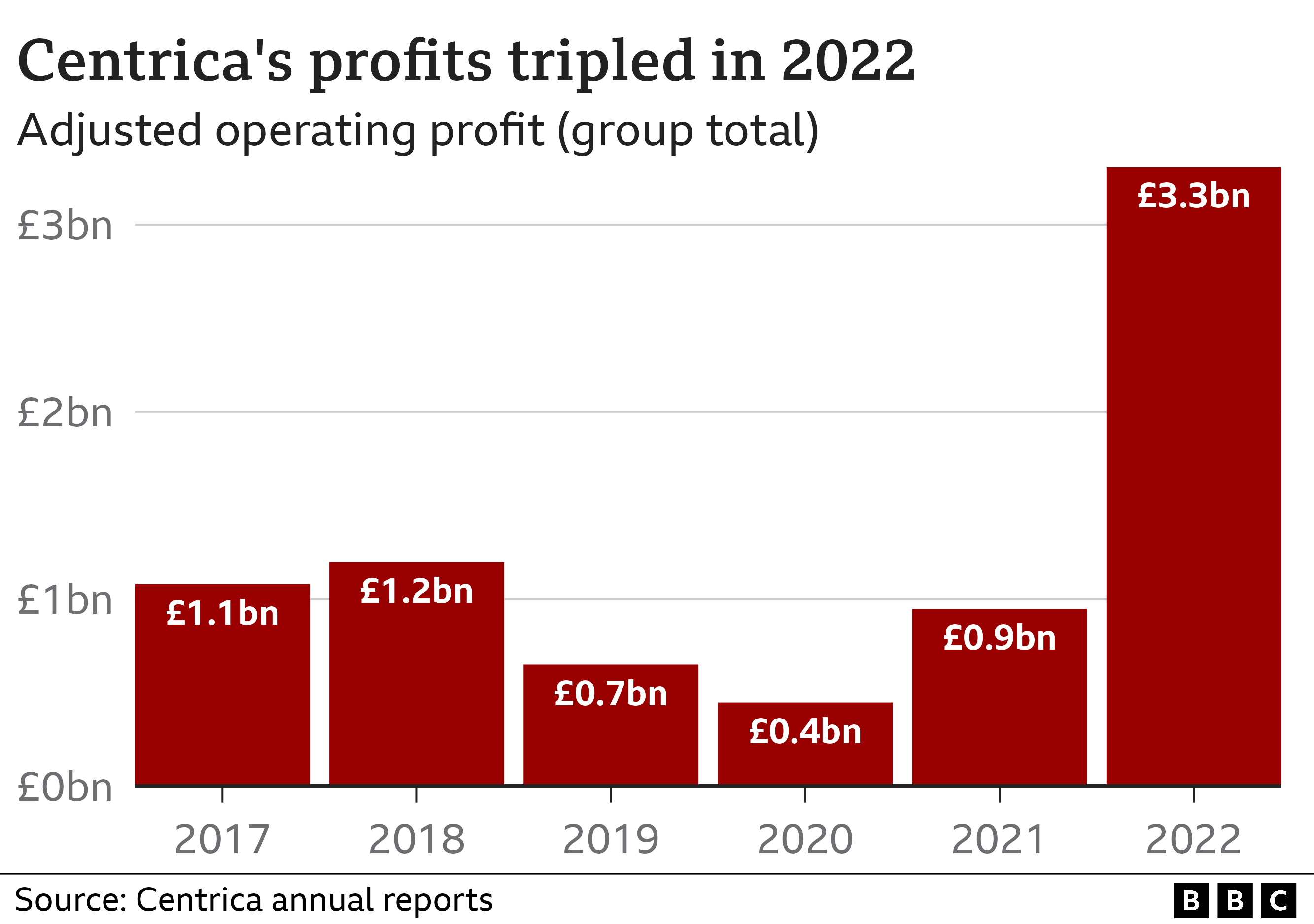 Labour's Shadow Chancellor Rachel Reeves called on the government to "bring in a proper windfall tax on oil and gas giants to stop energy prices rising in April".
The government's windfall tax only applies to profits made from extracting UK oil and gas. The current rate is 35%, but oil and gas firms pay an additional 30% in corporation tax and a supplementary 10% rate, taking the total rate to 75%.
However, companies can reduce the amount of tax paid by factoring in losses or spending on things like decommissioning North Sea oil platforms.
It has meant in recent years, the likes of BP and Shell have paid little or no UK tax.
It comes as the government has been forced to step in to help households. It is currently limiting energy bills to £2,500 per year for a typical home, although that is still more than twice what they were before the Ukraine war, with the threshold set to rise to £3,000 in April.
The results also follow an investigation by the Times newspaper which revealed that debt agents working for British Gas had broken into the homes of vulnerable people to force-fit prepayment meters. It has resulted in many more similar incidents being brought to light.
The revelations resulted in Ofgem, the energy watchdog, asking all suppliers to suspend forced prepayment meter installations. Courts in England and Wales also halted applications from firms to install them.
Centrica said it was "extremely disappointed by the allegations" surrounding one of its contractors, Avarto Financial Solutions, and added it was "completing a thorough independent investigation".
There are more than four million UK households on prepayment meters, which require customers to pay for energy in advance, either through accounts or by adding credit to a card. It is more expensive than paying by direct debit.
However, strict rules are meant to stop suppliers moving at-risk customers onto prepayment meters, amid concerns people may "self disconnect" when they cannot afford to top up.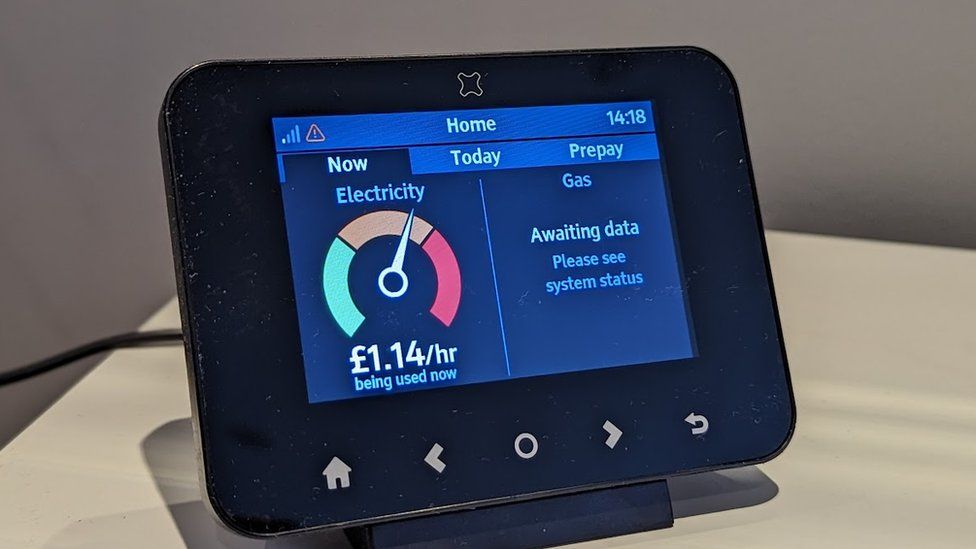 One British Gas customer Ricky, who lives in Kingston upon Thames, had a prepayment meter force-fitted at his home in November last year.
The 46-year-old suffers from long Covid and is unable to work regularly. He told the BBC he was placed on British Gas's vulnerable register after they sent him an £800 bill.
But one morning he was woken up by people banging on his front door and shouting. He got to the door and saw a locksmith kneeling down about to break in.
"I was just completely bewildered," he said. Ricky said a woman from Arvato Financial Solutions handed him a letter which said he had to have a smart prepayment meter fitted.
Ricky said the whole experience was "distressing and degrading" and added he "felt ashamed".
British Gas said it was "really sorry" to hear about Ricky's experience and would contact him to "look at how we resolve things".
Avarto Financial Solutions has refused to comment on the allegations so far.