The West must be in it for the "long haul" as Russia shows no signs of relenting, says Nato's chief.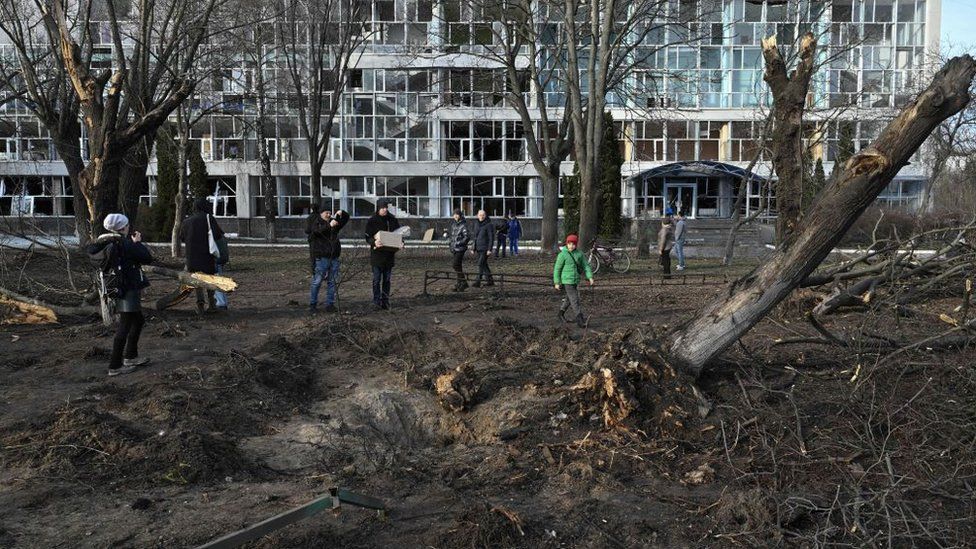 Western countries must be prepared to provide long-term support to Ukraine as Russia shows no signs of relenting, Nato's secretary general has said.
Jens Stoltenberg told the BBC that military support would ensure the survival of Ukraine as a sovereign country and force Russia to sit down and negotiate an end to the war.
Russia's leader accuses the West of using Ukraine to destroy his country.
Russian missiles and drones have hit Ukraine on New Year's Eve and Day.
Russia's partial mobilisation programme, ordered in September, showed Moscow had no desire to end the war at present, Mr Stoltenberg told Radio 4's World at One programme.
"The Ukrainian forces had the momentum for several months, but we also know that Russia has mobilised many more forces, many of them are now training," he said.
"All that indicates that they are prepared to continue the war and also try to potentially launch a new offensive."
Earlier, Russian President Vladimir Putin gave a New Year's speech, in which he tried to rally people behind his troops fighting in Ukraine, saying that the country's future was at stake.
His Ukrainian counterpart Volodymyr Zelensky accused Mr Putin of hiding behind his troops rather than leading them.
Twelve out of 20 Russian cruise missiles were shot down on Saturday, the head of Ukraine's armed forces said. A further 45 Iranian-made kamikaze drones were shot down around Kyiv just hours into the New Year on Sunday, the Ukrainian Air Force said.
At least one person died and dozens were injured in the attacks.
The strike fuelled anger and hate among Ukrainians already tired of Russia's unrelenting air campaign.
As explosions rocked the capital, some residents sang the national anthem, while officials accused Russia of deliberately targeting civilians while they gathered to celebrated the New Year.
Andriy Nebitov, the head of the Kyiv police, posted an image to social media of a downed drone with the words "Happy New Year" scribbled across it in Russian.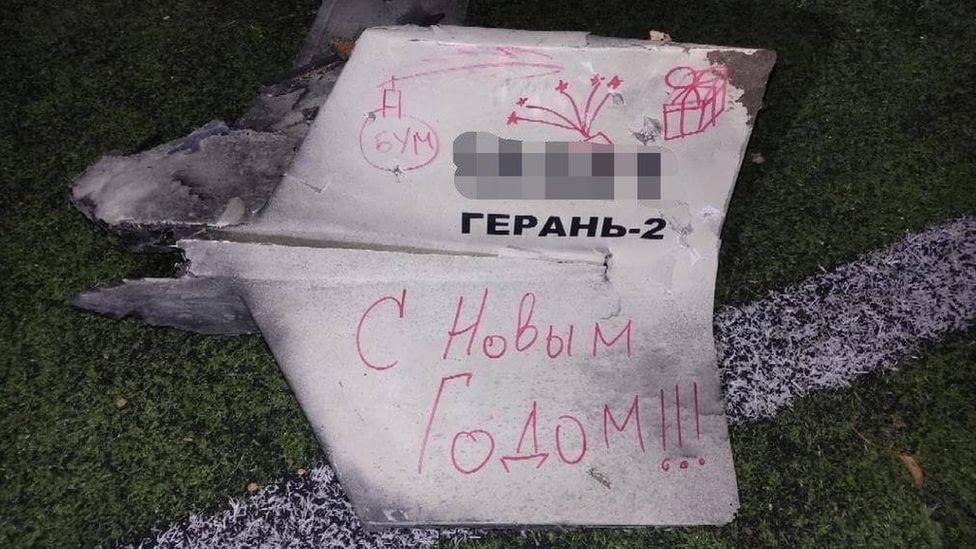 "That is everything you need to know about the terror state and its army," he wrote on Facebook, adding that the remains had crashed in a children's playground.
Though no let up in hostilities looks to be in sight, Mr Stoltenberg said Nato must ensure Ukraine stays in a strong position in the event of negotiation talks between the two sides.
"We need to provide support to Ukraine now, including military support, because that's the only way to convince Russia that they have to sit down and negotiate in good faith and respect Ukraine as a sovereign independent nation in Europe," Mr Stoltenberg said.
"What we do know is that what Ukraine can achieve around that table is totally dependent on the strength on the battlefield."
Prior to Mr Stoltenberg's interview, France – a Nato member – reiterated its backing for Ukraine.
"We will be beside you without fail. We will help you until victory is achieved," French President Emmanuel Macron said in his own New Year's address.