More than 70 people died in the fire, which spread rapidly due to the type of cladding.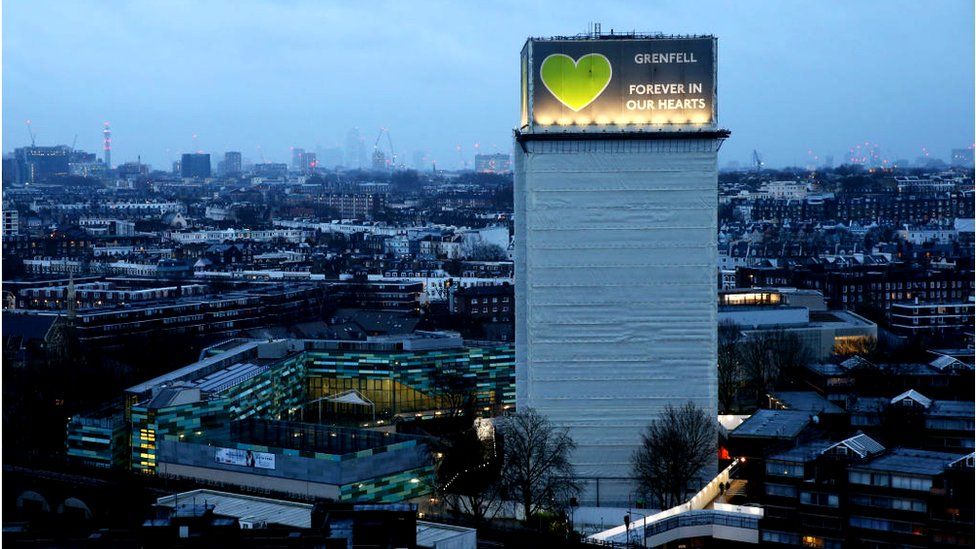 Five years after the Grenfell fire in which 72 people died, the government has banned the specific type of cladding which allowed the blaze to spread so rapidly.
Metal composite panels with an unmodified polyethylene core now cannot be used on any building of any height.
The government first received data demonstrating the danger of polyethylene-cored cladding in 2002.
Grenfell Tower, a 24-storey block in west London, caught fire in June 2017.
Previously, the ban applied only to buildings higher than 11m (36ft).
There are new restrictions on other combustible materials, but some will be permitted on buildings under 18m (59ft), subject to a large-scale fire test.
All new residential buildings higher than 11m will have to include a secure information box, which will give fire and rescue services access to building details in case of fire, and an evacuation alert system – an alarm that can trigger an evacuation if a fire is out of control.
The changes announced on Wednesday also extend the scope of the ban on combustible materials above 18m to include hotels, hospitals and boarding schools, which the government had previously chosen to exclude.
Changes to building regulations and guidance are not retrospective, meaning the new rules will only apply to future newbuild projects, not existing properties or schemes that are already under way.
In May, the home secretary published a Fire Reform White Paper to incorporate recommendations made by the Grenfell public inquiry.
The inquiry said the controversial "stay put" policy – asking residents of most buildings to wait inside for rescue services, rather than leaving in the event of a fire – should be changed.
However, Home Office papers outlined plans to keep the policy in place.
Related Internet Links
The BBC is not responsible for the content of external sites.