Foreign Secretary James Cleverly is in the Ukrainian capital Kyiv for talks with President Zelensky.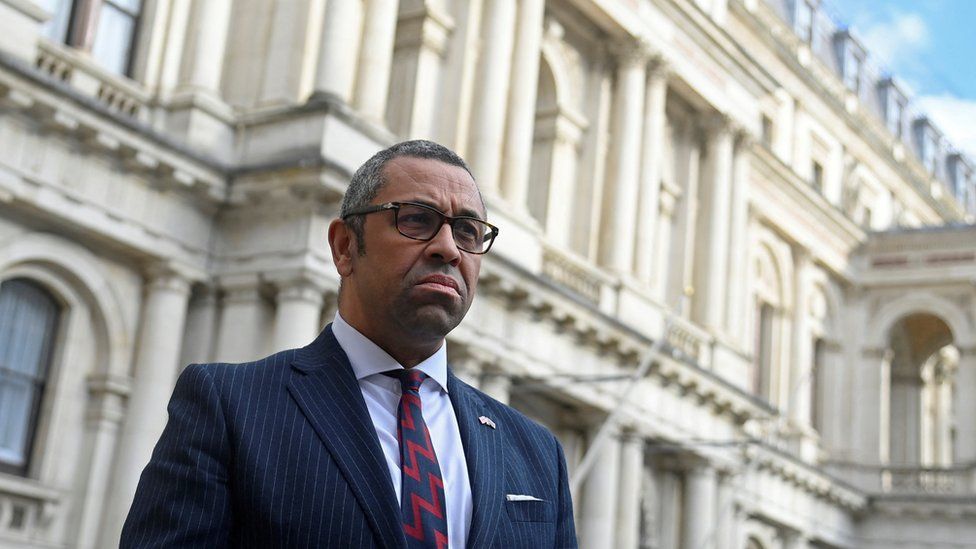 The foreign secretary has announced the UK will send 24 ambulances to Ukraine, while on a visit to the country.
James Cleverly travelled to the capital Kyiv on Thursday and is set to hold talks with Ukrainian President Volodymyr Zelensky.
Mr Cleverly said the UK stands "shoulder to shoulder with Ukraine" and that Russia's attack "will fail".
As well as ambulances, a further 11 emergency vehicles, including six armoured vehicles, will be part of the emergency package.
It will include £3m in funding to help with the rebuilding of infrastructure, such as schools and shelters, that has been destroyed since the start of the war.
The funds will also be used to support survivors of sexual assault. The conflict has seen numerous reports, including by UN representatives, of sexual violence by Russian troops against Ukrainian civilians.
Mr Cleverly said that, as winter sets in, Russia was aiming to "break Ukrainian resolve through its brutal attacks on civilians, hospitals and energy infrastructure".
Recent weeks have seen renewed bombardments of Kyiv and other cities by Russian forces, particularly targeting sites key to the country's power network.
The attacks have caused intermittent power outages, prompting widespread concern about how the humanitarian situation in the country could deteriorate in the coming months. Temperatures over winter can fall as low as -20C in parts of Ukraine.
The UK is already supplying Ukrainian troops with winter equipment, including heavy duty sleeping bags and mats, heated accommodation and cold-weather clothing.
"I have today announced a package of hands-on support for our Ukrainian friends in their fight," Mr Cleverly said.
"I've seen here first-hand how the UK's efforts are helping brave citizens to resist and rebuild. Our support will continue for as long as it takes for this remarkable country to recover."
During his own visit to Kyiv, the prime minister set out a £50m package of defence support, including 125 anti-aircraft guns and equipment to counter Iranian-supplied drones.
That followed an announcement earlier this month that an additional 1,000 surface-to-air missiles would be sent.
Meeting President Zelensky, Mr Sunak said it was "deeply humbling [to meet people] paying so high a price to defend the principles of sovereignty and democracy".