Fatigue, headache, sore throat and diarrhoea are also warning signs of the virus, research suggests.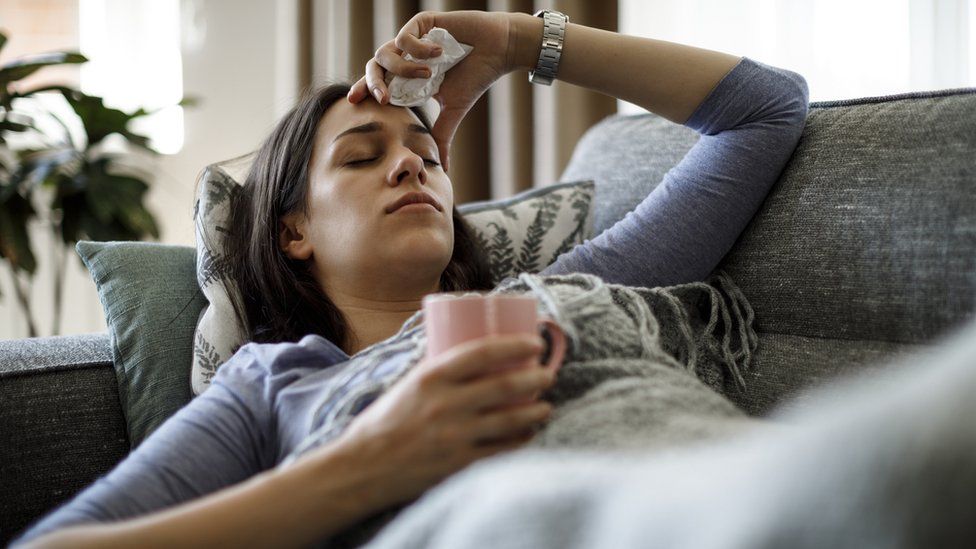 Researchers want the government to add fatigue, headache, sore throat and diarrhoea to the existing three symptoms which trigger a Covid test.
Currently, anyone with a cough, fever or loss of smell or taste qualifies.
Testing for these additional symptoms could pick up 40% more cases, King's College London and the Zoe Symptom Study app have suggested.
However, this would mean many more people who don't have the virus being tested.
A Department of Health and Social Care spokesperson said: "An expert scientific group keeps the symptoms of Covid-19 under review.
"The main symptoms have been carefully selected to capture those most likely to have Covid-19, while not capturing a great number of people who do not."
The Zoe team was the group to first identify loss of smell and taste as a symptom of Covid, leading to it being added to the official symptoms list.
They spotted this by looking at the symptoms reported by people using their Covid Symptom Study mobile app, who went on to test positive.
By analysing data from more than 120,000 adults logging potential symptoms on the app, of which 1,200 reported a positive test, the team identified seven common symptoms.
The classic three, any of which already qualify people for the more sensitive PCR test which is processed in a lab, are:
A new and continuous cough
Fever
Loss of smell or taste
And the further four already mentioned, including a sore throat and diarrhoea.
Anyone reporting one of this wider group of symptoms was invited by Zoe to take a PCR test.
While the seven symptoms suggested by the Zoe app may be features of early-stage Covid, they are also extremely common and may have many other causes.
The concern is that if everyone with a headache goes for a Covid test, it could overwhelm the system.
GP Dr Margaret McCartney told BBC Radio 4's Inside Health programme that a "pragmatic" approach was needed, with those living in areas with high levels of the virus treating those wider symptoms with more suspicion than those in low-Covid areas.
The Zoe team does acknowledge the strategy would increase the number of people without the virus being tested – rising from 46 negative tests for every positive to 95 negatives for every case identified if the seven symptoms were used.
But Dr Claire Steves, lead scientist on the app, said, "When PCR testing was scarcely available, it made sense to restrict it.
"Now in the UK we have plenty of tests available, thanks to so much effort by labs all over the country, and every positive person detected could save lives."
Prof Tim Spector, who is leading the project, said: "We've known since the beginning that just focusing testing on the classic triad of cough, fever and anosmia [loss of smell] misses a significant proportion of cases.
"For us, the message for the public is clear: 'If you're feeling newly unwell, it could be Covid and you should get a test'."
He added that this was "especially important", since new variants could cause different symptoms.
A study by the Office for National Statistics found a cough, fatigue, sore throat and muscle pain may be more common in people who tested positive for the UK variant of coronavirus.
A DHSC spokesperson said: "Anyone experiencing the main symptoms – a high temperature, a new continuous cough, or a loss or change to sense of smell or taste – should get a test as soon as possible, and immediately self-isolate along with their household."
Those with no symptoms, or symptoms outside of those three, may be able to access rapid testing through their local council or their workplace.