The latest strike means only one in five trains will run, with services starting late and finishing early.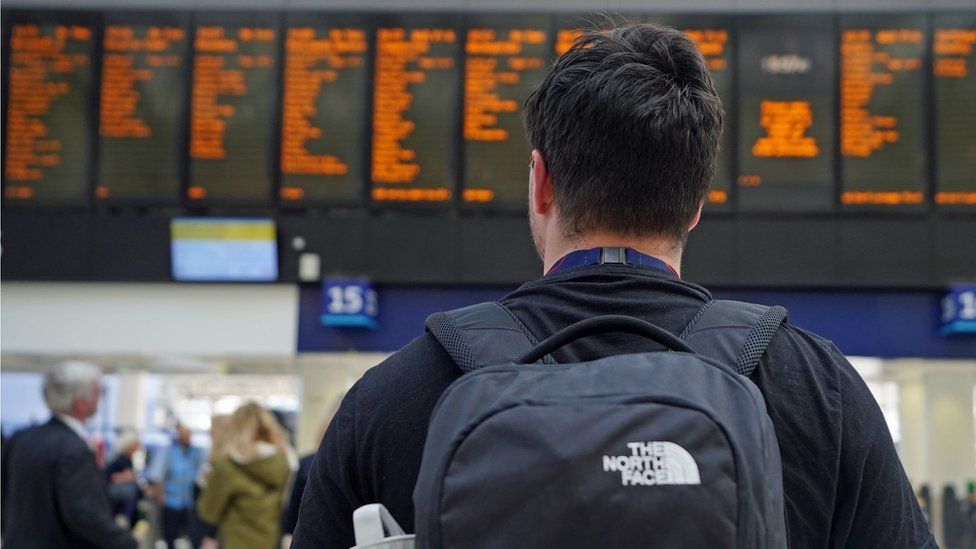 Passengers should avoid travelling by train unless absolutely necessary on Saturday due to expected widespread disruption from strikes, the rail industry has said.
Unions are striking as part of a long running series of disputes over pay and conditions.
Only a fifth of trains are set to run on Saturday, with services starting late and finishing early.
RMT union members in 15 rail companies and Network Rail will strike.
This is the eighth day of action taken by the union over pay and conditions.
Disruption is set to continue into Sunday morning.
National Rail Enquiries warned customers that it is "inevitable that services will be cancelled or severely disrupted".
"There will be a very limited service on Saturday 8 October with no service at all in some places. Please only travel by train if your journey is absolutely necessary, plan ahead and check before you travel."
Passengers with advance, off-peak or anytime tickets affected by the strikes can use their ticket on Friday, or up to and including three days later. rail operators said.
People can also change their tickets to travel on an alternate date or get a refund if their train is cancelled or rescheduled.
The RMT strikes will be widespread due to Network Rail's signalling staff striking across England, Scotland and Wales, so even where train operators are not directly involved in the dispute, only a fraction of usual services will run.