Prime Minister Boris Johnson says the scenes of disorder in west Belfast "deeply concerned" him.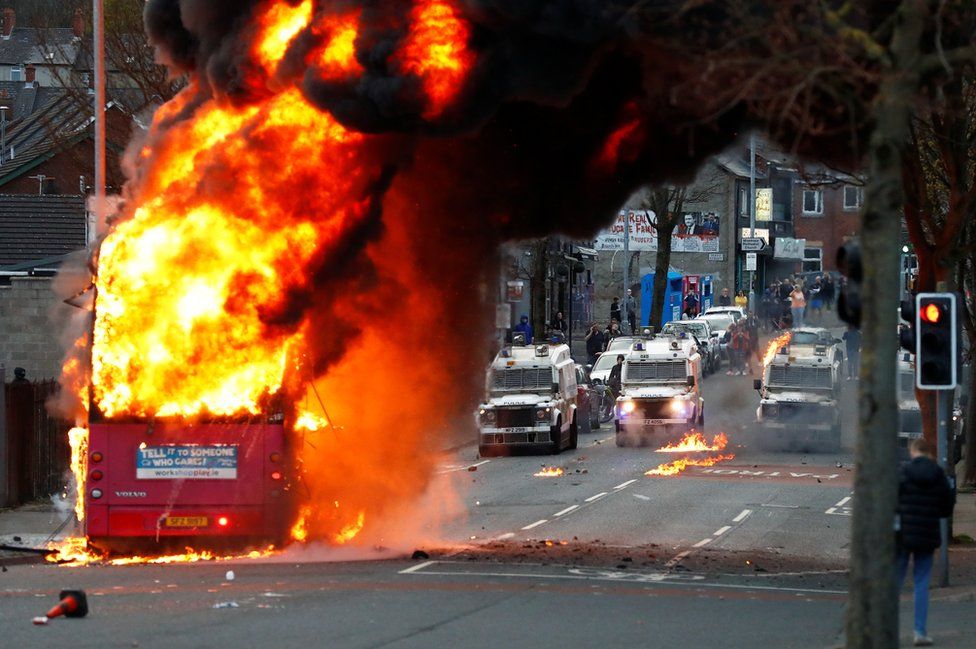 An emergency meeting of Northern Ireland's power-sharing executive will take place on Thursday morning after a night of violence in west Belfast.
During several hours of disorder police officers were attacked, petrol bombs were thrown and a bus was burnt.
Condemnation of the violence was led by Prime Minister Boris Johnson who said the scenes "deeply concerned" him.
The violence happened on both sides of an interface between loyalist and nationalist areas.
The BBC's Ireland correspondent Emma Vardy said crowds of a few hundred people on each side were throwing petrol bombs in both directions in the loyalist Shankill and nationalist Springfield Road areas.
All of the main political parties in Northern Ireland have criticised the trouble but they are divided over its causes.
It has been blamed on loyalist frustration about a decision not to prosecute people who attended the large-scale funeral of senior republican figure last summer, as well as concerns about the part of the Brexit deal directly relating to Northern Ireland.
Mark Lindsay, the chairman of the Police Federation for Northern Ireland, which represents rank and file officers, said seven officers were injured on Wednesday night.
"Our thoughts are with them this morning but obviously we're probably going to see some more injuries documented as the day goes on," he said.


Today is a chance for Stormont politicians to strike the right tone.
Words matter in politics, particularly in Northern Ireland right now where there are so many conflicting views and opinions that have led to an escalation of tensions.
The fact that executive ministers will meet on Thursday morning is a sign they recognise the escalation in disorder requires a united response.
But it is hard to know how they intend to manage this together when they have not been on the same page about why the violence has been happening.
It is hoped the assembly recall will present an opportunity to restore calm – privately some ministers say they fear now this has started it will be very difficult to stop.
The UK and Irish governments may seek to step up their efforts as well, given the calls for political leadership on all sides.
But with the political atmosphere so febrile, moving back from the brink could pose a real challenge.

Politicians will consider a motion calling for an "immediate and complete end" to violence in loyalist areas.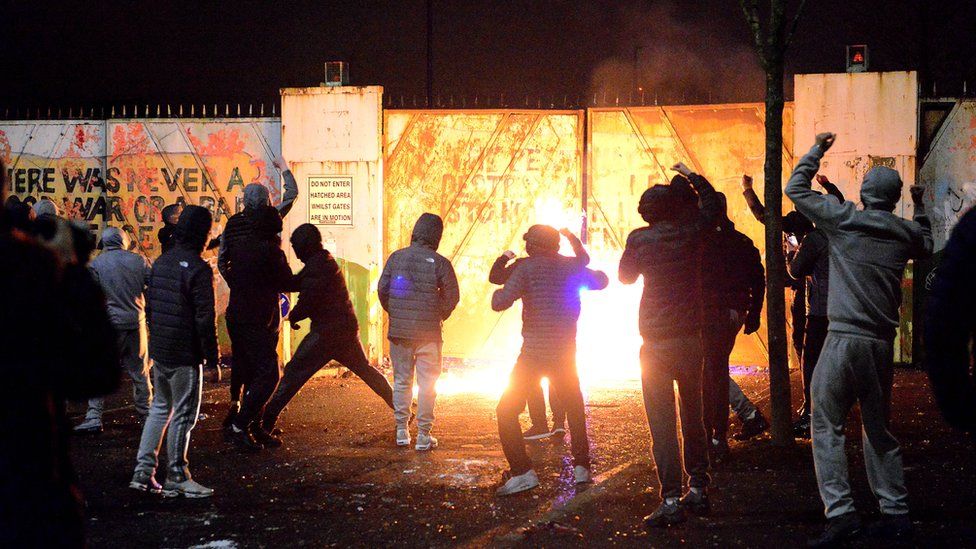 Leaders of the main political parties in Northern Ireland have condemned Wednesday night's violence, as has Taoiseach (Irish Prime Minister) Micheál Martin.
"Now is the time for the two governments and leaders on all sides to work together to defuse tensions and restore calm," he wrote on social media.
Mr Johnson said: "The way to resolve differences is through dialogue, not violence or criminality."
All of other the main parties have also criticised the trouble but they are divided over its causes.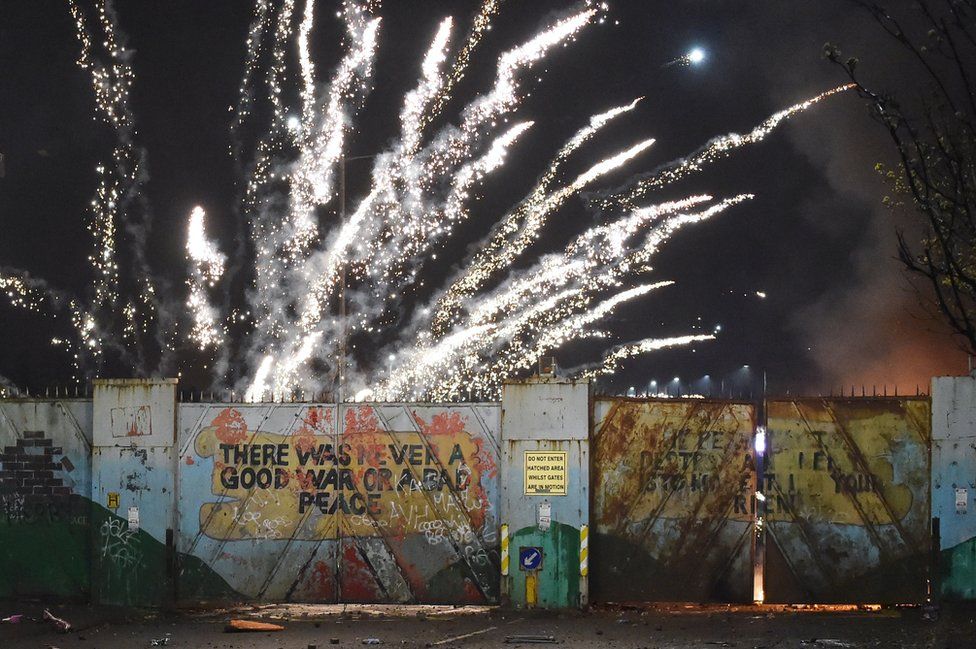 The disruption took place after a loyalist protest – a bus was set alight on the Shankill Road and a press photographer was attacked.
On the nationalist side of the interface police came under attack from young people on the Springfield Road.
Petrol bombs and bricks were thrown from both sides of the so-called peace wall before its gates were prised open.

It was attended by 2,000 mourners – including Deputy First Minister Michelle O'Neill, the Sinn Féin vice-president – at a time when Covid-19 restrictions were in place.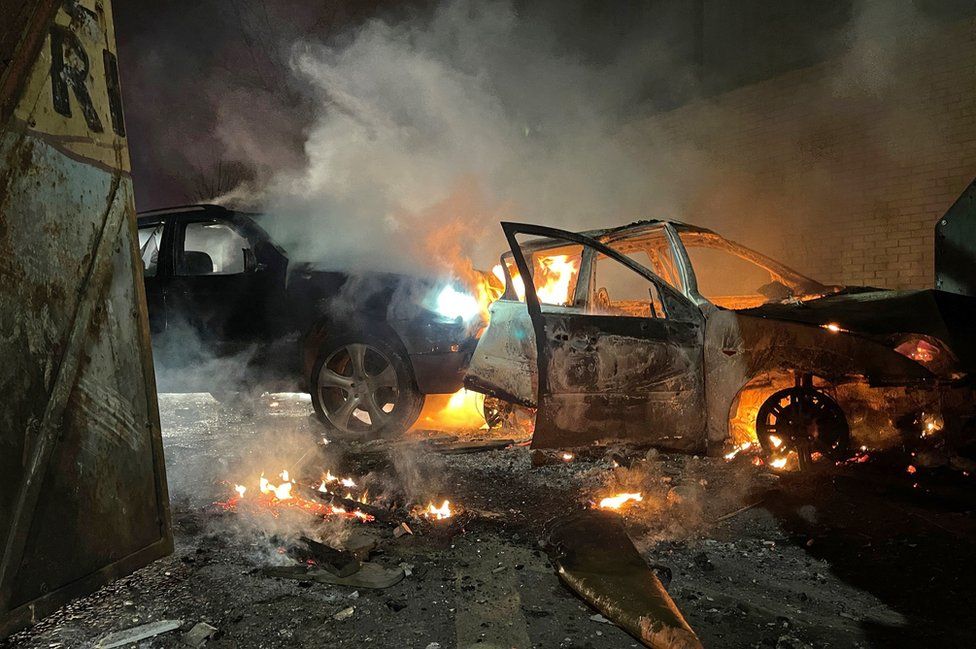 Democratic Unionist Party (DUP) leader and First Minister Arlene Foster described the violence as "an embarrassment to Northern Ireland".
"These actions do not represent unionism or loyalism. They… only serve to take the focus off the real law breakers in Sinn Féin," she posted on social media.
But Sinn Féin, the SDLP, and the Alliance Party have accused unionist politicians of ramping up rhetoric by calling for the Police Service of Northern Ireland (PSNI) Chief Constable Simon Byrne to stand down over the police handling of Mr Storey's funeral.
On Wednesday, Mrs First Minister Foster repeated her call for Mr Byrne to resign.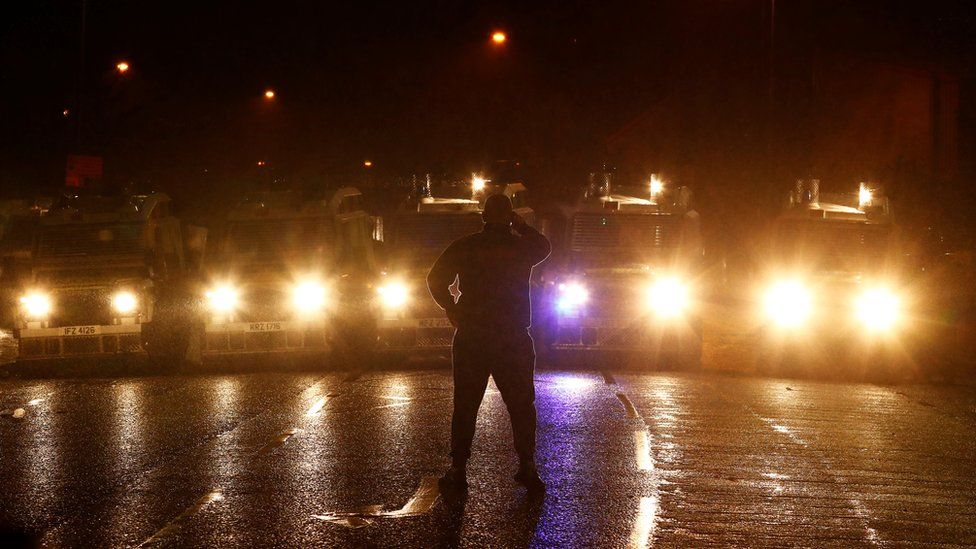 She said she had a duty to speak out about the PSNI's failure to uphold Covid-19 rules at a number of republican funerals over the past year.
Mr Lindsay of the Police Federation said removing the chief constable "in the middle of a crisis" would not be helpful, although he said there were "serious issues that need to be addressed".
"The police officers on the ground – to be honest it doesn't have an awful lot of impact on them who their chief constable is – they take their direction from lower down the command chain," he said.
"So it's for politicians to decide and for the chief constable himself to decide."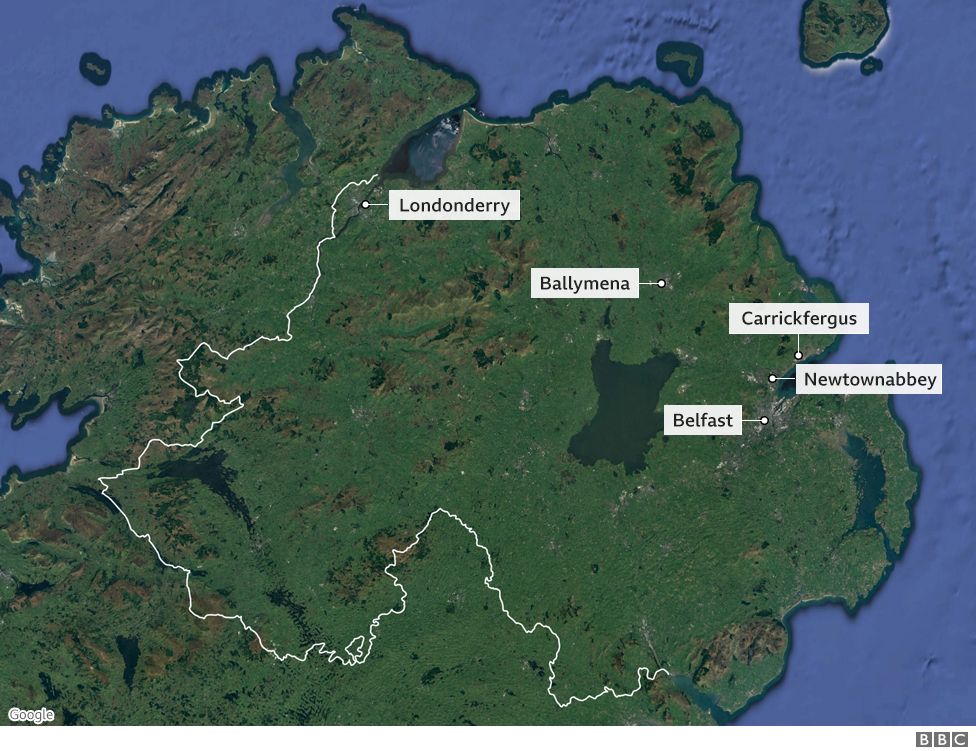 The assembly recall has the support of the five main Stormont parties and was proposed by Alliance Party leader and Justice Minister Naomi Long.
On Wednesday she said it was "not acceptable to make the police service a lightning rod for people's anger".
She said she hoped the motion would get the Stormont parties to "unite around a call for calm".
It also calls for MLAs to "recognise that leadership comes with responsibility and recommits to upholding a culture of lawfulness in both actions and words".

Did you witness the violence? Do you live in the area? Share your experiences by emailing haveyoursay@bbc.co.uk.
Please include a contact number if you are willing to speak to a BBC journalist. You can also get in touch in the following ways:
If you are reading this page and can't see the form you will need to visit the mobile version of the BBC website to submit your question or comment or you can email us at HaveYourSay@bbc.co.uk. Please include your name, age and location with any submission.