The singer's hits included Coal Miner's Daughter, Honky Tonk Girl and feminist anthem The Pill.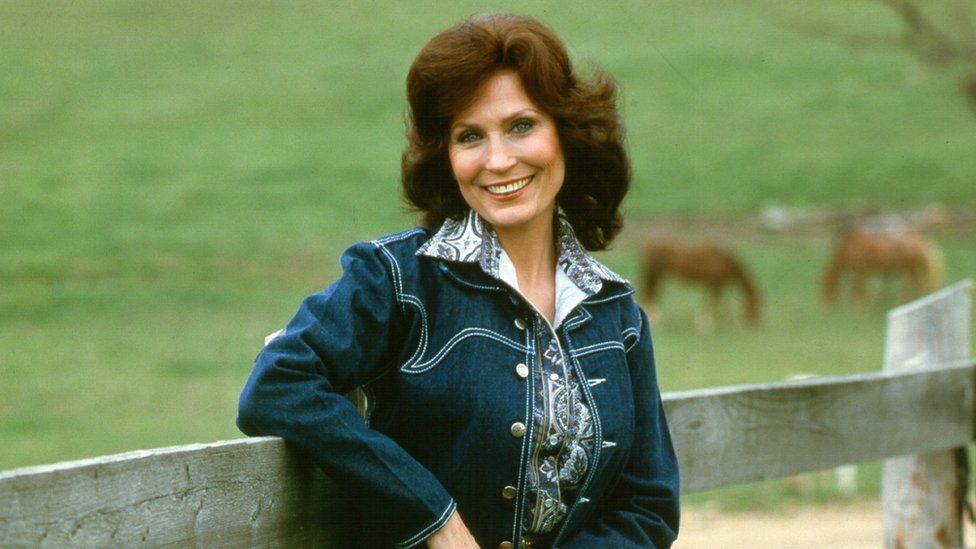 Loretta Lynn, whose songs of strength and independence made her a standard-bearer for women in country music, has died at the age of 90.
Known as the Queen of Country, her songs were rooted in real-life experience, most notably on the autobiographical Coal Miner's Daughter.
Other hits included Don't Come Home A-Drinkin', Honky Tonk Girl and the feminist anthem, The Pill.
Lynn's family said she died on Tuesday at her home in Tennessee.
"Our precious mom, Loretta Lynn, passed away peacefully this morning, October 4th, in her sleep at home in her beloved ranch in Hurricane Mills," the family said in a statement.
They asked for privacy as they grieve and said a memorial would be announced later.
The singer was born Loretta Webb in a one-room log cabin in Butcher Hollow, Kentucky in 1932. She was the second of eight children.
Just as she would later sing in Coal Miner's Daughter, her family eked out a living during the Depression, with her father earning a "poor man's dollar" by working all night in the coal mines, and all day in the fields "a-hoein' corn".
The family made its own entertainment – her mother played guitar, with her father accompanying on banjo – and she grew up on the songs of the Carter Family.
"I was singing when I was born, I think," she told the Associated Press in 2016. "Daddy used to come out on the porch where I would be singing and rocking the babies to sleep.
"He'd say, 'Loretta, shut that big mouth. People all over this holler can hear you.' And I said, 'Daddy, what difference does it make? They are all my cousins.'"
At the age of 15, she attended a "pie social" – where local girls would bake a pie, and men would bid to win both the food and a meeting with the cook.
Loretta's pie, baked with salt instead of sugar, was won by Oliver Lynn, a 21-year-old solider, who swept her off her feet. A month later, they married and moved to Custer, Washington, where they raised four children.
Her husband, whom she called "Doo" or "Doolittle," urged her to sing professionally and bought her a $17 (£14.80) Sears guitar, with which she started a band, Loretta and the Trailblazers, that also featured her brother Jay Lee Webb.
By 1960, she had signed a contract with Zero Records and released her debut single, I'm a Honky Tonk Girl.
The song was inspired by a woman Lynn befriended in Washington, whose husband had left her for another woman. Lynn said she wrote the song while leaning up against an old toilet in her house, the words pouring out of her in a 10-minute burst of inspiration.
She and her husband promoted the song relentlessly, driving to radio stations around the country to pester DJs into playing it, and sending out hundreds of free discs.
The effort paid off. I'm A Honky Tonk Girl reached number 14 on the country charts, and Lynn relocated to Nashville, where she was quickly snapped up by Decca Records.
She released her first Decca record, Success, in 1962, beginning an impressive stretch of hits that continued into the 1990s.
Lynn earned her first number one with Don't Come Home a Drinkin' (With Lovin' on Your Mind) in 1966, and topped the US country charts another 15 times.
She recorded 60 albums in total, and was nominated for 18 Grammy Awards, winning three.