The average two-year fixed rate is now close to 6% as major lenders raise the cost of deals sharply.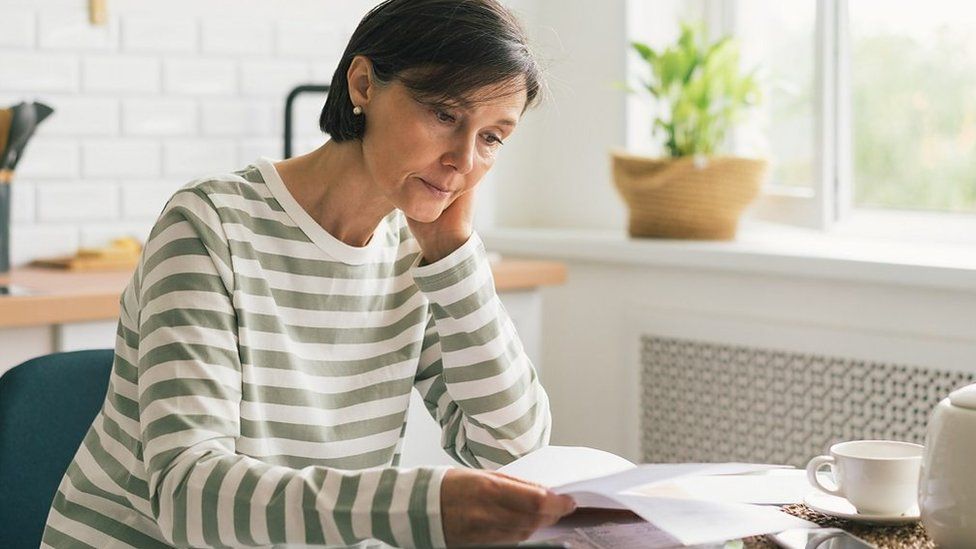 Major mortgage lenders are increasing the cost of home loans, with the average two-year fixed rate now close to 6%, new figures show.
A typical two-year fixed mortgage deal is currently 5.75%, up from 4.74% on the day of the mini-budget, financial information service Moneyfacts said.
Mortgage rates have climbed since December as interest rates have risen.
In December, the average two-year fixed deal was 2.34%.
Fixed deal interest rates do not change during the term of the mortgage, so rates are quoted for new or renewing borrowers.
Lenders have also withdrawn hundreds of products in recent days, which may leave some borrowers with difficulties securing a deal.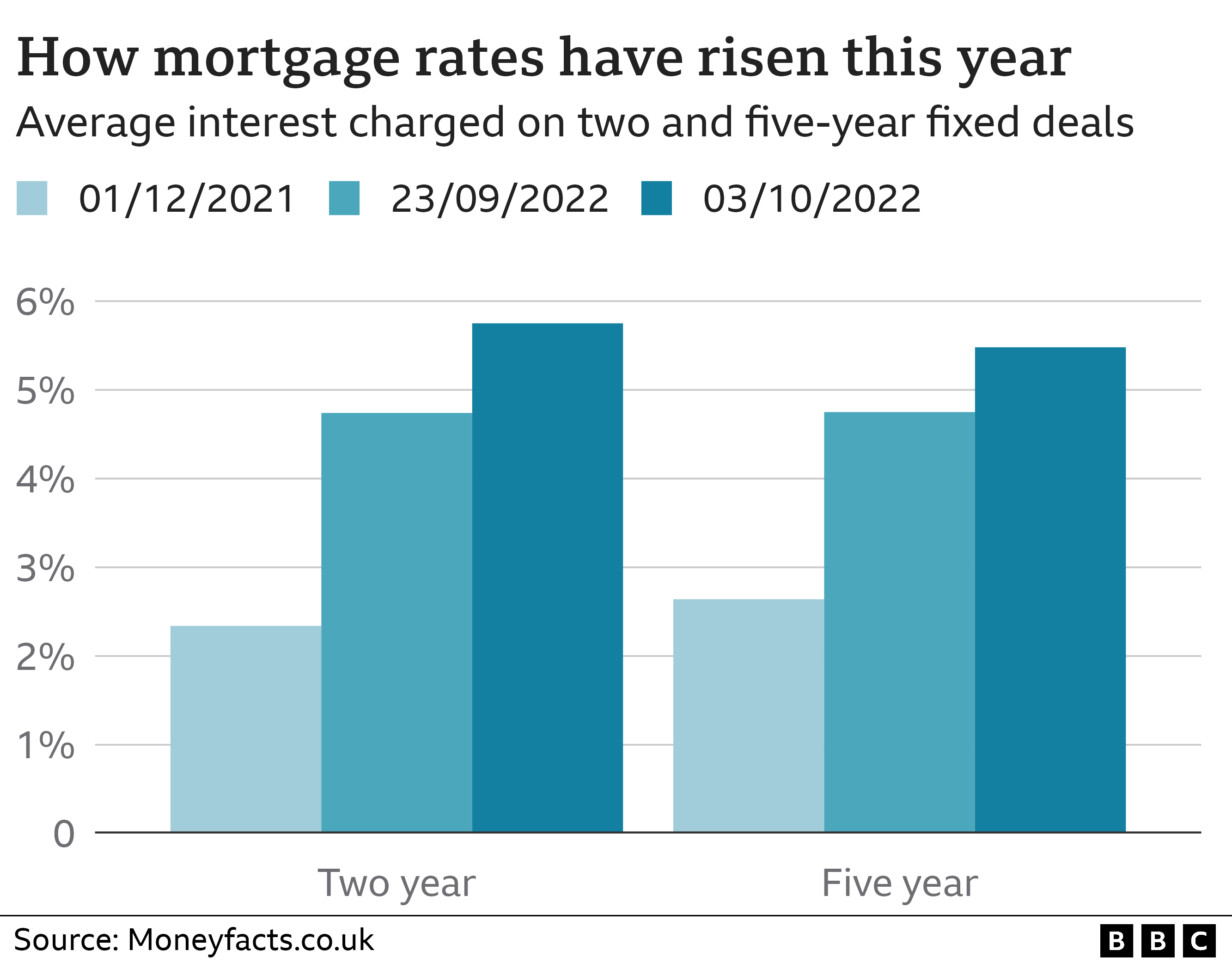 The recently re-priced deals have tended to be from major lenders who want relatively low-risk borrowers. Those homeowners who have high debt levels, or who may have missed repayments on credit, may find their choice is much more limited in the short-term.
Brokers say there is still money available for mortgage providers to lend, but the days of ultra-low rates – typical of the last decade – have quickly disappeared.
"We did not expect that to happen quite so rapidly," one broker said.
Mortgage rates have been rising ever since the Bank of England began a series of seven consecutive rises in the Bank rate – the benchmark figure of interest rates. Rates then jumped after the mini-budget prompted widespread expectation of a faster and higher jump in the Bank rate in the coming months.
Lenders look at the long-term cost of borrowing, and potential demand, and try to stay a step ahead of the Bank of England when setting the rates for fixed rate deals.
Roughly 100,000 people a month come to the end of a fixed deal and often remortgage, while first-time buyers also sign up to fixed deals. The 1.5 million homeowners on variable or tracker deals often see their costs rise in direct response to a Bank rate rise.
A typical five-year fixed deal has been slightly cheaper than a two-year fixed deal for some time – but both are now seeing rates rise sharply.
"The normal rules of lending have changed," said Aaron Strutt of Trinity Financial.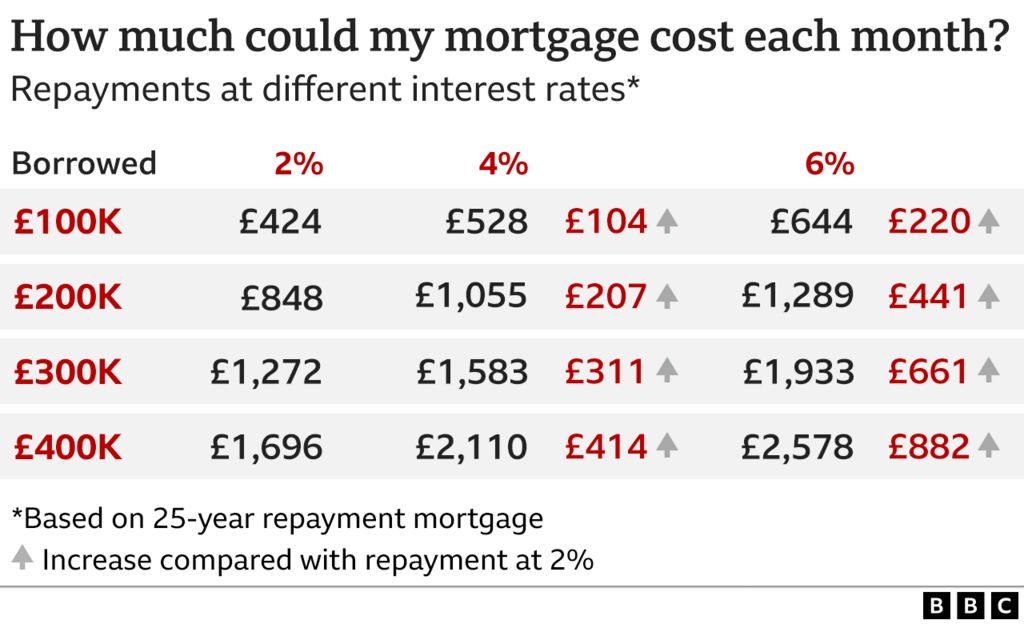 In recent days, major lenders such as NatWest, Nationwide and Virgin Money have increased their rates.
NatWest did so on Sunday, a highly unusual day of the week to make a change, according to brokers, signalling the speed at which the market is changing.
A homeowner borrowing £200,000 on a 30-year mortgage may have been looking at a rate of 3.5% and a monthly repayment of £898 just over a week ago. Now, there are more likely to be facing a 5.5% rate and a monthly repayment of £1,135.
As always, there is uncertainty over the longer-term trend for mortgage rates. People will have to consider how much they can borrow, and what lenders will judge them to be able to afford.
Amid the turmoil of last week, lenders pulled deals off the shelf at unprecedented levels, with brokers saying deals were lasting for a very short period of time as people flooded them and lenders with enquiries.
Moneyfacts said that there were 3,961 deals available on the morning of the mini-budget, compared with 2,262 at the start of this week – a 43% fall. Products were last withdrawn quickly at the start of the pandemic, but not at such a level.
Many of deals were withdrawn by smaller, more specialist lenders. That may create added uncertainty for those with more chequered borrowing histories.

How are you being affected by the rise in mortgage rates? Share your experiences by emailing haveyoursay@bbc.co.uk.
Please include a contact number if you are willing to speak to a BBC journalist. You can also get in touch in the following ways:
If you are reading this page and can't see the form you will need to visit the mobile version of the BBC website to submit your question or comment or you can email us at HaveYourSay@bbc.co.uk. Please include your name, age and location with any submission.