Downing Street is facing questions over why Boris Johnson's ethics adviser Lord Geidt quit his role.
Downing Street is under pressure to publish a letter from Boris Johnson's former ethics adviser Lord Geidt who resigned suddenly without explanation.
Lord Geidt was known to be unhappy with the prime minister's handling of Partygate and had suggested he may have broken the ministerial code.
The BBC understands he has written a long letter to the PM setting out the reasons for his departure.
The Cabinet Office is facing calls to publish the letter.
When senior officials quit government it is customary for their resignation letters, and the prime minister's reply, to be released.
Downing Street is expected to publish Mr Johnson's reply to Lord Geidt later.
Deputy Prime Minister Dominic Raab said he did not know why Lord Geidt had resigned but suggested it could be linked to "a commercially sensitive matter in the national interest, which he was asked to look at". The minister did not offer further details on the case.
Labour's Chris Bryant, chairman of the Commons' Committee on Standards and Privileges, accused the government of using "this strange national interest issue" as "chaff" to confuse matters.
"I think that is an attempt to deflect from reality," he told BBC News.
Sir Philip Mawer, a former parliamentary commissioner for standards, said: "If the letter and the prime minister's reply are not published then I think people will draw their own conclusion and it will not be favourable."
He said he had been "disappointed but not surprised" at Lord Geidt's resignation, adding there had been a "succession of failures" on the part of the prime minister and "it's not just Partygate."
A Downing Street source told the BBC that Lord Geidt's resignation had been a "total surprise and a mystery" to the prime minister, adding: "Only on Monday Lord Geidt asked if he could stay on for six months."
MPs will be able to ask a minister about the resignation at an urgent question in the House of Commons later on Thursday.
In recent days Lord Geidt had expressed frustration over the handling of the Partygate row.
He said it was reasonable to suggest the prime minister may have breached the ministerial code by breaking Covid lockdown laws.
He is the second ethics adviser to quit under Mr Johnson's premiership. Sir Alex Allan, who resigned from the role in 2020 after Mr Johnson chose not to accept his finding that Home Secretary Priti Patel had bullied civil servants.

Who is Lord Geidt?
Born in 1961, Christopher Geidt is a former army intelligence officer who later worked as a diplomat in Sarajevo, Brussels and Geneva
In 2002, he began working for the Royal Household and served as the Queen's private secretary for 10 years from 2007
He stepped down after a "power struggle" between Buckingham Palace and the Prince of Wales, the Times reported in 2017
Lord Geidt is chairman of King's College London and also chairs a board of the investment firm Schroders
He lives on the Isle of Lewis in the Outer Hebrides, where he grew up and where he now has a sheep farm. He is married with two daughters

Lord Geidt's job involved providing advice to Mr Johnson about the ministerial code. He could also investigate ministers for breaching the code – but only if asked to do so by the prime minister.
The code, which outlines the rules ministers must follow, says there is an "overarching duty" on them to comply with the law. If the code is broken, ministers are expected to resign.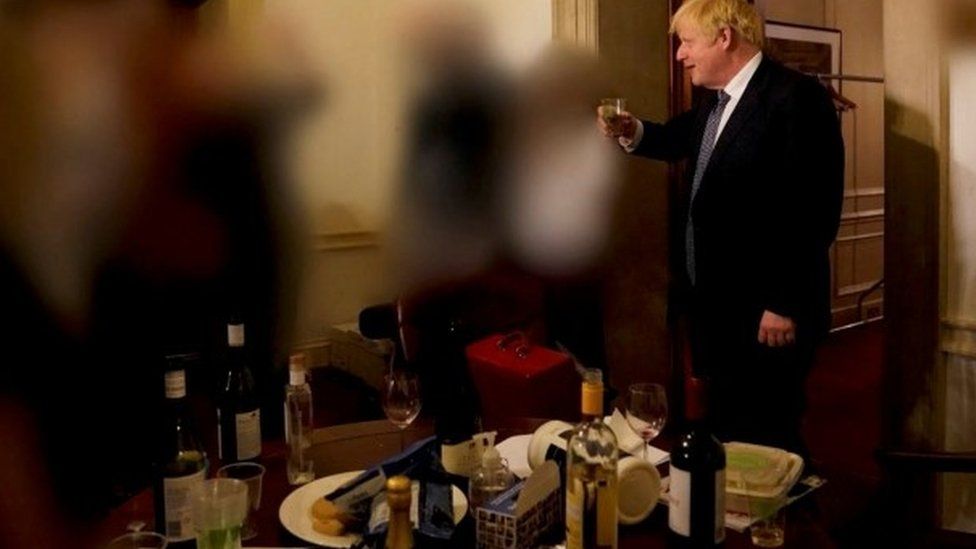 Questions have been raised over whether Mr Johnson breached the code after he was fined in April for attending a birthday party in Downing Street in June 2020 – when Covid restrictions were in place.
Despite receiving the fine, Mr Johnson said he would not resign and in a letter to Lord Geidt he said there had been "no intent" to break Covid regulations.
It had been reported that Lord Geidt threatened to quit last month after the publication of a report into lockdown breaches in Downing Street unless Mr Johnson issued a public explanation for his conduct.