Prince William says walking behind the Queen's coffin brought back memories of his mother's funeral.
The Prince of Wales said walking behind the Queen's coffin "brought back a few memories" of his mother's funeral as he spoke to well-wishers in Norfolk.
Prince William said it had been "challenging", as he and the Princess of Wales viewed floral tributes left outside Sandringham House.
He and his brother walked behind the gun carriage in Wednesday's procession, echoing Princess Diana's funeral.
Members of the Royal Family conducted visits as official mourning continued.
After viewing some of the hundreds of tributes to the late monarch, who died last week, outside the gates at Sandringham, Prince William and Catherine spoke to those gathered there.
Speaking to one woman, Prince William said: "I mean the walk yesterday was challenging, it brought back a few memories…"
Among those he spoke to was receptionist Jane Wells, from Long Sutton in Lincolnshire, who said she had told the prince how proud his mother would have been of him.
"He said how hard it was yesterday because it brought back memories of his mother's funeral," she said.
Caroline Barwick-Walters, of Neath in Wales, said she told Prince William "thank you for sharing your grief with the nation", and that he replied "she was everybody's grandmother".
Prince William, then 15, and his brother, Prince Harry the Duke of Sussex, then 12, walked with their father, King Charles III, behind the coffin of their mother, Princess Diana, in September 1997.


The sight of Prince William and Prince Harry walking side-by-side behind the Queen's coffin in Wednesday's procession to Westminster Hall evoked immediate memories of the two brothers at the funeral of their mother.
The comments to well-wishers in Sandringham suggest it's something also felt by Prince William, now the Prince of Wales, as he said how hard it was for him when it "brought back a few memories".
It's 25 years since the death of Princess Diana, but it's an image of loss that still resonates. It's a reminder of the traumatic impact on the young lives of the two brothers – and both of them have often spoken of how much the loss of their mother is still in their thoughts.
Bereavement at such a young age has been previously described by Prince William as a "pain like no other pain".
And Prince Harry has spoken of his mother's continuing influence. "I feel her presence in almost everything that I do now," he said earlier this year.

Speaking in 2017, Prince Harry described walking behind his mother's coffin as a child as something that would not happen now.
He told Newsweek: "I don't think any child should be asked to do that, under any circumstances. I don't think it would happen today."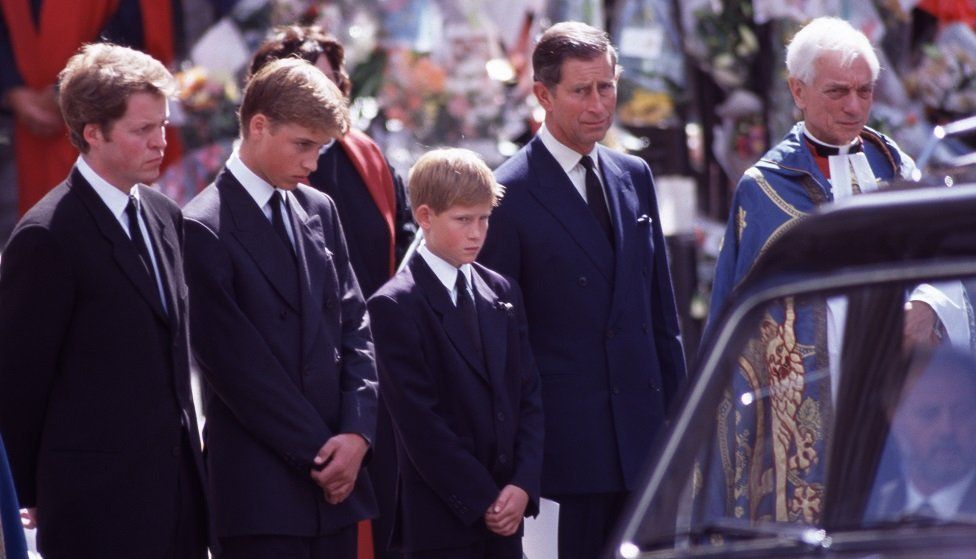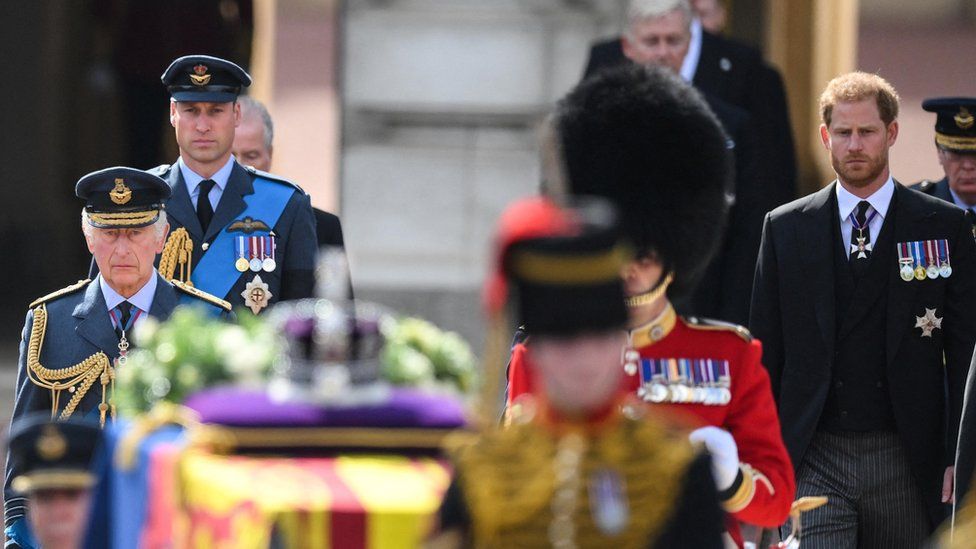 Sandringham House has been a royal residence for four generations of British monarchs for a period of more than 150 years, and has traditionally been where the Queen spent her Christmas break.
She gifted Anmer Hall, a Georgian country house which is part of the Sandringham estate, to Prince William and Catherine after their wedding.
Meanwhile, the King returned to Highgrove, his country home in Gloucestershire, where a spokesman said he was attending to state business.
Other members of the Royal Family have also been on visits on Thursday.
The couple were shown a book of condolence at Manchester's Central Library, before lighting a candle in memory of the Queen at Manchester Cathedral.
The Princess Royal – the Queen's only daughter Princess Anne – travelled to Glasgow to meet representatives of organisations of which the Queen was patron.
On Wednesday, members of the Royal Family marched behind the Queen's coffin as it travelled from Buckingham Palace to Westminster Hall, where she is lying-in-state.
Thousands have queued for hours to view the coffin, which people can visit 24 hours a day until 06:30 BST on 19 September – the day of her funeral.