Ofgem's new price cap means a household using a typical amount of energy will pay £3,549 a year.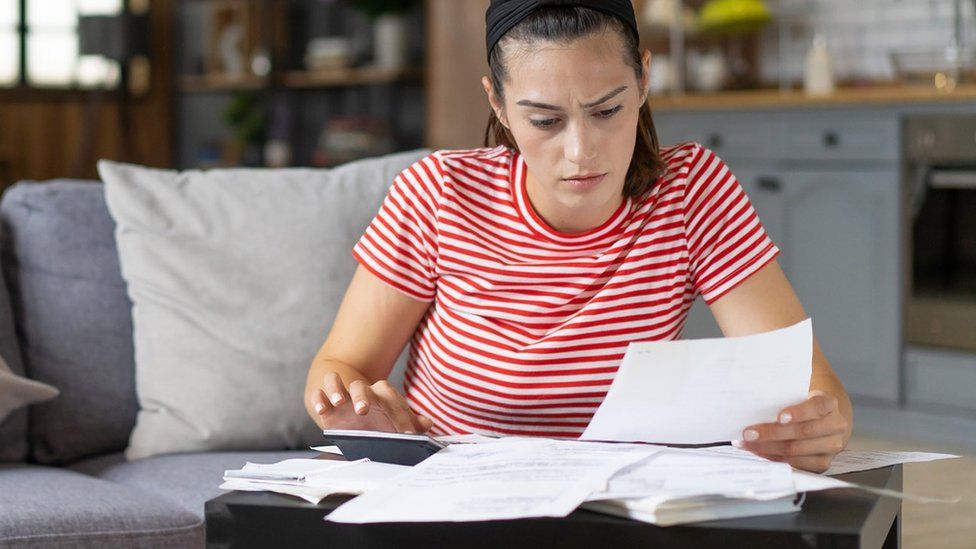 Millions of households face an unprecedented 80% increase in their energy costs in October, taking a typical bill to £3,549 a year.
Regulator Ofgem's new price cap means a home in England, Wales and Scotland using a typical amount of energy will pay nearly £300 a month.
Charities say it could lead some people to choose between heating and eating.
Ofgem boss Jonathan Brearley admitted that the rise would be "devastating for many families".
He added that the new Prime Minister – who will be named on 5 September when the Conservative Party chooses a new leader – will "need to act urgently and decisively to address this".
He told the BBC: "All of us, with the government, need to get ahead of this problem and manage it on behalf of customers because the outlook for winter without any action looks very difficult indeed."
So far the government has promised a £15bn package of support for UK households. This includes a £650 one-off payment for eight million low income households and a £400 grant for all homes.
A typical annual bill is currently £1,971. New forecasts suggest that could peak at well over £6,000 a year next year, heaping pressure on a new prime minister to give urgent extra support for those struggling or unable to pay.
Prepayment meter customers, often among the most vulnerable consumers, will pay an extra £59 a year on their bill.
Consumers' bills are rising owing to soaring wholesale costs faced by suppliers. Energy prices rose sharply when lockdown was lifted and the economy returned to normal.
They have also increased because the war in Ukraine has reduced supplies of Russian gas.
The new cap is in effect from October to January, after which it is expected to rise further.

What is the energy price cap?
The cap is a limit on how much domestic customers in England, Wales and Scotland pay for each unit of gas and electricity, and on how much they can be charged for being connected to the grid (the standing charge).
It is set by the regulator Ofgem based on how much energy firms are having to pay for gas and electricity and will next be changed in October. It applies only to providers' standard and default tariffs, which most people are on. There is a separate cap for prepayment meter customers.
Up until now, a cap has been in place for six months, but from October it will be reviewed and changed every three months.

Ofgem sets out what people can expect to pay under the cap based on the annual bill for a household using a typical amount of energy.
At present that is £1,971 a year for about 19 million households on variable tariffs, and £2,017 for about 4.5 million prepayment meter customers. It is not a cap on the total bill, so any household that uses a lot of energy will pay more, or if it uses a little it will pay less.
In the six months from October last year, the price cap meant a typical household bill was £1,277 a year, or £1,309 for those on prepayment meters.
Prices have been rising consistently in Northern Ireland, where there is no cap owing to the limited number of suppliers. Businesses are also not covered by a cap and many face cost pressures that could be passed on to consumers in higher prices.

Now we know the size of the problem – what is the solution?
The current support on offer – £400 for all households with an additional £650 for people on qualifying benefits – was announced when bills were expected to hit £2,800 this October. We are clearly well beyond that and with wholesale prices surging back near record levels, there is worse to come.
The current Chancellor Nadim Zahawi has dismissed proposals by the Labour Party to freeze all bills at the current level for six months and a plan by the energy industry to freeze them for two years as being untargeted as they offer the same relief to better-off households.
He said the government was working on its own proposals for the new Prime Minister to consider which would include support for businesses who are not covered by the energy cap.
Former Chancellor and Tory leadership hopeful Rishi Sunak has said he will cut VAT on domestic energy and provide further targeted support for needy households while rival Liz Truss has indicated that she will help but has been less clear about how she would deliver it.
Up to now she has favoured helping households through tax cuts but critics point out that would do little to help people on the lowest incomes. One thing is clear, how the next Prime Minister tackles the biggest cost of living crisis in living memory will be the first and probably defining challenge of their time on Number 10.


How will you be affected by the energy price cap rise? What are your questions? Email: haveyoursay@bbc.co.uk.
Please include a contact number if you are willing to speak to a BBC journalist. You can also get in touch in the following ways:
If you are reading this page and can't see the form you will need to visit the mobile version of the BBC website to submit your question or comment or you can email us at HaveYourSay@bbc.co.uk. Please include your name, age and location with any submission.