Rishi Sunak's predecessor as chancellor says the UK risks economic decline under Mr Sunak's policies.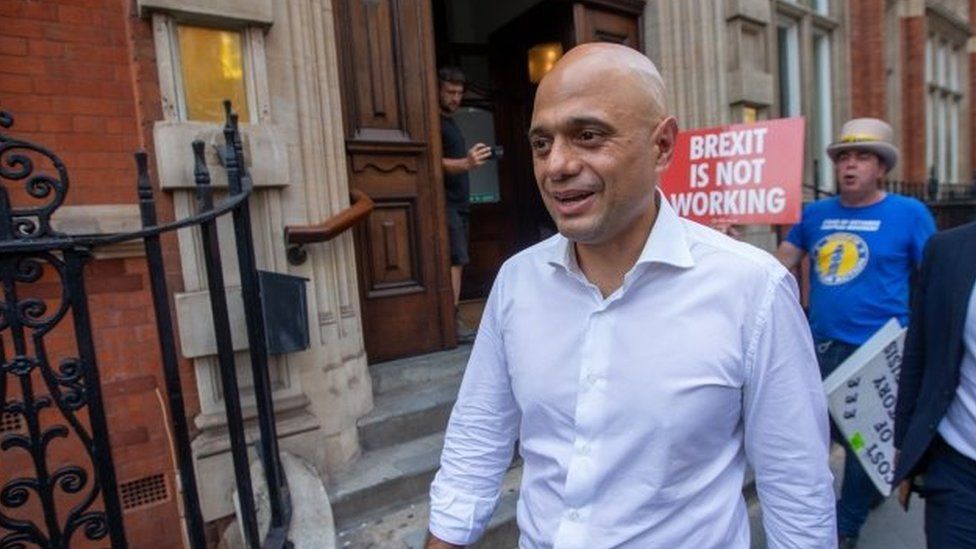 Former chancellor Sajid Javid has backed Liz Truss to become the next Conservative leader, calling for urgent tax cuts in an attack on her rival Rishi Sunak's economic plans.
Mr Javid, who withdrew his own bid to be leader last month before voting began, said Mr Sunak's plans could make the UK a "middle-income economy".
He said Ms Truss was best placed to rise to "the challenges of our age".
His backing came on the evening of the latest leadership hustings, in Cardiff.
Mr Sunak and Ms Truss are vying to win over Conservative Party members, whose votes will determine which of them will become the next Tory leader and British prime minister.
The party's roughly 160,000 members started receiving ballots this week, with the result due on 5 September, when Prime Minister Boris Johnson will leave office.
Wednesday's hustings event in Cardiff marked the first time either candidate had visited Wales since the leadership contest began.
Mr Sunak was introduced by Swansea-born former Conservative leader Michael Howard, while Ms Truss was welcomed to the stage by Clwyd West MP David Jones, a leading Brexiteer in the party.
At the hustings, Ms Truss said a plan she had this week floated and then quickly scrapped – to link public sector pay to local living costs – had been "misrepresented" by the media and was not part of her "central costings".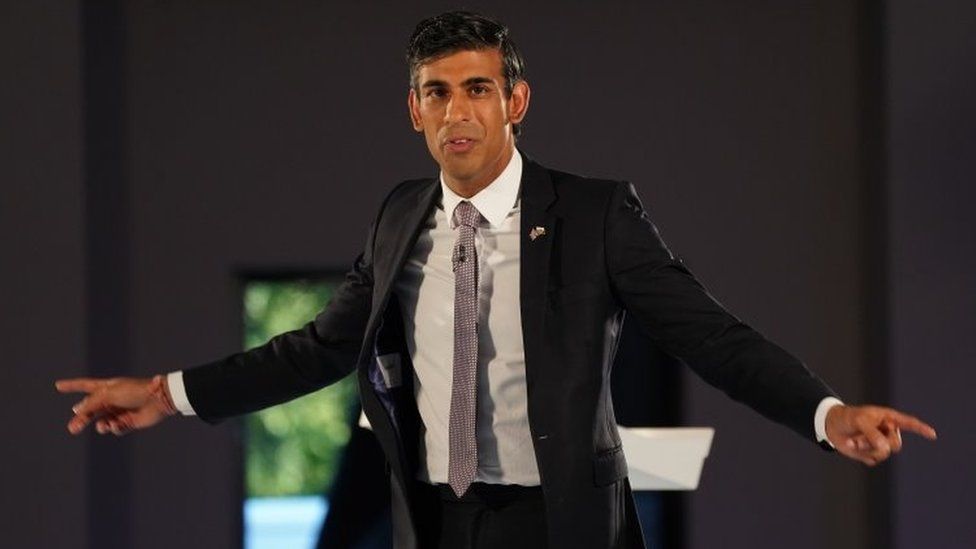 Mr Sunak said he was glad Ms Truss had abandoned the plan, telling a crowd of Conservative members: "It would have meant, I think, potentially almost half a million workers in Wales getting a pay cut, which I don't think is the right policy to pursue."
Then Mr Sunak appeared to U-turn himself on his own policy to scrap plans to relax the ban on onshore wind in England.
Asked by a party member whether he would "scrap the embargo on onshore wind", Mr Sunak replied "yes", adding "we've already said that we are open to do that where we can do it with local communities".
But Mr Sunak's campaign later clarified he had "misspoke" and would not relax the ban.
In other key moments during the hustings, Ms Truss:
accused Welsh First Minister Mark Drakeford of being a "low-energy version" of former Labour leader Jeremy Corbyn who was "ashamed of our history"
fended off criticism of her plan to scrap green levies, insisting she would hit the net-zero target and not allow "green issues be owned by the left"
professed her love for Welsh singer Shirley Bassey and offered to sing her James Bond theme Goldfinger
said he would be an "activist prime minister" who would call out "failures of devolution" in Wales
argued he played an "instrumental part" in weakening Russia and promised to invest "whatever it takes" to defend the UK
when asked what made him most nervous, said "probably my wife and my two kids"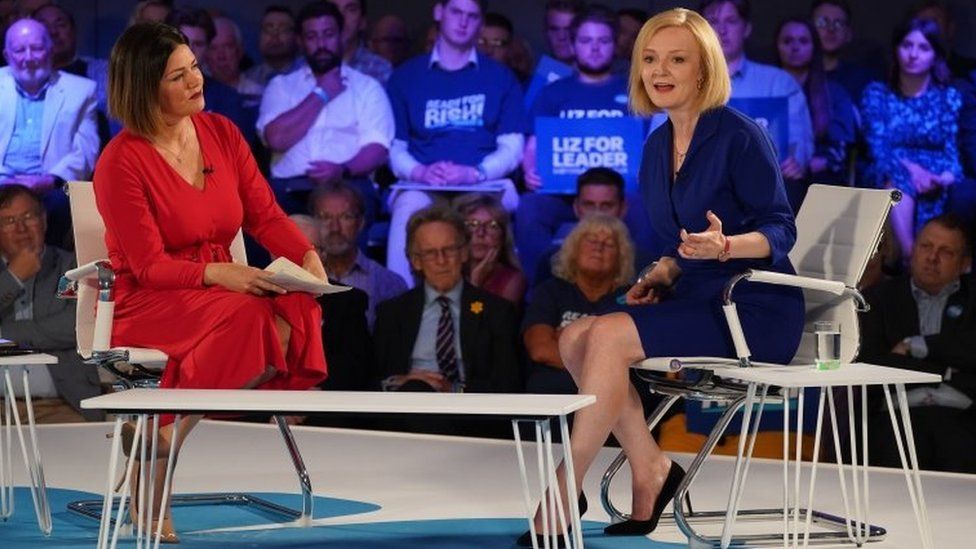 Recent polling of Conservative members suggests Ms Truss has a handsome lead over Mr Sunak as voting began this week.
Mr Javid's endorsement gives her campaign another boost and means she now has the backing of five of the other candidates who were originally nominated for the leadership.
The endorsement is bruising for Mr Sunak, who worked with Mr Javid in the Treasury and succeeded him as chancellor in 2020.
The pair – who both had careers in finance – had previously appeared friendly, with Mr Sunak tweeting about a Star Wars cinema outing with Mr Javid in 2019.
Writing in the Times newspaper, Mr Javid said "tax cuts now are essential", arguing the "circumstances we are now in require a new approach" to economic policy.
Mr Javid warned that the UK risked "sleepwalking into a big-state, high-tax, low-growth, social democratic model which risks us becoming a middle-income economy by the 2030s".
Mr Javid launched a leadership bid but, struggling to win enough support, dropped out of the race early before candidates were nominated by Conservative MPs.
Mr Javid and Mr Sunak resigned from their cabinet roles within minutes of each other last month, triggering a ministerial mutiny that forced Mr Johnson to quit as Tory leader.