The supermarket says the move is to protect open spaces, after record temperatures sparked a spate of fires.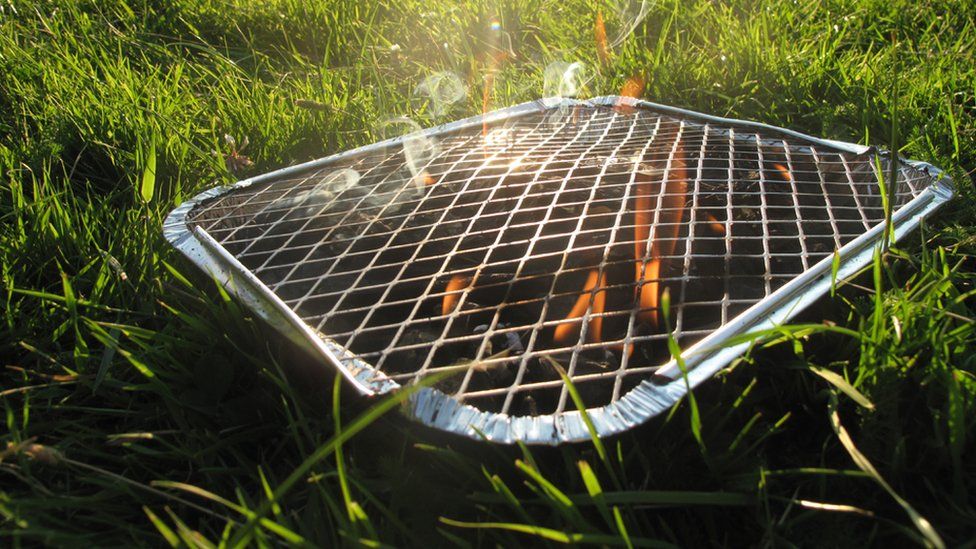 Marks & Spencer has stopped selling disposable barbecues in its stores across the UK.
The supermarket said it wanted "to help protect open spaces and reduce the risk of fires".
London Fire Brigade, which has been calling for a ban on the sale of disposable barbecues, said the move was "good news".
It comes after the UK experienced its hottest day ever, with 40C exceeded for the first time.
Dozens of locations saw temperatures above the previous record of 38.7C, and 15 fire services declared major incidents because of a surge in blazes.
An M&S spokesperson told the BBC the move came into effect earlier this week.
The supermarket said: "We'd already stopped selling disposable barbecues near national parks and in London but given the unusually hot and dry conditions, we've taken the precautionary step of removing them from sale across the UK."
London Fire Brigade had already warned people against using barbecues in open spaces, grassland or balconies, particularly after the recent heatwave.
Last week, its commissioner Andy Roe called for disposable barbecues to be taken off the shelves across Britain.
Welcoming the decision by M&S, London Fire Brigade said: "We want to work with retailers to stop the sale of disposable barbecues and reduce the risk of dangerous grass fires."
'Put pressure on peers'
Retail analyst Jonathan de Mello said he expected similar announcements to follow from other supermarkets.
"This move by M&S will put pressure on their retail peers to follow suit," he said.
"With multiple grass fires caused by these barbecues given the unprecedented hot weather we have seen in the past few weeks, M&S have rightly decided to put public safety first," he added.
"M&S are often seen as a bellwether for UK retailers, and hopefully other retailers will follow their lead."
A Sainsbury's spokesperson said: "We offer customers choice and all our disposable BBQ packaging includes advice on safe use and disposal which customers are encouraged to follow."
Other retailers have already stopped selling the items in selected stores, while not taking a nationwide approach.
A Co-op spokesperson told the BBC that since June 2021 it had stopped selling disposable barbecues in shops located in or nearby national parks.