Everybody's health can be affected as temperatures are set to hit 40C, the UK Health Security Agency says.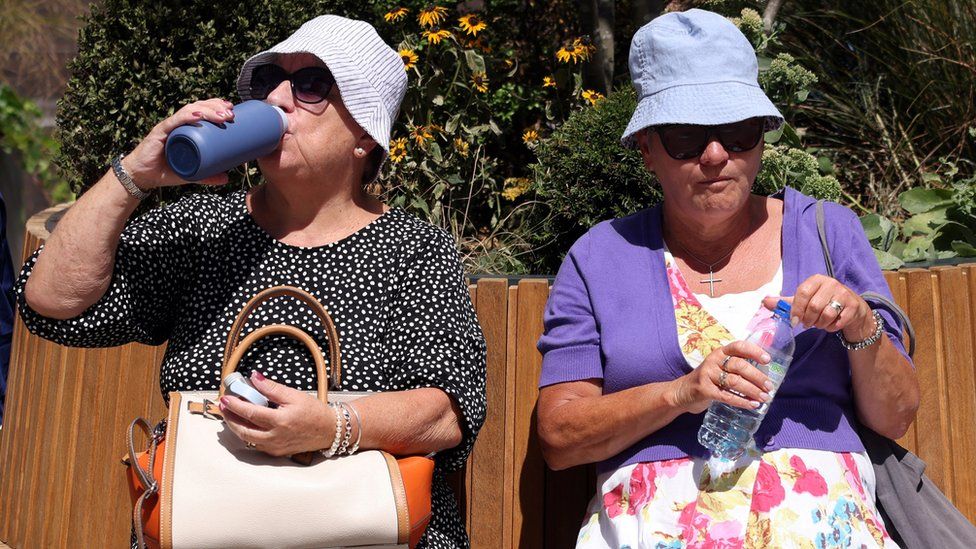 People should take simple steps to stay safe to reduce the number of deaths caused by the heatwave, the UK Health Security Agency's top scientist says.
Temperatures are forecast to hit 40C in England next week, prompting a national emergency to be declared and the UK's first red extreme heat warning.
Prof Isabel Oliver said last year's heatwaves saw more than 1,600 excess deaths – and 2021 temperatures were not "anywhere near" next week's forecast.
Anybody can be affected, she said.
"It's important to know in these exceptionally high temperatures everybody can be affected," she said – "although of course the most vulnerable remain those in older age groups and with those long-term conditions."
Downing Street has said it will hold talks over the weekend, with a meeting of the Cobra emergency committee to take place on Saturday afternoon.
The Met Office red warning – the highest level – is for extreme heat and covers an area including London, Manchester and York on Monday and Tuesday. It is the first time it has been issued since the warning system started last year. It means:
there is a danger to life and risk of serious illness, not just among the most vulnerable
substantial changes in working practices and daily routines are needed
a risk of power loss to water or mobile phone services
increased risk of water safety incidents
delays to road, rail and air travel
Rail passengers in England and Wales have been warned they should only travel if necessary during next week's heatwave, Network Rail said speed restrictions are likely,
Some schools will close early next week and some hospital appointments will be cancelled.
As well as the Met Office warning, the UKHSA issued its highest level four heat alert to health and care bodies – warning illness and death could occur "among the fit and healthy".
Asked whether thousands of people could die in the hot weather – as some newspapers have reported – its chief scientific officer Prof Oliver declined to suggest a figure.
"It is very difficult to predict but I can tell you that we monitor this very closely and we assess it," she told BBC Radio 4's Today programme.
"Last year we didn't reach temperatures anywhere near the ones that are predicted for next week, [and] we saw over 1,600 excess deaths associated with the period of heatwave. So this is why we are keen that everybody knows what they can do to stay safe."
Excess deaths is the term used for the number of deaths above the average normally seen for that time of year.
"The key message is that we can absolutely avoid those deaths and we can stay safe if we take simple measures, if we make sure that we take plenty of water, that we keep cool, that we avoid the sun when it's hottest particularly between 11am and 3pm and that we look out for those who are most vulnerable," she said.
On Friday evening, NHS leaders warned there would be greater demand for ambulances and patients should not be left in ambulances outside hospitals in hot weather.

Heatstroke or heat exhaustion?
Heat exhaustion happens when your body is becoming too hot and struggling to regulate or cope.
It can affect anyone, including fit and healthy people – especially if they are doing strenuous exercise in high temperatures or have been drinking alcohol in the sun all day. It can come on quickly, over minutes, or gradually, over hours.
The symptoms you will feel are your body's way of warning you to cool down, fast.
An obvious sign is excessive sweating, as well as feeling very hot and unwell with it. Other symptoms include: a headache, dizziness and confusion, loss of appetite and feeling sick, cramps in the arms, legs and stomach, fast breathing or pulse, a temperature of 38C or above, being very thirsty.
Young children, who might not be able to tell you about how they are feeling, may become floppy and sleepy.
Heat exhaustion can turn into heatstroke, which is an emergency. It means your body can no longer manage the heat and your core temperature is rising too high. Get urgent medical help.

Met Office boss Penny Endersby said the extreme heat forecast was "absolutely unprecedented".
People in the UK are used to treating hot weather as a "chance to go and play in the sun" but "this is not that sort of weather", she said.
Experts say that climate change is making heatwaves more likely as well as more intense and lasting longer.
The world has already warmed by about 1.1C since the latter half of the 18th century, and experts predict that temperatures will keep rising unless governments make steep cuts to emissions.
Met Office spokesman Grahame Madge said there was a 50% chance of temperatures reaching 40C – likely along the A1 corridor, running from London northwards towards Yorkshire and the North East.
The highest recorded temperature in the UK was 38.7C in Cambridge in 2019 and BBC Weather presenter Matt Taylor said there is now a realistic possibility of hitting 40C in the UK.
"That is exceptionally hot, the sort of temperatures that if you are on holiday you may be able to deal with but in day-to-day life it can have severe impacts on health," he said.