Tory MPs have held their first round of voting on who they want to replace Boris Johnson in No 10.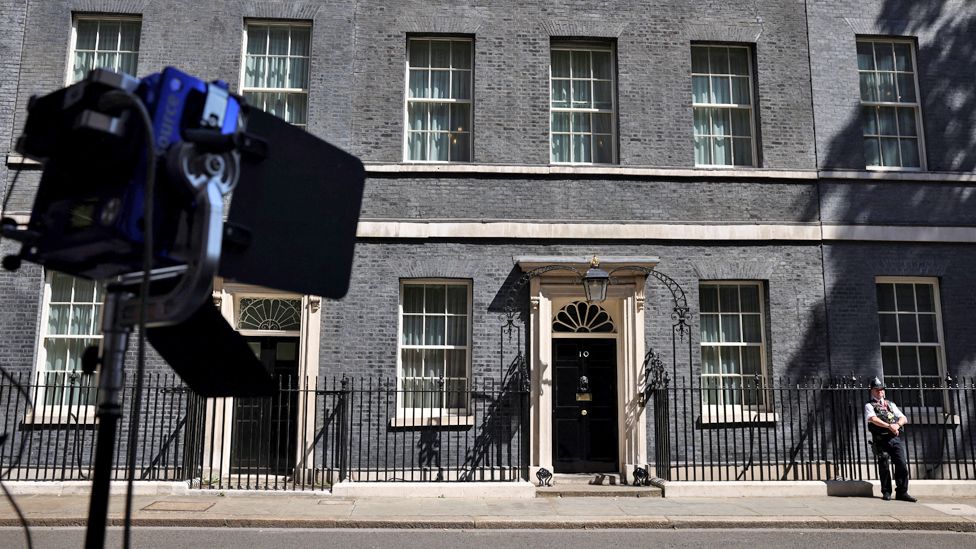 Tory leadership hopefuls face a nervous wait as their colleagues begin the first round of voting in the contest for No 10.
The eight candidates who have made it onto the ballot paper will have to secure at least 30 votes to stay in the race to become prime minister.
It is the first of a series of secret ballots over the next few days to whittle the field down to a final two.
Voting will close at 15.30 BST, with a result expected around 17.00 BST.
MPs have formed a queue outside the room in Parliament where they cast their vote.
It comes after Trade Minister Penny Mordaunt becomes the latest MP to hold an event to launch her leadership campaign.
She joins Kemi Badenoch, Suella Braverman, Jeremy Hunt, Rishi Sunak, Liz Truss, Tom Tugendhat and Nadhim Zahawi on the ballot, as all have secured the required 20 nominations from Tory MPs to make it into the first round.
With campaigning stepping up a gear, Ms Mordaunt pledged to slash VAT on fuel and raise income tax thresholds.
Setting out her stall at a hot, crowded launch event, she also promised parents more flexibility over subsidised childcare and said she would give MPs control over "social capital pots" to spend on their local areas.
Pitching herself as a team player, she said if she won office she would introduce a "tighter" cabinet of ministers with powers across Whitehall.
Adding that the Conservative Party had "lost its sense of self", she also vowed to return to the values of "small state, low tax, personal responsibility".
Ex-Health Secretary Sajid Javid and junior minister Rehman Chishti have dropped out of the race, after failing to pick up enough support.
Candidates will also appear at two further hustings events on Wednesday, as the race to secure endorsements heats up.
Former chancellor Mr Sunak, who has the strongest backing among Tory MPs so far, secured support from cabinet ministers Dominic Raab and Grant Shapps
Foreign Secretary Ms Truss bagged endorsements from cabinet ministers and Johnson loyalists Jacob Rees-Mogg and Nadine Dorries
Mr Hunt's campaign rejected an accusation from Ms Dorries that Mr Sunak's team lent nominations, to make sure he got onto the ballot paper
Former foreign secretary Mr Hunt, who has not had a launch event, said he was "quietly confident" he would make it through the first round of voting
The campaign so far has laid bare Tory divisions over taxation, with a number of candidates attacking the rise in taxes under Mr Sunak's chancellorship.
All the contenders are pledging to bring in immediate tax cuts if they win, apart from Mr Sunak who says cuts should wait until inflation goes down.
In an interview with the Daily Telegraph, Mr Sunak said tackling inflation is his "number one economic priority", and claimed former Prime Minister Margaret Thatcher, an icon on the right of the party, would have backed his approach.
But on of Ms Truss's backers, Mr Rees-Mogg attacked his record at the Treasury, telling Sky News the "tax-increasing chancellor" had made decisions "of the left rather than on the right".
And he sought to disparage Leave-voting Mr Sunak's Brexit credentials, branding him an "ostensible Brexiteer" whose department had resisted ending the "supremacy of EU law" during his tenure.

Scramble for votes heats up

The competition for votes is feverish.
One MP, who had supported former candidate Mr Shapps, showed me their phone – and the instant electronic attention they were paid by loads of other candidates and their teams.
Missed calls, WhatsApps, you name it, instantaneous wooing. And it's only just beginning.
Plenty ponder that the former Chancellor Rishi Sunak, Foreign Secretary Liz Truss, and Penny Mordaunt are perhaps the most likely to make the final three.

Boris Johnson, who has declined to endorse any of the candidates, said any of them would "wipe the floor" with Labour leader Sir Keir Starmer, whom he branded "Captain Crasheroony Snoozefest".
Appearing at his first Prime Minister's Questions since the cabinet mutiny last week that forced his resignation, Mr Johnson said he was "proud" of his record at No 10 and would leave office "with my head held high".
But Sir Keir shot back that the Tory leadership candidates "haven't found time to explain" their various tax cuts, which he said would cost £300bn.
The Labour leader accused the contenders of attempting to "rewrite history" over the government's record on taxation, and acting like they had "just arrived from the moon".
His questions were aimed, in particular, at the current and previous chancellors, Mr Zahawi and Mr Sunak.
No-confidence row
Meanwhile, the government has scheduled a vote of no confidence in itself next week, amid a row over whether Mr Johnson should be able to stay in office until his successor is chosen.
Labour had tabled a motion of no confidence in both the government and PM earlier this week – but ministers blocked it, arguing the wording breached parliamentary convention.
The government has now tabled a motion of its own, which it is likely to win, in the hope of closing off further attempts to prevent Mr Johnson staying on.
Tory MPs are aiming to whittle down the candidates to a final two before Parliament's summer break begins at the end of next week.
About 160,000 members of the Conservative Party will then choose between these final two, with the winner due to be announced on 5 September.