Civilian areas are hit again in several cities and police say Russia is setting crops ablaze.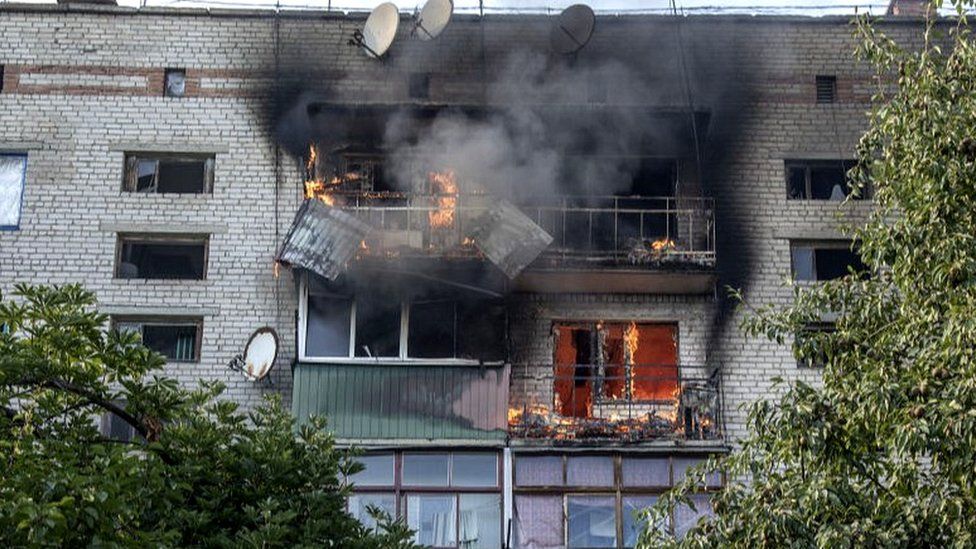 Russian missile and rocket strikes have caused more widespread damage in towns and cities across eastern and southern Ukraine, regional officials say.
Four civilians died in a strike on Siversk, a town in Donetsk region, local governor Pavlo Kyrylenko said.
It is just west of Lysychansk, a city seized by the Russians nearly a week ago. Civilian areas of Druzhkivka, in the same region, were also hit.
The BBC was unable to verify details of the latest strikes.
In Druzhkivka, a town just south of Kramatorsk, a supermarket was wrecked and a big crater appeared, in what officials described as a Russian missile strike.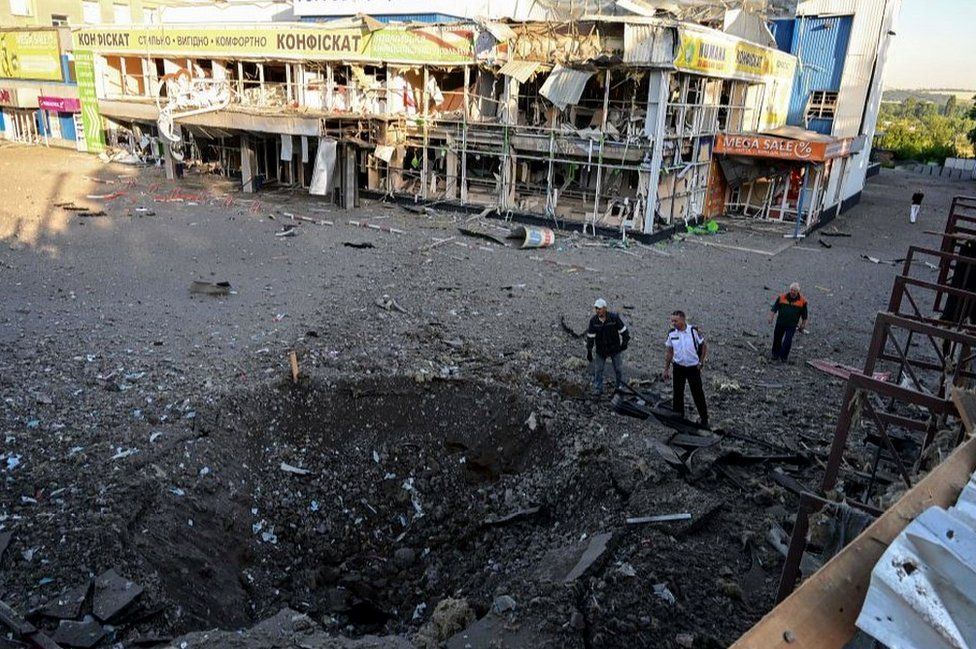 However, Russian ground forces do not appear to have made significant advances in the past 24 hours in their push to take the rest of Donetsk region.
Ukrainian officials also reported Russian missile strikes on parts of Kharkiv, in the north, Mykolaiv in the south and Kryvyi Rih, a southern city north-east of Mykolaiv.
Ukrainian forces are fiercely defending Mykolaiv, a strategic river port on a key route to Odesa, which is Ukraine's main export hub. The Russian navy is still preventing Ukraine from shipping grain out of Odesa.
Ukraine's Deputy Prime Minister Iryna Vereshchuk has urged residents to leave Russian-occupied parts of Kherson and Zaporizhzhia in the south. The warning appeared to herald further Ukrainian counter-attacks.
Police in Kherson region accuse Russia of deliberately destroying crops. In a Facebook post they show photos of burning fields and say: "Large-scale fires occur every day, hundreds of hectares of wheat, barley and other grain crops have already burned." They also accuse Russian troops of destroying granaries and agricultural equipment, and of preventing locals from extinguishing the fires.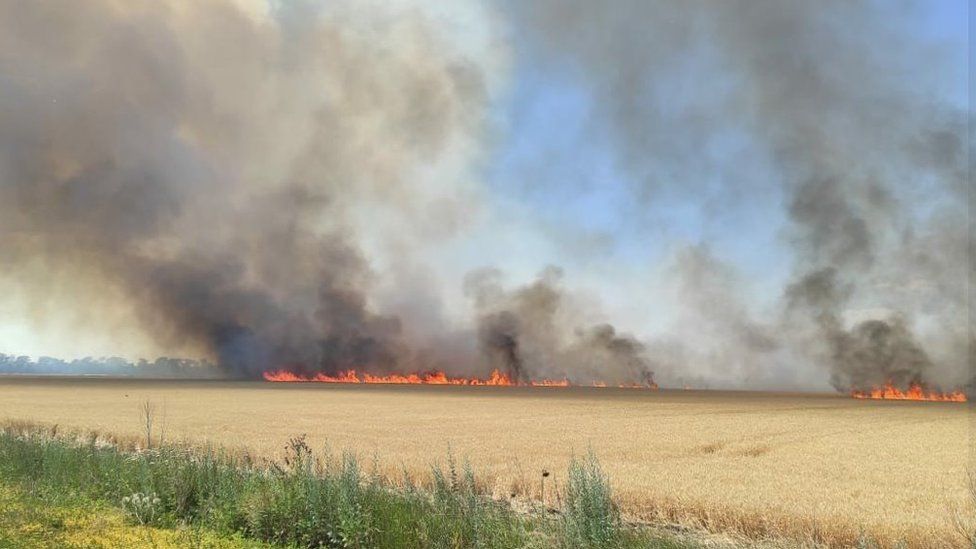 The Russians are occupying the city of Kherson, but Ukrainian forces have taken back some parts of the region.
In Kryvyi Rih, Russian Grad rockets damaged a school and housing, killing a 41-year-old woman, local governor Valentyn Reznichenko said.
Russia's defence ministry said its forces had destroyed a hangar storing US M777 howitzers in Chasiv Yar, near Kramatorsk. The cities of Slovyansk and Kramatorsk are expected to be Russia's next major targets in Donetsk.
The US says it is supplying four more high-precision rocket systems to Ukraine. President Volodymyr Zelensky says the HIMARS rockets are being used to hit ammunition depots and warehouses in Russian-held territory, making Moscow's attempts at resupply much harder.
In the UK, British Army bases are now being used to train Ukrainians in combat, the UK government says. It aims to train up to 10,000 Ukrainians over the coming months.
In a new intelligence update, the UK military says Russia is moving reserve forces from across the country to positions near Ukraine for future operations. But it says many of Russia's reinforcements are "ad hoc groupings, deploying with obsolete or inappropriate equipment".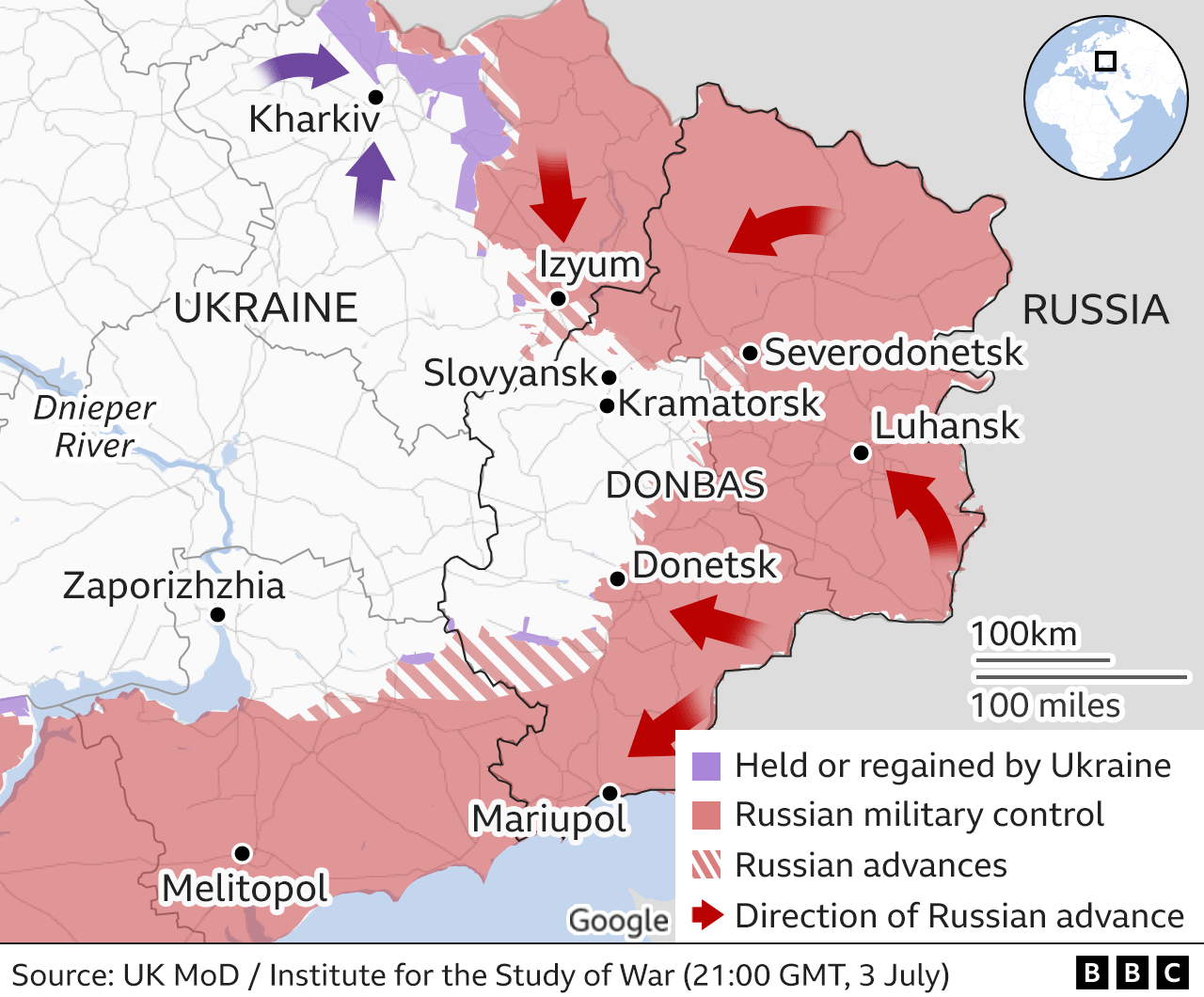 War in Ukraine: More coverage