The aspiring lawyer was killed close to her east London home as she walked back from a night out.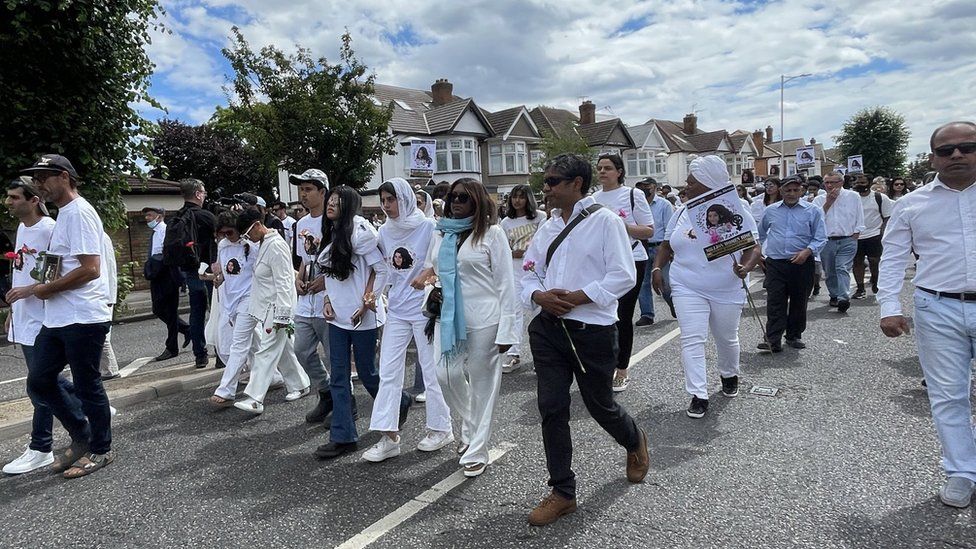 Hundreds of people gathered for a vigil dedicated to Zara Aleena, who was killed as she walked home from a night out.
The 35-year-old law graduate was minutes from her front door when she was attacked on Cranbrook Road in Ilford, east London, on Sunday.
Ms Aleena's family requested attendees wear white and remain silent as "we walk Zara home in our hearts".
They led the crowd as it began tracing the route she would have taken.
Many of those taking part in the walk held flowers and pictures of Ms Aleena and wore T-shirts bearing her image.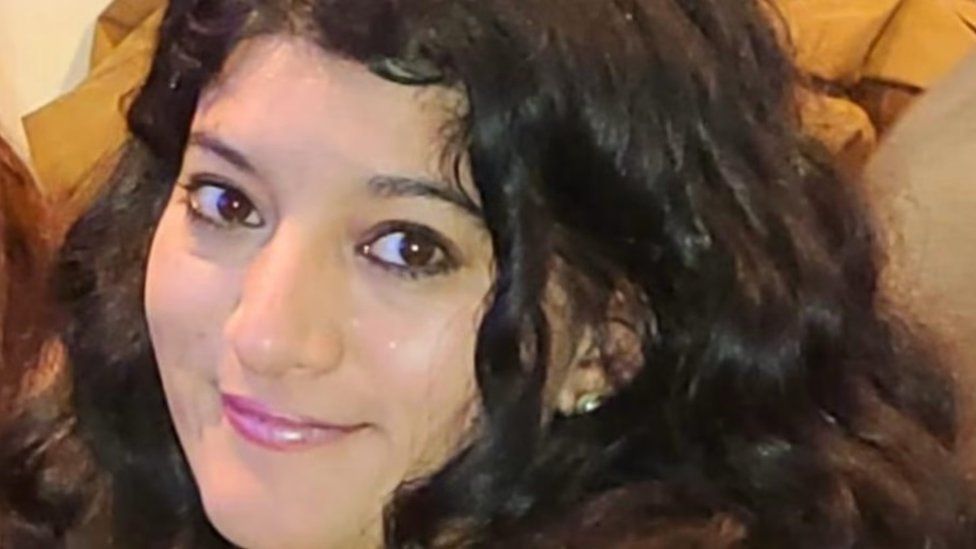 It began at 14:17 BST opposite Cranbrook Rise on Cranbrook Road in Ilford.
Ms Aleena had been returning home from a night out at 02:17 on Sunday when she was dragged, kicked and stamped on, the Old Bailey heard on Friday.
As the walk came to an end, her aunt, Farah Naz, stopped yards from the family's home and turned to the crowd.
She said: "She was on the home stretch. Thank you so much for doing the walk and holding her in your hearts, praying for her, keeping her safe on this journey.
"At this point now, we ask you to go home and thank you so much for being here today because this is our Zara, this is our issue, this is something that we must all change, it must never happen again. Thank you for being here."
She then invited those who attended to place the flowers they had been carrying together on the ground.
I've spent my whole life scared of walking home at night, changing out of my heels and into trainers always made me feel safer. As a society we need to more directly confront the causes of male violence and rage towards women. Love to the family and friends of #ZaraAleena pic.twitter.com/mW2Rj5Vx5k

— hanna dillon chalmers (@hannachalmers1)
Sharman Islam Siraj, 38, from Ilford, was among those who went to honour Ms Aleena.
"We are from the area, this is our home, this our community," she said.
"She was someone that we used to see all the time walking past our house, she was in the same school as my sister, she was just a local girl – and I feel like if this could happen to her, this could happen to anybody.
"It's shocking that it can happen to her, it's shocking that it happened here. I'm here to support the family, I'm here to show love, support, solidarity."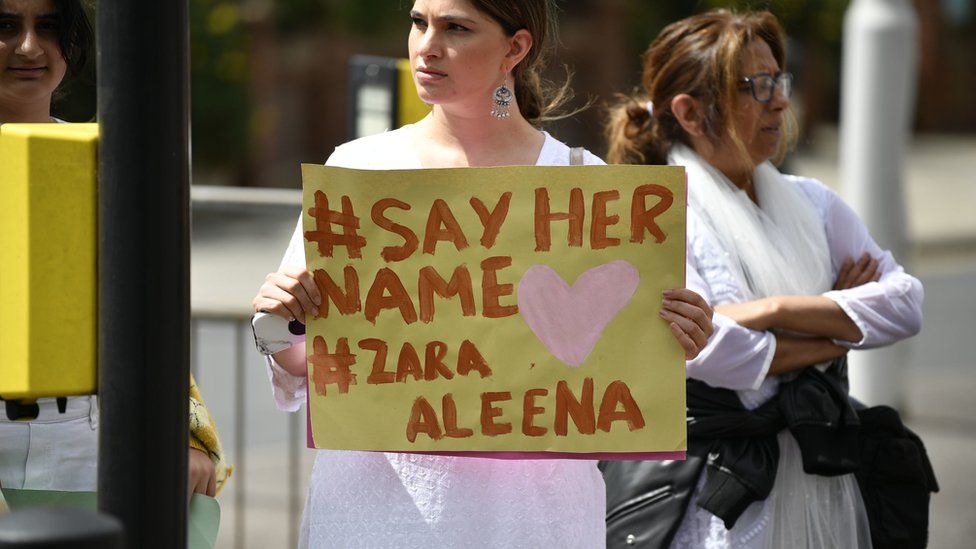 Anjum Mouj, co-chair of London Black Women's Project – who was liaising with Ms Allena's family, spoke with the crowd before the vigil got under way.
She said: "Grandma, mother, aunties, cousins, friends, family, have asked me to thank you from their heart, their heartfelt thanks for you all to be here, to do this walk with us to take Zara Natasha Aleena home, the steps that she couldn't take.
"She could see, it's in touching distance of her home, it's in touching distance, she could see her home almost and she couldn't walk there."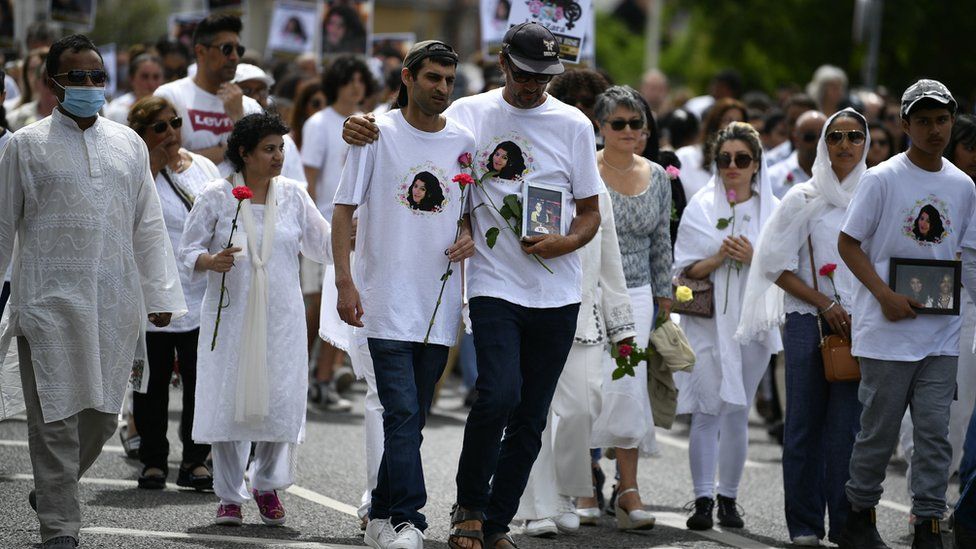 Mayor of London Sadiq Khan said: "All women should be able to walk home safely.
"My thoughts and prayers go out to Zara Aleena's family and friends, who came together with others today to remember her life and complete her journey home."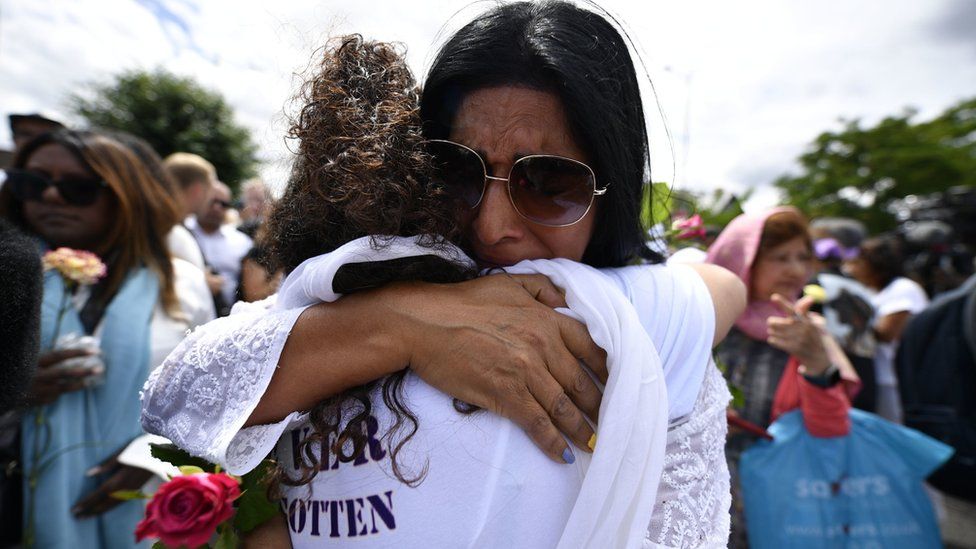 A post-mortem examination found she had suffered multiple serious injuries.
Jordan McSweeney, 29, of Dagenham, has been charged with Ms Aleena's murder, attempted penetration without consent and robbery.