The RAC calls the milestone "a truly dark day" as fuel prices continue to rise.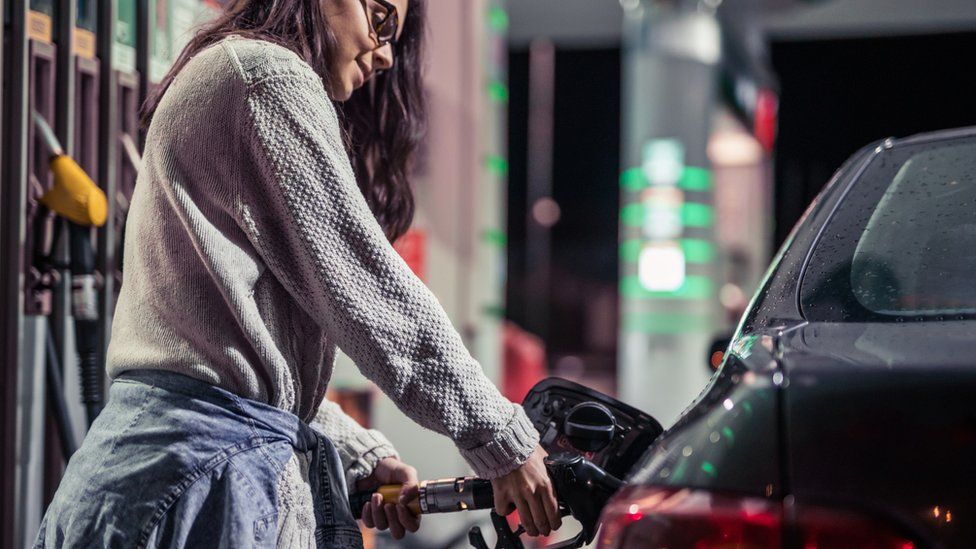 The cost of filling a family car with petrol is expected to hit £100 as wholesale fuel prices continue to rise, the RAC motoring group has warned.
It comes after the price of petrol saw its biggest daily jump in 17 years on Tuesday, climbing more than 2p a litre.
Soaring fuel prices have been driven by the war in Ukraine and moves to reduce Europe's dependence on Russian oil.
There are also concerns petrol retailers are not passing on a recent cut on fuel duty to consumers.
On Wednesday, rival motoring organisation the AA accused the RAC of adding to the problem with "speculation" that prices could climb as high as £2 a litre soon.
But the RAC's Simon Williams rejected the criticism, telling the BBC: "I don't think what we say actually affects what retailers do.
"We've obviously called [retailers] out in a falling market, when there's a lot of room to reduce prices, but of course in a rising market they pass on costs very quickly.
"We saw that yesterday and we'll see it again today, the price will jump and we'll almost certainly hit £100 of petrol fill-up."
Retailers base their prices on the wholesale cost of petrol and diesel but there is typically a two-week lag for pump prices to reflect any changes in wholesale prices due to the time it takes for fuel to reach forecourts.
However, the RAC's fuel data showed supermarket Asda had hiked its average petrol price by nearly 5p a litre in a single day this week, which Mr Williams said was "unheard of".
It comes as some UK forecourts are already selling petrol above £2 per litre, according to price comparison website PetrolPrices.
On Wednesday, the highest price was found to be 202.9p at BP sites on the A1 near Sunderland, the M4 near Chippenham in Wiltshire and the M6 near Burton-in-Kendal, Cumbria.
"People have a need to drive in this country, and what we need is really for the chancellor to take action and either further reduce [fuel] duty or cut VAT, which equates to 30p a litre," Mr Williams told the BBC.
"The higher the price goes at wholesale level, the higher the VAT take to the Treasury. And that just doesn't seem fair when drivers are struggling to get by."
The government has so far ruled out cutting VAT, arguing that any increases in receipts it gets from higher fuel prices will be largely offset by reduced household spending and VAT on other items.
Instead, it announced a 5p per litre cut to fuel duty in March to help reduce costs for motorists – although ministers and motoring groups have raised concerns that not all retailers are passing the cut on.
On Wednesday the prime minister's official spokesman said the government was "continuing to look at all possible options" and "transparency may have an important role to play" in fixing the problem.
It comes after a government source told the BBC a plan to name and shame petrol stations that fail to pass on the cut was "still in the works".
The Competition and Markets Authority (CMA) said that if it found sufficient evidence the 5p fuel duty cut had not been passed on to drivers, then it would launch an investigation that could lead to fines for offending retailers.